Make a Maple Leaf Garland
A Simple, Seasonal Garland Tutorial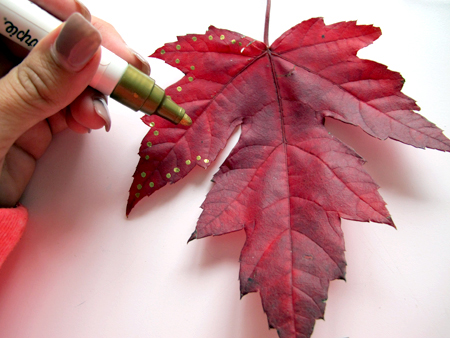 There is something so cheerful about a fresh garland, and Autumn is the perfect time of year to gather a few leaves and make something one-of-a-kind. This project is easy to create, takes less than an hour to complete, and is family-friendly (go on a leaf hunt around the neighborhood or at the local park!). While looking for leaves, pick freshly fallen leaves that include a stem.
1. Supplies
Twine (I used a wire based twine from the craft store)
Fresh leaves, 10-15 for a standard sized mantle
Paint pens (local craft store)
Binder clips (office supply store)
2. Paint
Doodle some pattern ideas on paper, or use extra leaves for testing your design. Have fun painting directly on the leaves!
3. Vary the Patterns
The leaves will dry quickly. Sort them according to patterns, mixing them up. Choose larger leaves to go on the end of the garland.
4. Clip
Simply clip the leaf facing forward and space evenly.
5. Hang
Hang leaf garland along mantle, adjusting placement of leaves to make the swag even.