Make Her Brunch
Some of our favorite recipes for a Mother's Day meal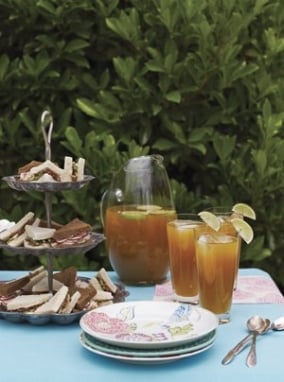 We've been talking about Mother's Day all week. Now that you have purchased her gift and prepared a bouquet, treat mom to a homemade brunch. We found some of our favorite recipes from Charlotte Home + Garden and put them together for a Mother's Day menu.
Emulsion,
Charlotte Home + Garden, Summer 2009
Nothing says Southern, spring get-together better than a big pitcher of tea. Add fun flavors to your ordinary ice tea to make it special for the big day. This Mango Tea Sparkler recipe combines black tea with mango nectar, lime juice, and seltzer water.
For a starter, prepare a healthier version of the classic green goddess dressing. Julia Simon of Nourish, a local meal-delivery service specializing in vegan foods, shared this recipe with us a couple of weeks ago for Green Goddess Dip a la Nourish. Fresh herbs (tarragon, parsley, basil), scallions, and garlic fill this dip with flavor. Serve it with crudite and crackers.
Tupelo Honey Cafe in South End turns out these Breakfast Pies with a made-from-scratch butter crust. Filled with eggs and assorted cheeses, the result is a rich, savory dish ideal to make at home for a brunch. Customize the pie to your (or your mom's) liking by adding spinach, bacon, ham, mushrooms, onions, or whatever else you choose. Tip: Make the crust the night before, form it into a disk, cover it in plastic wrap, and store it in the refrigerator until morning.
Finish the meal with these sweet-yet-tart Lemon Curd Bars. The dish involves three layers: a shortbread base, lemon curd topping, and a dusting of powdered sugar. Make these ahead of time and refrigerate them over night. All that's left to do the next morning is slice, plate, and dust.