Make Mine Marmalade
Local chefs are going wild with housemade marmalades, chutneys, and relishes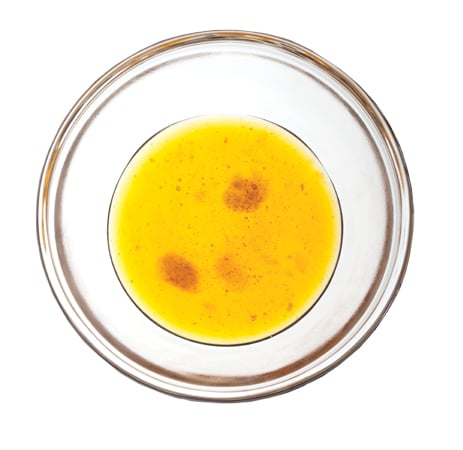 Move over aioli. Marmalades, chutneys, and relishes—with their sweet-savory profiles—are the condiments du jour. Chefs around town are making the complex accompaniments from scratch, getting creative with seasonal ingredients, and loving that it's an economic way (hello rinds, stems, and seeds) to add an unexpected flavor layer to many dishes.
Lemon Marmalade
There are creative, handcrafted preserves such as huckleberry and black currant all over the menu at Blue. But the lemon marmalade on the best-selling prosciutto-wrapped scallop appetizer, which is passed through a fine sieve to achieve a super smooth texture, is a nice way to get a jolt of summer in the cold of winter.
214 N. Tryon St., 704-927-2583, bluecharlotte.com

Truffle Chutney
Just when you thought cheese couldn't get any better, Kerry Moffett, chef of Good Food on Montford, infuses his fruity preserves with shallots and truffle oil, which deliciously balance the sweet honeycomb and savory blues on his American farmhouse cheese platter.
1701 Montford Dr., 704-525-0881, goodfoodonmontford.com
Cipollini Marmalade
The toques at Customshop char whole cipollinis—those petite, flattened onions— before melting them down with sugar and vinegar to form a tangy marmalade that adds dimension to the short ribs and grilled escarole in the dish.
1601 Elizabeth Ave., 704-333-3396, customshopfood.com
Collard Relish
At Halcyon, Chef Marc Jacksina switches up his relishes seasonally. For March, he's turned the lowly collard green into a savory and sweet condiment, which gets depth from brewed coffee, local sour gum molasses, and jalapeno. Fried catfish has met its match.
500 S. Tryon St., 704-910-0865; halcyonflavors.com
Recipe: Collard Relish from Halcyon Restaurant
Makes 4 servings
1 sweet or yellow onion, roughly chopped
¼ to ½ pound collard green or Swiss chard stems, coarsely chopped
1 jalapeno, seeded (or half of seeds removed for spicier relish) and sliced
1/3 cup molasses or light brown sugar
1/3 cup red wine vinegar
1 garlic clove
1 ounce brewed coffee
1 dash ground cinnamon
1 dash ground nutmeg
1 dash ground clove
1 dash Tabasco (optional)
Sea or Kosher salt to taste
Freshly ground black pepper to taste
1 small red pepper, finely diced
Procedure:
Combine all ingredients except red pepper in a saucepan and cook over medium-low heat until
ingredients are soft and mixture is slightly reduced, about 25 to 30 minutes. Remove from heat, pulse in
a food processor, and fold in red pepper. Serve.
Note: Chef Marc says this relish pairs nicely with anything fried or roasted such as fish, as well as with a
great cheese such as Point Reyes blue.