Make the Most of Summer Produce
Put these recipes to use after this weekend's farmers-market run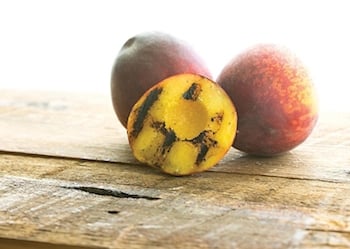 August is halfway over, and summer is slipping toward fall. Only a few weeks remain to take advantage of several summertime fruits and vegetables. We pulled together a few recipes from Charlotte Home +Garden magazine and local farmers markets, farms, and organizations that showcase the season's offerings.
Keep up with what's in season throughout the year with the N.C. Department of Agriculture's availability chart. According to the chart, we have until the end of the month to get our fill of okra, cantaloupe, and watermelon.
Cantaloupe. The current issue of Charlotte Home + Garden offers a recipe for grilled melon and crispy pancetta salad. Briefly grilling the cantaloupe slices, only three minutes per side, gives the fruit a smoky-sweet taste. For an even sweeter option, make these cantaloupe ice pops. Keep them in the freezer for the kids' after-school snack, or make a grown-up version for your next cocktail party by adding vodka.
photo by peter taylor
Okra. Crispy, fried okra is a Southern side-dish staple, but the pods are also delicious roasted, grilled, or pickled. Cold Water Creek Farms, a century-old farm in Gold Hill, offers recipes on its website for grilled okra, fried okra, and sweet-and-sour okra. The organic farm is a regular vendor at Atherton Market in South End. The Saturday market runs from 9 a.m. to 2 p.m.
Watermelon. Celebrate the last days of watermelon season with a festive watermelon martini. This recipe has elderflower liqueur and chile-lime sugar for the rim.
photo by emulsion photography
Tomatoes. A classic tomato pie is one of the best ways to use up an abundance of tomatoes and try several varieties at one time. Many markets around town offer heirloom tomatoes that come in all shades of red, yellow, and green. Select a few different ones for a pretty presentation. The Matthews Community Farmers' Market (Saturday, 8 a.m. to noon) is a good place to stock up. The market's website also offers a recipe.
Peaches. Similar to the results from grilling cantaloupe, grilled peaches have a smoky taste and a softer texture. This Charlotte Home + Garden recipe purees the grilled peaches into a sauce for barbecue chicken wings. For a dessert option, the chefs at Sante Restaurant prepared these fig and peach empanadas at a recent demonstration at the Matthews Community Farmers' Market. The empanadas are an appropriate recipe for this time of year since peaches and figs are both in season.
photo by peter taylor
Cucumbers. Kristin Davis, an extension agent with the Mecklenburg County Cooperative Extension, spoke with us a couple of weeks ago and provided some tips on pickling. Check out our recent blog post for her advice and a recipe for cucumber pickles with onion or vegetable medley.
Corn. We fire up the grill once more to add flavor to corn on the cob. Eight minutes on the grill, turning every two minutes, and the kernels will caramelize and lightly char. Slather the ears with blue-cheese butter, and finish them with a sprinkling of cumin, paprika, salt, pepper, and chopped parsley.
photo by chris edwards