Making Straight-A Spaces for Kids at Home
Designer Anne Buresh creates kid-friendly rooms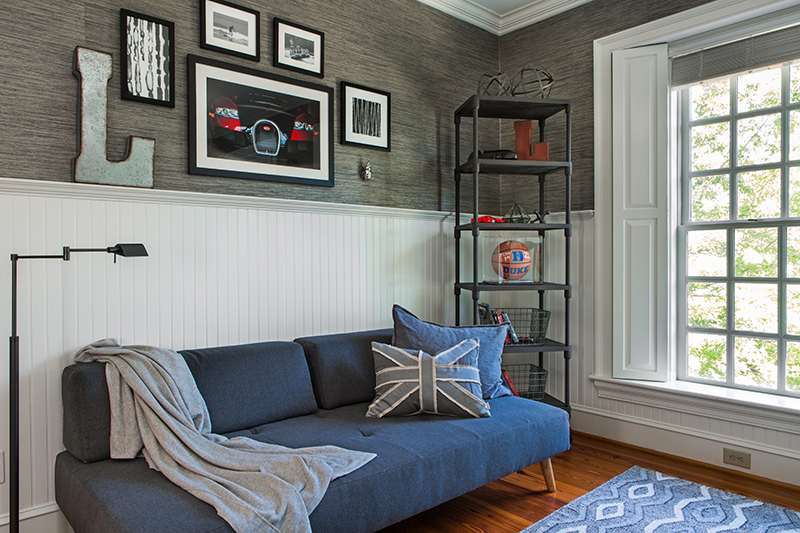 "LOOK AT THAT! LOOK!"
Inside his family's Myers Park home, a 13-year-old boy jumps up and down with joy. A father's eyes well up with unexpected tears. A mother gazes with shock and amazement. In front of them is the boy's newly renovated bedroom, outfitted with everything he loves. There's a bookshelf housing a Duke University basketball, model cars, and wire bins with books. Next to the shelf, a grey couch.
On a different day, a few miles down the street, it's the same excited scene—only with a different room and different family. This time, it's an 11-year-old girl's stylish sanctuary with a clean, white desk. A bubble-shaped vase of vibrant colored pencils sits on the desk, appearing more like an artful arrangement than drawing supplies.
This is what it's like during many of SouthPark designer Anne Buresh's room reveals.
Buresh says families often come to her with ideas to transform kids' rooms—specifically, to make them homework-friendly reserves where kids can get away from distractions. Charlotte parents want to create spaces for their teens-to-be that function as bedrooms, work spaces, and hang-out spots for friends.
Though the idea stems from the parents, the kids are the ones who give Buresh the design inspiration.
"The key to any good design in any space is identifying what the child wants to happen," Buresh says. "Interview the child. Get down on their level. Sit cross-legged and hang out with them."
Creating work spaces for kids may be new to Buresh's interior design offerings, but working with children has always been one of her specialties. Before becoming a designer, Buresh was an elementary school teacher for 13 years.
Considering that preteens are, well, fickle, it's important that their new rooms balance their current interests with the possibility that these interests may change in a couple of years. Buresh says the key to creating a functional, transitional room is to combine timeless design elements with youthful details, such as the materials and fabrics used.
The glass on one girl's chic, white desk is lacquered, for example, so it won't scratch. The sofa in the boy's room is made of indoor-outdoor material, making it durable and practical for kid use. Eliminating clutter is essential for growth, so Buresh reminds kids that in order for good things to come in, some of the old things need to be taken out. The goal is to create a better environment for thinking and performing.
"People don't realize the effect on our health and well-being our environment has on us," Buresh says, and there's no doubt that providing kids with personalized homework spaces gives them the space they need to succeed. —Alyssa Ruane
​
5 TIPS FOR A GREAT HOMEWORK SPACE:
1. Remove clutter. As Buresh says, "Who wants 5,000 stuffed animals?"
2. Talk to your kids about their interests and the environment in which they prefer to do their homework.
3. Measure the space before you buy any furniture. Scale is crucial and often mistakenly ignored.
4. Use durable materials that are practical for kids.
5. Ensure the room can grow with him or her through high school.
---
This article appears in the November 2016 issue of Charlotte Magazine
Did you like what you read here? Subscribe to Charlotte Magazine »
---