Making the Magic Happen
The Charlotte Symphony's annual Christmas show is pure magic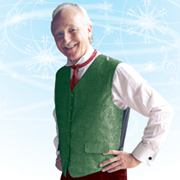 For more years than I care to count, the Charlotte Symphony Orchestra's Magic of Christmas has been an essential part of the season for me.
One year, Peter McCoppin, CSO's dashing, young conductor back in the 1980s, read 'Twas the Night Before Christmas from a big, easy chair on stage. "Come to mama," I muttered under my breath, over and over again. He didn't hear me — or pretended not to. It's a family show, after all.
Beth Chorneau's jazz ensemble played a couple of years, which made the Blumenthal feel — just for a time — like a smoky little jazz club. She did the only sultry version of "The Twelve Days of Christmas" I've ever seen. My first introduction to klezmer music was at this very event. It's truly a Christmas variety spectacular!
You never know all that's in store: A bit o' this. A bit o' that. A bit o' the other. A perfect blend of sacred and secular music. It's about equal parts JC and SC (Jesus Christ and Santa Claus). The Symphony celebrates the reason for the season but also gives the jolly guy with the gifts his due, too.
This year, the Oratorio Singers and the Charlotte Children's Choir are back. And for the first time, Sweetbriar Jam, a young folk group, will perform. (They played with the CSO at the Summer Pops to great acclaim.) This is a very kid-centric concert that's equally enjoyable for adults. Guaranteed to get the Scroogiest of Scrooges into the spirit. Friday, Saturday and Sunday.