Malabar Brings Paella—and Style—to Uptown
The city's newest destination for tapas has gone largely unnoticed—until now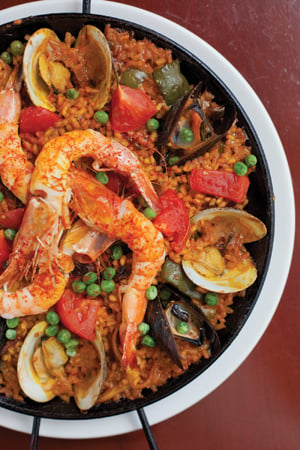 For eight years, two Italian restaurants owned by the same restaurateur coexisted peacefully across from one another in the Hearst Tower plaza: Luce, Augusto Conte's upscale spot, and Coco Osteria, its casual little sister. That changed January 2, when Conte quietly turned the space formerly known as Coco Osteria into Malabar Spanish Cuisine.
The new tapas restaurant has the same intimate atmosphere that made Coco Osteria feel authentically European, but with new paint, furniture, and lighting, it manages to seem even cozier. The smell of Spanish spices wafting out from the kitchen—likely the first thing diners notice—is certainly a contributing factor.
The biggest changes, however, are on the menu, where Executive Chef Gabriele Grigolon has created a medley of small plates separated into categories (carne, queso, vegetal, and pescado), along with several entrées, and a selection of paella. Empanadas de Ropa Vieja ($9), stuffed with braised beef, are tender and surprisingly light. Pulpo ($10), a fragrant dish with grilled octopus, potatoes, and olives, is an unusual but winning combination. The Churrasco entrée ($16), grilled skirt steak with chimichurri sauce and fried yuca, is tender and fresh. And while some tapas restaurants are stingy when it comes to the definition of "small plates," at Malabar the dishes are large enough to share.
Paella is the standout. It should be, considering that the restaurant's kitchen was reconfigured to allow for its traditional preparation in wide, flat pans. Made to order, it takes thirty-five minutes to arrive—but when it does, it brings along envious looks from neighboring tables. The Paella de Pescado ($15 per person, with a minimum order of two servings) is a generous amount of calamari, baby octopus, cod, shrimp, clams, mussels, and sofrito nestled on a bed of rice. Other options include Paella Royal ($16), with chorizo, chicken, pork ribs, calamari, shrimp, clams, mussels, and vegetables; Paella de Verduras ($11), with seasonal veggies; and Paella de Carne ($13), with chorizo, chicken, pork, rabbit, and sofrito. The wine list features mostly Spanish wines, with a good selection of by-the-glass options, and servers are knowledgeable when it comes to pairings that highlight the dishes' flavors.
Malabar is open for lunch, but it's poised to become a new favorite date-night spot, with its romantic menu that's perfect for sharing and intimate feel. But larger parties will also appreciate the easily shared dishes, and guests with theater tickets will be thankful for efficient service. This is one restaurant that won't remain a well-kept secret for long.
Location:
214 N. Tryon St.
704-344-8878