Mamma Mia
How to make the MOB feel special on her daughter's wedding day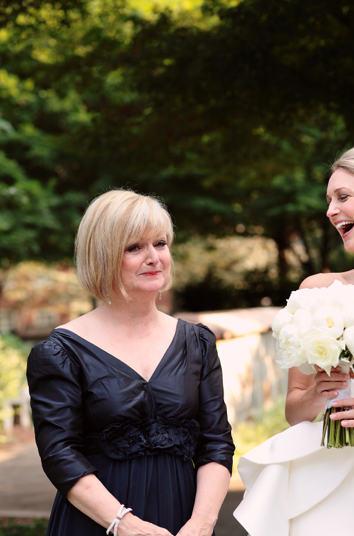 With the pressure couples face come wedding day to mingle with every last guest in attendance, finding the time to chat with parents proves quite difficult. No doubt this unintentional neglect may heighten the sting of pain the MOB feels on this monumental and emotional day. But even if you can't find the time to divulge all your feelings and thanks with her on the day of "I do," there are still plenty of ways to make sure she feels every bit as special as you. Like all things in life, it's the little things that mean the most. So read on and take a few moments to make sure you're keeping mom on your mind on your wedding day.
1. One Of The Girls
Whether it's a bridal party lunch or pre-wedding-festivities bar hopping with your best girls, extend the invite to mom. Penciling in quality bonding time and including her with your friends will make her feel super special.
2. Pick Up The Tab
For her hair, makeup and manicure for your wedding day, pre-pay her services. This simple gesture will show her just how thankful you are for all the hard work and funds she has put into the big day.
3. Noteworthy
Deliver a hand-written note to her on the morning of "I do." Tell her how much she means to you and recount special childhood memories you've shared with her. She will cherish this forever.
4. Dancing Shoes
Choose a song meaningful to the two of you and schedule a DJ or band rendition for a mother/daughter dance. Invite all the mothers in attendance to dance with their daughters as well.
5. Honorable Calling
Why not ask your mom to be MOH? It's perfectly acceptable to have a maid and matron of honor, so don't feel as though you can't call on your best friend or sister to fulfill the duty as well. Another alternative: have both parents accompany you down the aisle. This act is trending big time and is guaranteed to make mom feel endlessly loved.