Marigny Dance Club Heats Up South End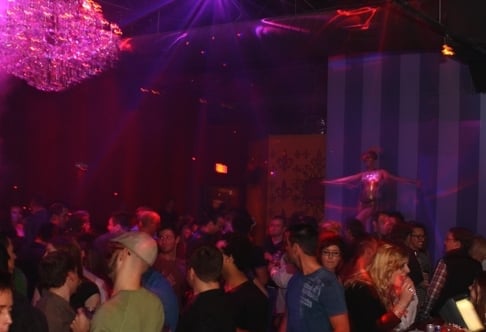 South End has become a popular nightlife destination over the last couple of years, thanks primarily to the opening of a few lounges. Apostrophe Lounge, Dharma Lounge, and On the Roxx, among others, and not to mention long-time staple The Sunset Club, have made this part of Charlotte the place to go if you want to kick back on comfy sofas, while enjoying drinks and music in an upscale atmosphere. But what if you wanted to, in the words of Lady Gaga, "just dance?"
Marigny Dance Club is the answer. Opened since October, Marigny has caught on for the crowd who loves to dance hard. House and bass music dominate the playlists and the club brings in popular DJs each week. The current weekly lineup features an open bar on Wednesday nights, college night on Thursdays, special DJ attractions on Fridays and Saturdays, and Sundays cater to the service industry.
The sound system is loud, and the light show looks like something out of Star Wars. The large, open dance floor gets crowded, and after folks work up a thirst, there's a large bar dishing out drinks. If you don't want to be too close to the madness, the VIP area is elevated above the DJ booth. And there are touches of class throughout this night spot—the crystal chandelier above the dance floor, the velvet wallpaper that lines the walls.
So if you've been looking for a place to test out your new dance moves, you've found it.
Marigny Dance Club, 1440 S. Tryon St., Suite 110, 704-910-4444. www.marignycharlotte.com.