Marsh Magic at SwimMAC Carolina
The best coach you've never heard of is building an Olympic dynasty in Charlotte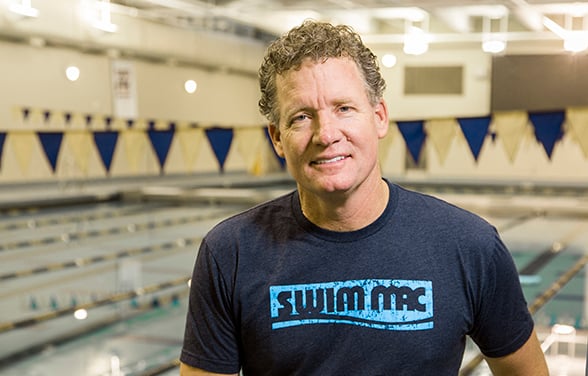 DAVID MARSH HAS WET SHOES.
He's standing on a concrete pool deck, broiling in the morning humidity of a June Saturday, watching 75 swimmers churn across a Concord pool. All these limbs moving through the water sounds like a rushing mountain stream. Ten lanes run the length of the 50-meter pool, each one exactly two-and-a-half meters wide, separated by lane lines made of red and blue plastic.
Underneath an olive green safari hat, Marsh watches members of his SwimMAC Carolina team. They're halfway through a two-and-a-half hour practice. The group is a mix of ages and skill levels: Olympians and 11-year-olds, tattoos and braces.
At the near end of the pool, at Marsh's feet, are mesh bags full of gear—fins, snorkels, kickboards—and dozens of water bottles and Gatorades. The whole cache is soaked as swimmers make flip turns.
Marsh, who turned 56 in December, is tall and lean, with arms still toned from his own success in the pool years ago. A pair of reading glasses sits on the top of his head, half-buried in a mop of curly, wire-fine hair. Marsh paces from lane to lane, calling out instructions.
"Stay on your intervals. I want your racing-style stroke. Hey, keep those elbows higher. Nice job, Allie, keep running at them. Keep that heart rate up. Let's go!"
The swimmers pass under a row of red, white, and blue plastic pennants. They reach the far wall, turn around, and come back toward us.
As they look down, the athletes see swimming's North Star: a thick black stripe that runs down the middle of the lane. They follow it subconsciously. The stripe comes to an end just meters before the wall, terminating in a bold T.
They glide toward the wall for another turn, flinging chlorinated water onto the deck, dousing Marsh's shoes again. As the workout intensifies, Marsh moves closer and closer to the edge.
In the fourth lane, a green-and-black swim cap bobs to the surface. The head belongs to Ryan Lochte, the 11-time Olympic medalist and owner of four world records. His hairless torso is flushed pink from exertion. Lochte asks Marsh if there are any extra pull buoys, foam floats that swimmers hold between their thighs for form drills. Marsh slowly shakes his head no, but doesn't speak.
He walks three lanes to the left, then up to the edge of the pool, and motions for an 11-year-old boy with a stick-figure build. The boy's name is Baylor, and he's all straight lines and a ribcage, sporting a baggy, electric blue brief-style spandex swimsuit. Marsh bends down and talks into Baylor's ear. The kid scurries to his personal pile of gear, digs out a blue and white pull buoy, and takes it to Lochte.
"Hey, thanks, buddy, I owe ya one," the Olympian calls over his shoulder.
"Tell Ryan that coach says to bring his own dang gear to practice next time," Marsh says to Baylor, loud enough so that anyone nearby, including Lochte, can hear him.
Marsh has coached 47 Olympians and has shaped the leaders of the top collegiate and club swim teams. Since moving to Charlotte nearly eight years ago to become SwimMAC's CEO and director of coaching, Marsh has dominated age-group meets and won world records.
Marsh now is arguably the greatest coach in the history of competitive swimming. Even though the 2016 Summer Olympics are more than a year and a half away, Charlotte swimmers training under Marsh are poised to dominate the games.
"We know that there will be medals coming from that program in Rio," site of the 2016 summer games, says Finbarr Kirwan, who works for the United States Olympic Committee as a liaison with high-performance programs such as SwimMAC.
At last summer's national swimming championships, SwimMAC won the men's, women's, and combined team titles. The program sent 28 swimmers to the meet, and they won nine events and finished second or third in another 14. Lochte, still recovering from a knee injury, narrowly edged rival Michael Phelps to win a thrilling race and almost set a world record in the process. This field-clearing supremacy is why Olympians and Olympic hopefuls move here from as far away as Zimbabwe to train with SwimMAC's Team Elite.
But it's also why young swimmers—kids such as Baylor—join SwimMAC. About a thousand kids participate in the club's Junior Swim League. Another 850 have slots on the competition team, racing in meets here and across the country, many chasing fantasies of becoming one of the elite. It's why their parents change jobs, sell houses, and move hundreds of miles to Charlotte to expose their kids to Marsh's methods. If you want to predict who will win a gold medal in the 2028 Olympics, look at the youngest kids swimming on Marsh's team.
"That kid, Baylor, is probably the best 10-to-11 [year-old] swimmer in the Southeast," Marsh says. "What you need to pay attention to is what kids stare at. I love how Baylor went back over there and just stared back at Ryan. He didn't let go. That's what I want. I want him to be motivated, to be thinking about what's possible."
Marsh does this a hundred times every practice. It's perhaps his greatest strength as a coach. Just as races are won and lost in fragments of time, Marsh takes small moments and uses them to teach big lessons. There was a lesson for Lochte embedded in the performance, too: If an elementary-schooler can remember all of his equipment, so can you.
Baylor walks back to his lane, his gaze fixed on Lochte. He teeters at the edge, watching Lochte swim, before plunging into the water.
***
MARSH CAME TO CHARLOTTE in 2007 because someone called his bluff.
He had just finished his 17th season as the head men's and women's swim coach at Auburn University, which has one of the best NCAA swimming programs in the nation. His teams won a dozen national titles during Marsh's tenure, and other universities and top club teams often called to ask for his advice, particularly about coaching changes.
One day, Marsh received a call from Jeff Gaeckle, who was the chairman of the board at what was then known as Mecklenburg Aquatic Club, and had served as its head coach from 1981 to 1993. Gaeckle asked if Marsh could help MAC find a new coach, then ran down the list of qualities the board was hoping to find in a head coach. Strong deck presence. A master at technique. Keen business acumen. Inspirational. Someone with a passion for teaching.
"We want the best coach we can get," Gaeckle said.
"Well, then, why aren't you asking me to apply?" Marsh responded. It was an answer he always gave to people who called for coaching advice.
"The point is to challenge their thinking and to push them," Marsh explains. "I mean, why wouldn't they ask the top collegiate coaches to come work for them?"
But he didn't expect Gaeckle to take him seriously.
"I had no interest or idea. It was just something I said."
Gaeckle had other plans.
"I'll get back to you," he told Marsh.
Gaeckle, who owns a pool management company and has long worked to raise swimming's profile in Charlotte, believed the right leader could inspire the young swimmers who dive into MAC's chilly water every swim season. He also understood that someone like Marsh could transform the club into a gold medal factory and a model program for the rest of the country. He went to the United States Olympic Committee, USA Swimming, and to Speedo, the swimwear brand and one of Marsh's sponsors, to come up with a plan to bring the coach to Charlotte. Gaeckle approached Marsh again and asked him to make an assessment of MAC as a whole. Marsh didn't hold back.
"My opinion of Mecklenburg Aquatic Club was that it was, in many ways, the problem with swimming in North Carolina," Marsh recalls. "When I was recruiting, and I hit the Mecklenburg County line, I accelerated up I-85 to the Raleigh area as fast as possible."
The club was doing just fine turning out kids who enjoyed the water, Marsh says, but it wasn't an elite program. MAC swimmers would embarrass competitors during summer league meets; they would run up the score against other clubs whose swimmers grew resentful at even the sight of MAC's orange-and-navy duffel bags. Each year, a few high schoolers would graduate and leave the club for nearby collegiate swimming programs, places such as Georgia or UNC or Florida State. But few MAC swimmers ever broke through to the elite level. (The notable recent exception is Ricky Berens, who swam for MAC until 2007 and later won two Olympic gold medals; in 2009, he was on a freestyle relay team that set a world record that still stands today.)
Marsh thought it was a shame to have a team the size of MAC that wasn't producing some of the best swimmers in the world. When he announced he would leave Auburn to go to a relatively unproven club team, the decision shocked the swimming community. He immediately presented the board with a plan for dramatic change at MAC, from cosmetic tweaks—changing the name to SwimMAC Carolina—to substantive overhauls of the way the club developed swimmers.
"A lot of clubs don't offer the highest level of swimming," Marsh recalls telling the board. "They just end up with the highest level that someone may blossom into. I don't want that. I want a club that is pulling people to be elite." His initial approach troubled some parents; after his first board of directors meeting, several members resigned.
But, so far, Marsh has delivered on his promise.
"In terms of a super team, we've never seen anything quite like SwimMAC," says Mel Stewart, a Gastonia native and Olympic medalist who runs swimming news website SwimSwam.com. "The chatter among the [swimming] community is if you're an elite and you want to be on the Olympic team and you want your best shot at it, you better be at SwimMAC."
In 1989, Stewart, then a rising junior at the University of Tennessee, spent a summer training with the club team Marsh ran in Las Vegas. The pair got off to a disagreeable start. "He told me he was going to change my stroke," Stewart recalls. "I was ranked No. 1 in the world at the time, and I said he was full of it."
Marsh ran through a list of problems. Stewart, a butterfly swimmer, had a hitch in his stroke that caused him to slow down and lose momentum. He wasn't taking enough strokes per lap. And his body wasn't coming out of the water at a steep enough angle. Stewart was essentially swimming uphill—doing twice the work for half the reward. In a matter of weeks, Marsh overhauled the way Stewart swam. By the end of the summer, Stewart broke the American record in the 200-meter butterfly. Six months later, he set the world record in that event. In 1992, Stewart made the Olympic team and won two gold medals and a bronze medal in Barcelona.
***
MARSH'S FIRST LOVE was baseball.
A gangly 15-year-old with big, curly hair, he expected to see his name on the list posted on the wooden door of the coach's office at Southwest Miami High School. He had gone 4-for-5 during tryouts, and his run time from home plate to first base was among the fastest. He had played and excelled as a first baseman and outfielder.
But the white piece of paper was there, taped to the door, and his name wasn't on it. He was devastated.
"I didn't have much of an identity as a kid," he tells me over lunch one day last year. "I thought 'baseball player' could be it. I was going to be the next Hank Aaron."
We're eating at a round wooden table that sits under a brass chandelier in the empty dining room at Queens University. Marsh has just finished a practice with Team Elite in the on-campus pool, and he's still wearing bright orange rubber sandals. There's stubble, fine like 280-grit sandpaper, on his cheeks and chin. In between bites of a spinach salad, Marsh sips from a large plastic cup of milk.
"I was pretty much the definition of a latchkey child," he says. Marsh and his siblings, an older sister and younger brother, were on their own a lot. "My parents owned a business and they'd work at it 14 hours a day. We didn't see much of them. We lived off of TV dinners, the old aluminum foil TV dinners."
When he was nearing the end of elementary school, his parents bought a drapery manufacturing company from a Cuban woman named Hattie.
They renamed the company Marsh Industries, and on the weekends the kids would fit their fingers into pairs of drapery scissors and cut fabric. Marsh would sweep the concrete floors at closing time. "We were a humble family," he recalls, "but, at the same time, a proud one. It was the first time we had ever had our name on something."
Sometimes he went with his father to install large valances in customers' homes. The work was hard, but Marsh enjoyed it because it meant time with his dad; afterward, they would go to a restaurant named Grant's and fill up on all-you-can-eat fried shrimp. Those afternoon meals, and a couple of Sundays a month in a boat, amounted to Marsh's most meaningful relationship with his father. Even the fishing was work.
"Dad was all about getting meat in the boat," Marsh says. "We always had a purpose for what we were doing."
Mostly, they were getting by.
After he was cut from the baseball team, Marsh decided he would try to beat his brother at his sport—swimming. He took public transportation to practice every day, changing bus lines three times each way.
When he and a friend heard that the "fast swimmers" at other schools held morning practice, the boys snuck into a local pool and did extra laps before school. Marsh did just well enough in class to stay eligible as an athlete. There was no personal attention at home, no late-night tutoring from a parent. His childhood did instill one concrete lesson, though: "I knew that I didn't want to be a laborer. I didn't want my profession to be something that required me to use a hammer."
After swimming at a junior college, Marsh wound up at Auburn, where he was a five-time All-America backstroker and the Southeastern Conference champion in 1980. His parents paid the difference between his small scholarship check and the cost of a semester's tuition. During Marsh's last trip to the United States swimming national meet as a competitive swimmer, a coach told him he needed to give back to swimming as much as it had given to him. The comment resonated, and Marsh knew he had to give coaching a shot.
"I was such an insecure kid growing up," he says. "I found whatever level of confidence I have through swimming. To some degree, it saved me."
***
IT'S CRAZY THAT MARSH came here.
Unlike most elite swimming programs, SwimMAC is a nonprofit, relying on corporate sponsorships and family dues to pay the bills. Most of the top clubs are coach-owned, for-profit ventures or they're affiliated with a university, which can pour athletic foundation dollars into facilities and staff. Swimming insiders were shocked when Marsh chose to leave the stability at Auburn for a gamble in Charlotte.
"An NCAA swimming team has far more support than David does," Stewart says. "David is at a very successful club team, but it's still just a club team. It floats on the backs of moms and dads and volunteers."
The organization has an annual budget of about $4 million. Marsh earns a salary of about $270,000 per year—roughly what Charlotte pays its city manager or the school system pays its superintendent, but far from the millions other elite coaches pull in annually. Mike Krzyzewski, the top-paid coach in college sports, earned $9.7 million at Duke last year. The comparison might be unfair, considering the revenue college basketball generates, but remember that Marsh won a dozen NCAA championships at Auburn.
Coach K has just four.
USA Swimming, the sport's national governing body, had supported SwimMAC with about $300,000 over four years. In 2012, after the London games, and with a change in leadership at USA Swimming, the money stopped.
This spring, the club launched a capital campaign to raise $6 million to build a new aquatics center in Mooresville and to renovate SwimMAC's 24-year-old pool at Charlotte Latin, which has cramped locker rooms and a leaky roof.
The campaign will benefit SwimMAC, including the elite team, but Marsh says it will also serve the community. When he moved to town, Marsh was shocked at the lack of pools available to the public, especially in the winter, when neighborhood swim clubs close. In the 2014 American Fitness Index, which ranks 50 metropolitan areas on a list of health and fitness criteria, the Charlotte area placed last in the number of swimming pools per capita.
"Nobody's building pools in Charlotte," he says. "[The school system] isn't building them. The county isn't building them. The city isn't building them. And certainly not at any rate proportionate to the population or to the number of drownings we have. Shame on the structure that isn't doing that.
"It's left up to programs like ours to build or rebuild pools to keep them operating."
One of the inherent challenges swimming faces in a pro sports-driven city such as Charlotte is lack of attention, which translates into lack of money.
"We learn in our sport that we get the attention every four years. You just kinda deal with it," Marsh says. He's frustrated that SwimMAC—widely recognized as one of the top five swim club teams in the world—doesn't get its due.
Marsh is mostly an anonymous person outside steamy aquatic centers. Even at SwimMAC's junior swim meets, few people approach him. Imagine Bear Bryant walking through the stands at a Pop Warner football game without being recognized.
Although a strong showing in 2016—some predict at least a third of the USA Swimming team could be from Marsh's team—could solidify his place in the sport's history, Marsh takes more pleasure in the idea that his legacy could be an enormous network of coaches he's shaped in the same way he has his swimmers.
At swim meets, he'll often go out to eat with a dozen other coaches, people he's influenced, people who influenced him. They'll sit around a long table, the smell of chlorine on their skin and in their hair competing with the food, while Marsh holds court, cracking dad jokes.
He has mentored nearly every notable college swimming coach—including those who lead the top programs at Michigan, Cal, and Auburn. Bob Bowman, who runs the North Baltimore Aquatic Club and is Michael Phelps' coach, worked as an assistant under Marsh in the late 1980s.
"I wonder if he'll retire as the best swim coach ever," Stewart says. "People will make that argument, but I wonder whether it'll just be without question."
***
ONE FRIDAY LAST SUMMER, Marsh takes the elite team to Lake Norman.
The temperature approaches the mid-90s, and everyone is excited to splash around in the water.
"Lake day!" one swimmer tweets.
Another posts: "Love me some open water!"
But the practice is grueling.
Marsh, standing under the rolled-up tan awning of a ski boat, ties a rope to the stern of the fiberglass hull and flings the other end into the lake. The swimmers have to hold the rope for 30 seconds as Marsh drags them through the water. When the boat gets up to speed, they are instructed to let go and try to continue swimming at that pace.
Later, Marsh has the swimmers run down a dock, pounding the pressure-treated boards at a full sprint, before diving into the lake. By the end of the workout, the swimmers are exhausted.
"I heard 'lake,' and I was like, 'Free day. I'm gonna go have fun,' " Lochte says the following morning. "It was one of the hardest workouts I've had here. Brutal."
Cullen Jones, a former N.C. State swimmer and Olympic medalist who was one of the first swimmers to join Marsh at SwimMAC, wasn't surprised. "He just always finds new ways to get you," he says, laughing. "He's a mad scientist."
The practice is classic Marsh. It looks nothing like the long, grinding, monotonous sessions common on collegiate squads.
"I came from a college program where we just swam a lot," says Katie Meili, who joined SwimMAC a year and a half ago after graduating from Columbia. "You swim for two hours or four hours every day. It was just swim more and you'll swim faster." Most college coaches subscribe to this theory as the best way to grow their swimmers. Meili says it works—to a point.
What she found in Charlotte was the opposite. Technique became more important as she shaved tenths of a second off her time. Marsh believes swimming more laps doesn't necessarily make an athlete faster. In fact, he says, long and boring swimming practices hurt technique. So he focuses instead on the combination of speed and technique, incorporating out-of-water exercises that confuse the muscles.
"I'd rather have 30 minutes of deep practice than five hours of general-grade practice, you know, just white noise practice," he says. "I want deep engagement."
This attitude is why families pick up and move to Charlotte so their kids, many of whom will never make an Olympic team, can train with Marsh. Kathleen Baker, one of the team's up-and-coming high schoolers, moved with her family from Winston-Salem. One family moved from Washington, D.C., so their four children could join SwimMAC. Another parent moved his business unit's office to Charlotte to get his kid on the team.
Marsh believes a better athlete will be a better swimmer. That simple philosophy is at the root of one of his quirkier rules: Pool ladders are off-limits.
Last June in Monaco, at the first meet of a three-stop European swim competition called Mare Nostrum, Meili finished her race and cool-down. Without thinking, she floated over to the four-rung ladder and pulled herself up the stainless steel arms and onto the brick pool deck. Marsh was waiting for her.
"Twenty push-ups."
Meili flopped down and started counting.
Marsh took a picture with his iPhone—Meili, mid-push-up, still sporting a white swim cap and black goggles—and uploaded it to Twitter, with a message, "Ladders in Monaco are off limits as well (in case anyone is wondering)."
"If there's a harder way of doing something, I want them to do that," he says. "If there's an escalator and an elevator and stairs, you better take the stairs."
***
SWIMMING CAN BE a lonely sport.
"You're staring at a black line for 20-plus hours a week," says Cammile Adams, a 23-year-old butterflier who trained with Marsh last summer before her final semester at Texas A&M. She placed fifth in the 200-meter butterfly at the 2012 Olympics and wants to medal in Rio. A tattoo of the Olympic rings sits on her right hip, just below the black spandex of her suit. "You talk between sets, maybe. But your head's underwater most of the time. And it's just you."
Marsh is able to break through his swimmers' internal monologues and help them stay focused. Lochte says this is part of the secret to Marsh's success as a coach: He takes what is seemingly an individual sport and creates a powerful group dynamic.
After practice one Saturday in June, Lochte and Cullen Jones are sitting in plastic chairs at a white plastic table, dodging the midday sun under a navy blue canvas umbrella. The swimmers say Marsh understands how to handle the psychological pressure they face, particularly from themselves. But that doesn't mean he's soft.
"He's never yelled," Lochte says.
"Nah, he's not a yeller," Jones agrees.
"But if you're doing something wrong, you feel about that big," says Lochte, taking his left index finger and thumb and holding them a couple millimeters apart. "It's that disappointment factor, like that dad disappointment factor."
"I'd rather be yelled at," Jones says, laughing.
Marsh wasn't always this nice. After he became head coach at Auburn in 1990, he routinely screamed and cursed at his athletes. He recalls grabbing a swimmer by the shoulders and pushing him against a wall, jabbing a long index finger into the kid's chest to get his attention. "I did things that I'd definitely get fired for now," Marsh says. "Immediately."
A newspaper profile of the new coach came with the headline "Harsh Marsh." Even the campus minister caught his fury over a barbecue lunch in downtown Auburn.
"I got in his face and said, 'I don't want you talking to my swimmers because I don't want them to be soft Christians,' " Marsh says, recalling his "false fear" as a tough young coach that swimmers might lose intensity as faith guided their priorities.
Marsh, a self-described skeptic, started exploring religion after he and his wife, Kristin, started dating. He says he found that the church's philosophies were much like his coaching philosophies—building people up, making them better, things like that. Today, Marsh's family attends Lake Forest Church, a contemporary Presbyterian congregation in Huntersville, and he credits God for shaping him as father and as a coach.
Marsh laughs while telling that story. He recognizes the irony that he turned out to be a "soft Christian," the same type of person he once wanted nowhere near his competitors.
"I think I still retain my intensity," he says, not quite apologizing, but still making it clear that he's tough enough to make his Olympians better.
"Honestly, I don't know how he does it," Lochte says. "There's 15 different athletes. They swim different events. They come from different backgrounds. And he has a plan for each person. That's what separates him from every other coach in the world."
***
THREE WEEKS BEFORE NATIONALS, on a Thursday afternoon in July, the Team Elite swimmers are in the weight room at Queens University. A nearby car accident took down a power pole, and although the school has a backup generator to run the lights, the air conditioning is off. The room is stuffy, but not yet fetid.
Lochte wanders from station to station, at one point lying on his back on a weight bench, ankles wrapped in a red resistance band, and furiously kicking his legs. Jones works on the bench press. Meili is doing handstands, her shoulders and arms pulsing as she maintains her balance.
Another swimmer challenges her to a handstand competition, and the group gathers around to watch.
After Meili wins, Marsh parts the circle. "Let me show you," he says. The team hoots and cheers as Marsh puts his palms on the squishy, padded floor and tosses his long legs overhead. His blue polo shirt falls around his face, but the coach holds the position for a dozen seconds.
The mood is light and jovial. When the team gets in the pool half an hour later, the jokes keep coming.
Lochte and Jones tease each other before a sprint set, trash-talking back and forth. From atop the white starting blocks, Lochte spits into Jones's lane before losing his balance and falling in with an enormous splash. Marsh jumps back to keep from getting soaked.
At the coach's command, the swimmers dive into the pool and surge toward the opposite end. On the far wall, there's a large, rectangular clock with red digital numbers. It looks like an oversized alarm clock.
From his spot on the tile deck, Marsh sees something he doesn't like, and suddenly his face wrinkles:
"Practice your real stroke. This isn't fantasy land here, folks."
This close to a meet, Marsh makes only small adjustments. One tweak might save a swimmer a thousandth of a second on his freestyle turn. Everything matters. The numbers on the clock tick upward, toward the end of practice. Toward Rio. Every second that passes is an opportunity to win a championship, set a record, earn a medal.
He is a competitor. He retains some of the Harsh Marsh that led to the snarky newspaper headline. He wants to win. But what sets him apart from other coaches—in swimming and in other sports—is that it doesn't consume him. The home screen on his iPhone isn't swimming-related, a gold medal or a team photo or something. Instead, it's a Christmas card-like photo of his family at the beach, wearing coordinated outfits, blue and khaki.
Marsh sips from a travel mug of coffee that gives off the sweet smell of flavored creamer. He walks in a backward "L" pattern from the middle of the starting end of the pool, down the length of the water, and back. The swimmers tread water at the midpoint, bobbing up and down as they wait for their coach's signal.
"OK, let's go!"
The first group of swimmers sprints toward the wall. They rotate their arms faster and harder than normal, slapping the surface of the water with abnormally straight limbs. This is some kind of drill, the nuance of which seems to be lost on everyone in the building except Marsh. It looks cartoonish, like slapstick comedy.
Somehow, through all the splashing and flailing, Marsh notices that Jones isn't breathing in the proper position.
"Cullen! Cullen!" Marsh shouts above all the commotion in the pool. "You're dropping that head down. You gotta keep that head at the water level."
Jones, who has trained with Marsh longer than anyone else on the team, barely acknowledges the coaching. He sinks his head back under, eyes fixed on the long, black line at the bottom of the pool.
Adam Rhew, who was mediocre at the butterfly, is a native Charlottean and a regular contributor to this magazine. Email him at adam.rhew@gmail.com, or reach him on Twitter: @AdamRhew.