Mastering Modern: 4 Tips to Nail the Trend
There are four essential tips you need to know to make modern design work for your home.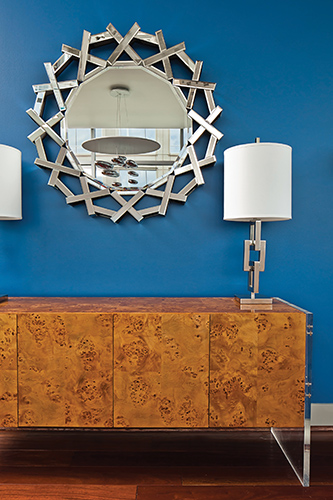 As you read here, modernism is still a strong design trend in the interior world.
When you think of modern design, it's likely your visions are blinded with bright white: bare walls, sterile spaces, and cold conditions. Modernism carries a stigma that most folks seeking cozy will not entertain.
However, like most stigmas, the misinformed opinions about modern design are not definitive. Certainly, they are hyperboles, over exaggerations, of the elements used to depict the specific style.
Implementing modern design in your own home should be done like all other things: in moderation. Modernism can be executed with grace, allowing your home to still feel cozy and chic at the same time.
Here are the top four tips for making modernism work for you:
1. Soften the space. Metal finishes and starkness often classify modern design, so it's important to juxtapose materials for balance. Try touchable textures like lush throws and animal hide rugs.
2. Go natural. The futuristic feel of modernism can be easily combatted with the addition of live potted plants, greenery, and wood accents. Natural elements will make the space feel more livable.
3. Mix it up. Just like you should contrast textures, you should also mix patterns. Upholsteries, pillows, and other patterned fabrics can be blended to create traditional coziness.
4. Welcome warmth. Avoid complete coldness with touches of warmth throughout a modern room. Neutralizing components like wall paint and floor type brings a lived-in atmosphere despite contemporary details.