Medical Wears Start-Up UNYQ Finds East Coast Home in Charlotte
A global maker of orthopedic devices chose Charlotte over the more established Research Triangle for its regional headquarters. Can it start a med tech movement as it straightens spines?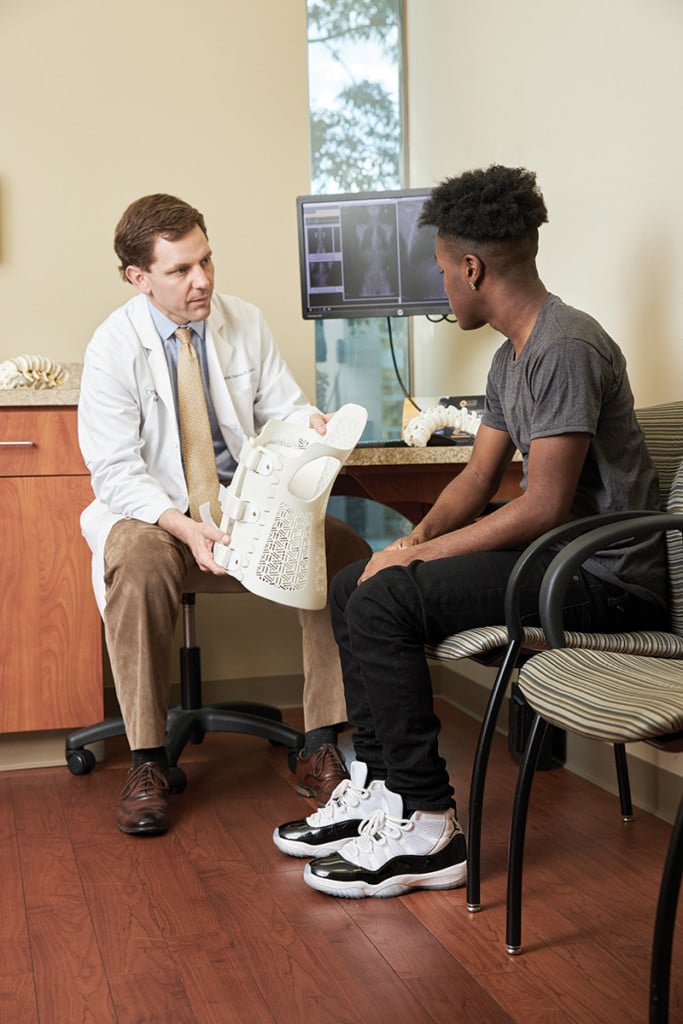 WHENEVER Dr. Matt Chapman prescribes a brace for teenaged scoliosis patients, the OrthoCarolina spine surgeon holds his breath and crosses his fingers in the hope that they'll actually wear it. The brace is a thick, ugly, plastic apparatus that covers most of the body's upper half, and Chapman knows what young people think as soon as they see it.
"It's not breathable, and it's hot and it's sticky and you've got to wear things under it and over it," Chapman says. "And it's just not comfortable. Kids don't like it. It's got a lot of stigma associated with it."
So Chapman was intrigued and encouraged when, about a year ago, he heard that a San Francisco-based company named UNYQ (pronounced "unique") had opened an East Coast office in Charlotte and used 3D printing to create lightweight, wearable medical devices, including prosthetics and back braces. Not long after, he learned UNYQ was launching its digital factory in Charlotte, too, in newly opened Hygge Coworking in west Charlotte. Chapman began to offer the 3D-printed brace as an alternative to the "Boston brace," a device that dates back to the early 1970s and the traditional method for scoliosis treatment.
Omarian Riley was the first patient Chapman put in a UNYQ brace, and the 16-year-old boy's mother, at least, loves it. Omarian? Maybe not quite as much. The brace is still made of a durable, inflexible plastic, but the design resembles lace, with tiny holes throughout. The brace is sturdy enough to prevent Omarian from bending his upper spine, but so lightweight that it's barely noticeable beneath a T-shirt. "It's OK," says the Myers Park High School student, and he shrugs.
The brace limits Omarian's active lifestyle. His mother, Tamara Riley, says her son wears his brace maybe four out of seven days per week "just because he's a 16-year-old boy." But Omarian's scoliosis is mild, and she says the brace has dramatically improved his posture.
"I don't have anything to compare the UNYQ brace to, but it definitely looks like it's more comfortable—he can breathe, he can wear it underneath his clothing, and you really don't notice it," Tamara says. "I think it's a good brace for a teenager who has a lot of confidence problems, and they don't want to be embarrassed by their peers."
This is, of course, exactly what UNYQ and Chapman were hoping for: a patient experience that's "more streamlined, comfortable and pleasant, plus deliver(s) a better outcome," says Lisa Tweardy, UNYQ's vice president of orthopedics, who heads the Charlotte office.
UNYQ, co-founded in 2014 in San Francisco and Seville, Spain, opened its Charlotte office in 2017. The Research Triangle and its host of medical innovators is only a few hours away, so landing UNYQ was a coup of sorts for a city known more for banking and breweries. Tweardy cited Charlotte's prime East Coast location, major airport, and first-rate doctors like OrthoCarolina's as factors. Also, she said, the company has more room to grow. Tweardy says UNYQ is excited to help inaugurate Charlotte's developing health care sphere.
Chapman is excited, too, but for additional reasons. He's a North Carolina native who earned an undergraduate degree at Davidson College, a doctorate at Wake Forest, and served his residency at Duke. If he can use North Carolina companies' products in his practice, he does. Chapman uses iScribes of Durham for dictation and has started collaborating with Cutting Edge Spine in Waxhaw for input on implants.
"Having a North Carolina flavor and bent and some personal connection to it, for me, matters," he says. "I'm not going to pick it over something more effective or more efficient or more cost-effective. I'm going to pick that every time for patients. But if I've got two similar options, I'm going to pick the one that, yeah, it's nice that it's homegrown."
Having local access to UNYQ mattered to Tamara Riley when she ordered the scoliosis brace for her son. A representative met her after work to perform the body scan of Omarian—done with an iPad in a matter of seconds—to calculate the dimensions for his brace. The company helped her set up a payment plan for the out-of-pocket expense—about $1,500—and, after Omarian received his brace, called her to check on him.
"Every question I had to ask, they were able to answer it," Tamara says, "but there weren't many questions I had to ask, because they kind of made things clear up front."
And who's to say that UNYQ isn't the first in a wave of Charlotte-based medical technology companies? "There's a lot of things that are coming together, that Charlotte could become this up-and-coming medical place," Chapman says. "We'll never not be known as a banking city, but it's fun to see other areas get involved."