Meet Lord Mayor John Bullfrog of the Carolina Renaissance Festival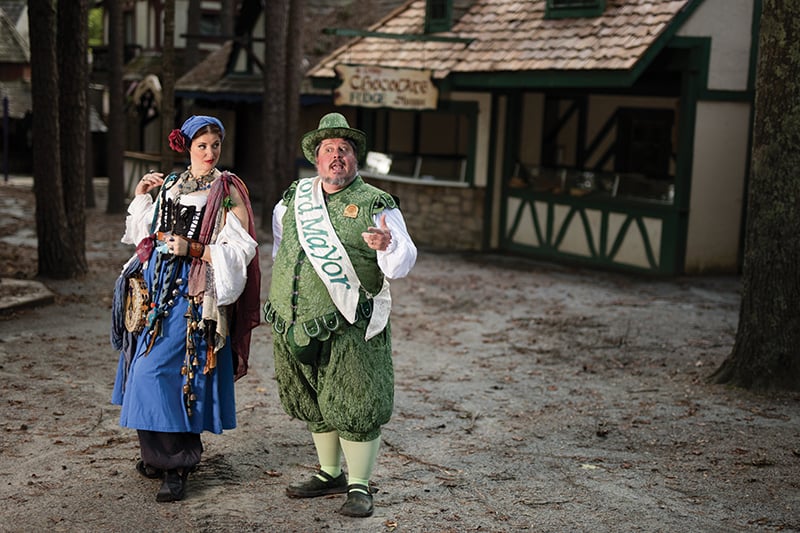 BEFORE YOU GO any further, you should know this is a story of woe, of conspiracies, and of coups. But seeing as how you haven't yet turned back, you should also know it's a tale of love and the power of make-believe.
If our story has to have a once-upon-a-time moment, then, it's fitting it should involve a woman—a fair maiden, if you will—who Michael Stewart wanted to impress. Chivalry, after all, is alive and well in the Renaissance.
It was 21 years ago when Michael first auditioned for the Carolina Renaissance Festival to win over this woman. There would be other women, of course, including one he would later marry.
For the past 20 years (Michael worked for one year as the Scottish Ambassador.), in an imaginary town named Fairhaven, Michael has presided over 1,200 villagers and 25 acres of field in Huntersville each fall as the Carolina Renaissance Festival's Lord Mayor John Bullfrog.
How does one become the mayor of the Renaissance Festival? Like politics anywhere—especially, perhaps, in the 1500s—it was a messy ordeal, dripping with controversy, forced abdications, and upheavals.
"Several different little groups in the production staff had decided that, you know, Michael should be the Lord Mayor. And we had a Lord Mayor at the time, but we think Michael would be a better Lord Mayor," he says, raising his eyebrows and speaking about himself.
He pauses for a moment, a devilishly wide Cheshire grin stretches across his face, and his voice morphs into a dead ringer for Gov. Ratcliffe from Disney's Pocahontas, the villainous, almost-caricature-like English blowhard, before he begins speaking again.
"Oh, conspiracies!" Michael yells. "It turns out that 12 of the 14 people on production staff were all plotting to get me named as Lord Mayor. And so I had a quick audition, they loved my ideas, and I've been Lord Mayor ever since."
Lord Mayor John Bullfrog has outlasted six Charlotte mayors, including Pat McCrory, who was serving his second of seven terms at the time Bullfrog took office.
Michael, and by proxy Bullfrog, is also a lover of history, a cultural connoisseur, and a receptacle of obscure facts that no one should ever possibly know: "For instance: Do you know that in Prague, they have a fascination with throwing people out windows?" he says. "Yes. There have been two instances of defenestrations! They did it once in the 15th century and again in the 17th century. Of course, the second one started the Thirty Years War, and that's a lot of fun," almost purring when he says the word "fun."
Serving as mayor of the Carolina Renaissance Festival is the job any peasant would want, Michael says, proudly. It's full of privilege, wealth, and notoriety among every Fairhaven villager.
"You would not believe the special privileges," he says, smiling. "One, people do what you ask them to do. It is amazing. People act like I am the Lord Mayor and they should do what I say. And that's the great thing."
Before continuing, Michael begins to whisper, as if he's sharing a secret, "I'm not in charge of anything. All I do is sit there, and they do all the work."
The reign of Lord Mayor John Bullfrog, though, has not been all joy and merriment. As with any story, woe quickly befell our hero.
In the early days of his reign, Michael worked full time in the audio/visual department of a local hotel. His mom had a stroke, so he quit his "day job" to help his dad take care of her. Soon after that, his father died, and he found himself as his mother's sole caregiver, a 24/7 job.
"I would hire someone to sit with my mom during the day, and I would leave at the last moment. I would go, do the show. Show's over, and I would go right home. The first five years of being Lord Mayor, no one saw me outside the festival," Michael says. "It was costing me more to do the show than I was making at it. I was doing it just for the grand experience, the fun."
Michael's mom later died in 2005. "Those stories never have a happy ending, but you know, she was my mom," he says now.
Of course, that's no way to end a proper tale, so our story continues.
That same year, 25-year-old Lindsay Price, a ravishing woman of nearly 6 feet with voluminous red hair, auditioned for a role at the Carolina Renaissance Festival, a role she created—Violet, Queen of the Gypsies. Michael sat on her audition panel where they also considered making her Lord Mayor's wife.
Lindsay was curious about the man behind the mayor. "I wanted to meet the guy who they thought would make a funny husband for me," Lindsay, 37, says now, wearing cheetah-print leggings, lime green heels, lime green bedazzled hoop earrings, a lime green ukulele pin affixed to a black T-shirt that says "Vintage Vibes," and a lime green bracelet.
After a conversation that included talks of Twenty Thousand Leagues Under the Sea and Polyphemus, Poseidon's son in Greek mythology, suffice to say the history-loving Michael was hooked.
The couple married two years later at a Scottish-themed wedding. Lindsay made her own 18-pound, 16th-century, royal blue wedding dress that is also reversible (in green), and she has worn it to Charlotte's St. Patrick's Day parade each year since.
For the past 13 years, the Lord Mayor John Bullfrog and Violet have sparred with each other every fall, delighting the thousands of passersby who flock to Fairhaven's field.
"It's a lot of playfulness," Lindsay says. "We pick on each other a lot as characters. That's a discussion we have before we go out there. We talk about what things we're comfortable about picking on and what things are off the table."
Things that are banned for the couple? Insulting Violet for being Roma or pointing out Michael's weight or size.
Those things are hurtful, and in a made-up world where people spend the day gnawing on turkey legs, gawking and grimacing at the sword-swallowers, and sitting in the hay-stacked bleachers to watch jousting, no one wants to imagine a world with such disparaging things.
Those are precisely the things people come to forget.
"People, they want to believe. They look to me," Michael says, "and they want to believe."
---
2018 CAROLINA RENAISSANCE FESTIVAL
You can meet Michael and Lindsay at 25th annual Carolina Renaissance Festival, open every Saturday and Sunday, from September 29 through November 18. More info here.