Meet Renfrow Farms
The woman behind the newest addition to the Renfrow Hardware brand celebrates one year and looks forward to the next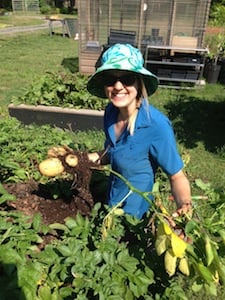 When local people hear the name "Renfrow," they think of the hardware store in downtown Matthews. In its 115 years of operation, it's developed a following. Customers can purchase everything from snow sleds to lamp wicks, cast iron cookware to tree-banding supplies.
The store's newest addition isn't inside the building. Renfrow Farms has eight acres located about a third of a mile down Charles Street from the hardware store. The farm was the home estate of Frank Renfrow, who left it to the store when he died in 2010. David Blackley, owner of Renfrow Hardware, decided the land should somehow be an extension of the store. He offered his daughter, Pressly Blackley Williams, then a sophomore at N.C. State University, the opportunity to run the farm after she graduated.
In December 2013, Williams, 24, graduated and took over the farm. It's been a year of learning, but she's had several successes. She started a community supported agriculture (CSA) program in July on a week-by-week basis. Since she was new to the farm, she didn't want to commit to supplying a full season's worth of produce, which many CSAs offer, because she wasn't sure she could deliver. But she's been able to supply boxes for $20 apiece every week since July.
Flowers have been another surprise success for Williams. She once considered flowers a waste of garden space. Most aren't edible, so why plant them? she said. She planted a patch of flowers in summer 2013 to make use of some old seeds from the hardware store and to make the resident honeybees happy. The flowers impressed her. The next spring, after doing some research, Williams planted zinnias, sunflowers, salvia, and several others. She ended up with enough blooms to supply all of the flowers for her own wedding this past September.
When asked about her favorite part of this farming experiment, she immediately responds, "the flowers." Then she quickly adds, "the community."
"I've been very pleased and surprised of how supportive everyone has been," Williams says. "Some of the hardware store customers have been following this story for four years before it kicked off. … They were ready for it when I was ready."
The Renfrow Farms Market, located at the farm (409 W. Charles Street) will open again in March, and Williams plans to continue the CSA program for 2015. She also offers a series of gardening classes, and the schedule is now up for this year. Jeff Rieves, a former N.C. Cooperative Extension agent, will be the instructor. Last year, Williams learned several things from the classes, too.
"I'm learning from certain mistakes and successes as well," she says. "I'm going into this year with a plan rather than as an experiment."