Meet Ritz Carlton's New Mixologist in the K Lounge
The Uptown hotel is now also offering a Bloody Mary bar with comfort foods after the Charlotte City Council approved alcohol sales before noon on Sundays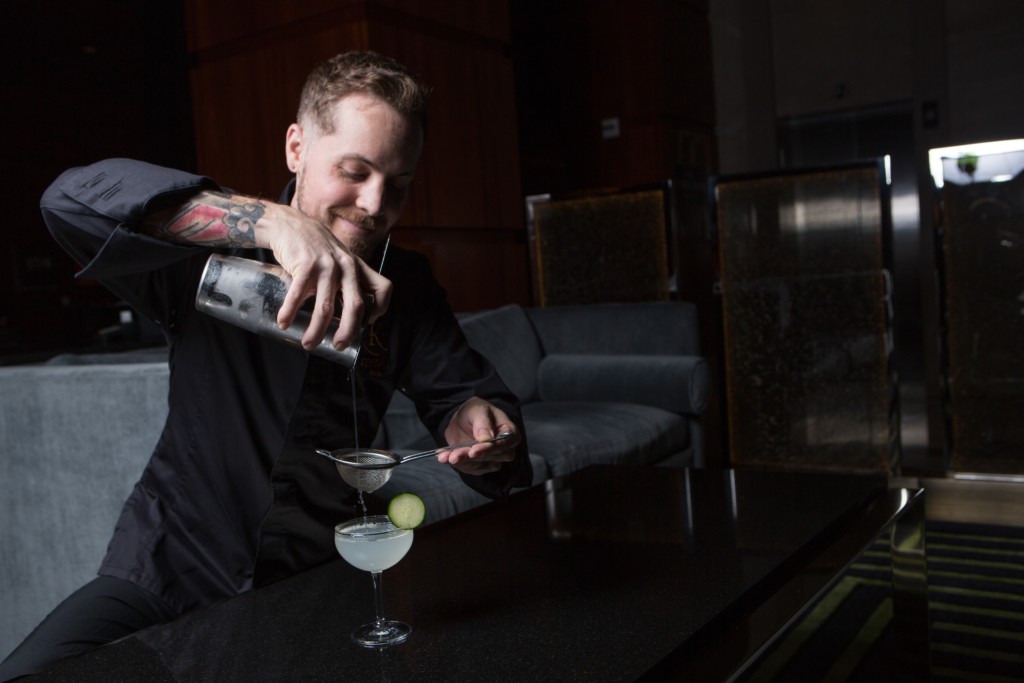 BOB PETERS, the Punch Room's daring and skilled head mixologist, has a lot to say about the Ritz Carlton, Charlotte's newest mixologist, Shane Small, at lobby bar K Lounge. The pair have known each other for a decade, since they worked together at now-closed Alley Cat.
But the thing that sticks out most to Peters about Small? He's just a happy guy.
"It's no fun to get a drink from someone who's in a bad mood," Peters said. "And Shane's never in a bad mood. He's hilarious."
So Small's arrival at K Lounge is a bit of reunion, bringing together two skilled barkeeps, one who largely learned from the other.
After Peters left Alley Cat, he said Small asked him to teach him his bartending tricks and tips.
"I came in one afternoon and went over the big things," Peters said. "I gave him a couple of my golden ratios for drinks, and he just ran away with it."
Peters and Small again worked together in the early 2010s at Soul Gastrolounge, where Peters said he was impressed with Small's professional growth.
"He became a drink-maker as opposed to a bartender," Peters said. "He really understands that it's not just about making drinks. A large part of it is about making people happy."
Small joins E.J. Kim in what Peters described as a "strong staff" behind K Lounge's bar, but added a hotel lobby bar as busy as the Ritz Carlton's needs two strong drink-masters mixing up cocktails.
With the addition of Small, the Ritz Carlton, Charlotte has updated its drink menu to include three new cocktails, including The Signature, a blend of Maker's Mark, fresh cranberry, ginger syrup and Hellfire Bitters presented singly or in a flask for two; the Breakfast of Champions made with dark rum, Damn Fine coffee liqueur and cereal milk; and It's Good to See You, a potent mix of Cardinal Gin, Plymouth Sloe Gin, Hop Drop 'n Roll IPA and mint syrup.
Also new is the hotel's added weekend morning alcohol service from 10 a.m. To mark the occasion of the "Brunch Bill" passage, the hotel unveiled a Bloody Mary bar for Saturday and Sunday mornings/early afternoons with "comfort food specials" on foods like chicken and waffles, tacos and other "hangover foods," as Peters described them.
The Ritz-Carlton, Charlotte is located at 201 E. Trade St. Visit ritzcarlton.com/charlotte for more information.
Jared Misner is a writer for this magazine. Contact him at Jaredsmisner@gmail.com.