Meet Scientist and Lighting Pioneer Margaret Kocherga
She shows the next generation that a woman in STEM is not, in fact, a unicorn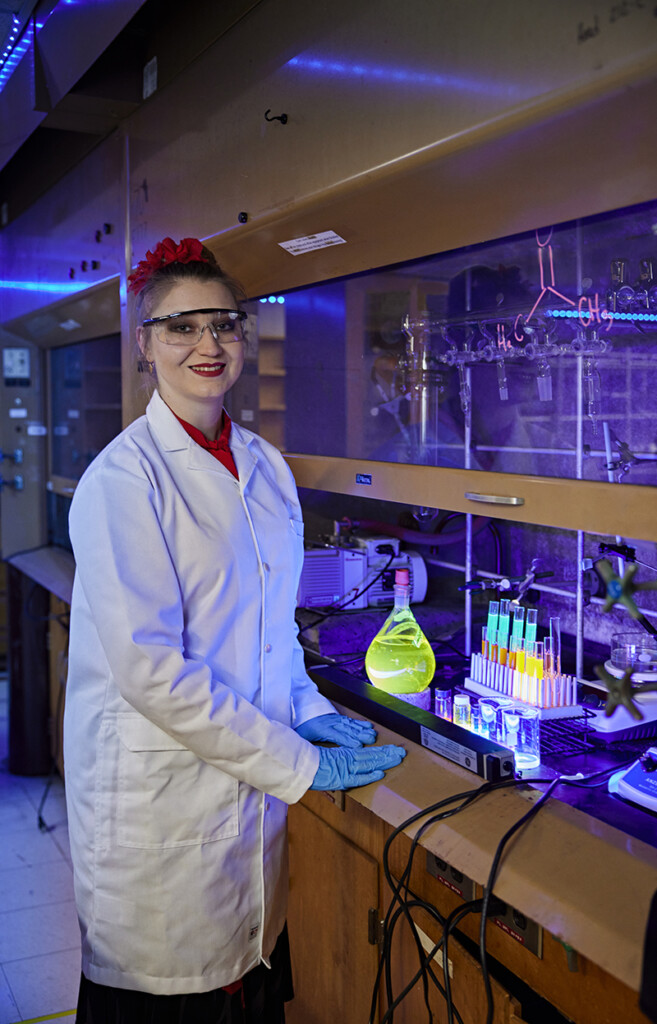 Margaret Kocherga was 15 when her family moved from Ukraine to Charlotte for her father's job at a logistics company. She spoke no English and dreamed of a career as a ballet dancer. She completed high school a year later while learning English. It's a remarkable feat by any standard, but Kocherga mentions it as casually as most of us might describe, say, learning to ride a bike.
After an injury cut her ballet career short, Kocherga discovered a passion for science. She earned a bachelor's degree in chemistry from UNC Charlotte, then, at 25, a doctorate in nanoscale science. She set up her business, Margik Inc., in 2019 through UNCC's Ventureprise program, which helps students and faculty commercialize their research.
Kocherga wanted to answer a question: What if a company made lights you could recycle? Margik produces organic materials for consumer electronics, lighting, and pigments. Its first product line consisted of the world's first fully recyclable, organic, LED-based lighted stickers and business cards. "It can do a lot of the same stuff as traditional lighting plus some extra, in a way that doesn't need to employ toxic elements," Kocherga says. "The light itself is much safer for humans and the environment. As a scientist, I found myself thinking I could make an impact in this world."
The 28-year-old might as well be trying to one-up Thomas Edison. But appealing to potential investors didn't come easily—at first. "There's an expectation that (entrepreneurs) will overpromise by at least 30%," she says. "So investors assume you'll complete 60 to 70% of what you promise. Maybe it's a backlash from Theranos, but I think women tend to underpromise and overdeliver. Men go out there and overstate things, and I learned that's what I have to do: overpromise on what I think is doable by 20 to 30% to sound competitive with male entrepreneurs."
It's a pattern across many industries, and one most women in STEM recognize: Men get promoted on potential, women on performance. It's an added challenge for women in engineering and computer science, two of the most lucrative STEM fields, where men outnumber women by about 5 to 1. In 2022, only 21% of engineering majors and 19% of computer science majors were women—but Kocherga hopes her generation will change that.
Last summer, she appeared on Unicorn Hunters, an internet reality series that connects entrepreneurs with celebrity investors. Each of the show's seven panelists, known as "The Circle of Money," chose to invest in Margik. As they concluded their critiques of Kocherga's pitch, Canadian actor and panelist Chris Diamantopoulos took a moment to praise their newest Golden Unicorn.
"You have presented something bigger than this stage," he said. "If my daughters could look at someone like you as an example of how you just put your head down and do the good work, I'd be a really, really lucky man."
It's been more than a decade since she retired from performing, but Kocherga still teaches choreography to kids at Carolina Dancesport Academy. "Regardless of whether it's an art or science, you have to cooperate with people around you, and both are urgent, pressured settings," she says. "Onstage, costumes fail, and I have to figure it out right there and then. If ballet hadn't happened, maybe I wouldn't be as successful as a scientist. Nothing happens from try one, two, or even 10. You have to keep moving and seeing what's wrong and what else you can do."
TAYLOR BOWLER is the lifestyle editor.