Meet the Couple Behind Dog-Walking Business Skipper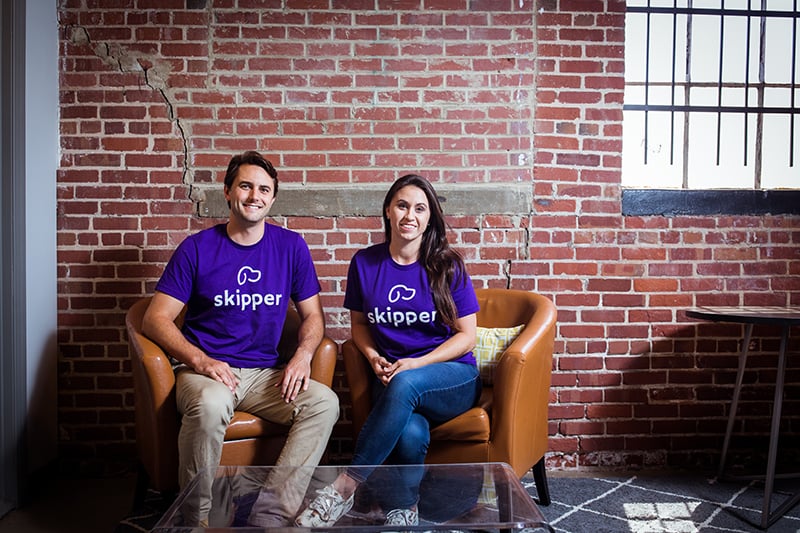 IF IT WEREN'T for Mount Everest, Meggie Williams might not be walking dogs so often.
After graduating from UNC Chapel Hill in 2010 with an economics degree and working in New York City for three years as a strategy consultant for IBM, Meggie, along with her then-boyfriend and now-husband, Sebastian, decided to travel the world. The pair visited 16 countries over nine months, including trekking to the base camp of the world's highest peak.
Seeing the world, and the vast yet interconnectedness of all, culminated in a decision at Mount Everest: The two would quit their jobs in Manhattan and move somewhere to finally plant roots and make an impact. They took jobs at start-ups in Charlotte, Meggie at a used furniture marketplace, Sebastian at an app for people with food allergies.
But Meggie felt there was still more she could do.
Back in Manhattan, Meggie started walking dogs as a side job. It allowed her to spend time with dogs (a huge plus), while not feeling guilty about spending too much time at work with a lonely dog at home. Dog-friendly Charlotte, she thought, with its bankers and busy workers, must have the same problem.
So in early 2016, Meggie began tying dog bones to homemade flyers to promote her dog-walking business. At the time, it was less of a business and more of Meggie going to breweries and dog parks, asking people if she could walk their dogs.
She named the business The Waggle Company (the company rebranded to Skipper in June), and she was the only employee for the first few months, traveling to her appointments on a motorized scooter.
"We only had one car at the time, so I'd use my scooter, which, when it rained, was particularly messy," Meggie says.
That's a far stretch from the current number of dog walkers (30) and business-side employees (four, including Meggie and her husband). The company also has several canine employees, including a "pup-lic" relations manager, a poodle named Alfie. The company has been so successful that in June, it expanded to Austin, Texas.
This growth is amid sustained competition from bigger services such as Wag and Rover, two similar apps that the Williamses say don't match the personal elements of Skipper.
Skipper's app sends photos of each dog-walking session and an elaborate report detailing the entire visit. The dog-walkers will also give medicines or attend to any specialized needs, so the visit is entirely customized to each dog.
Meggie and Sebastian stress that Skipper's strength is this personal connection their employees build with their clients' dogs and the trust they've gained.
"We take that responsibility seriously," she says. "We're going into people's homes; we're crossing that threshold, we're taking care of their pets, who are part of their family."
The trust level is so high, Sebastian says, that one client booked a "dog-walking appointment" when his dogs weren't home. There was a package on the front step that he needed his dog-walker to bring in and hide.
It was an engagement ring for the client's girlfriend.
"We happen to take care of dogs, and we're really good at it," Meggie says. "But what we really do is sell trust."
Now, in their home in Fourth Ward, the neighborhood where most of their first clients live, they have a curly-haired reminder of the mountain that changed their world. They named one of their two goldendoodles Khumbu after the glacier that straddles Mount Everest.
"It's hard to run a business," Meggie says, "but I love the fact that end of the day, I get to run a business that gets to play with dogs."