Meet the Dumpling Lady
A food truck owner finds a connection to her new home by sharing her childhood recipes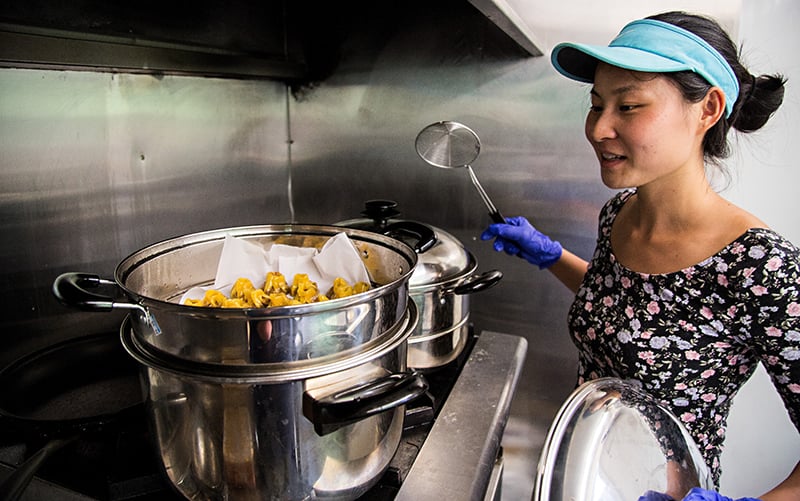 I SHOULD HAVE WORN SHORTS, I realize as I walk into Zhang Qian and John Nisbet's house for Chinese hot pot. Outside, the August air hangs heavy, and grumbling thunder mocks us as we wait for relief in the form of an evening rain. It does not come.
Inside, we sit around the table and talk. The air conditioner is broken, but Qian is cooking for me anyway. Plates of pink shrimp, sliced rib eye and ham, mushrooms, broccoli, potatoes, and herbs surround a large bowl of simmering broth resting on a portable cooktop. Qian dunks some of the meat and vegetables into the deep red broth. I wipe my forehead after just a few bites from the hot pot and a plate of noodles Qian has also set before me.
She sells these noodles—aptly called burning noodles—from her food truck, The Dumpling Lady. "People call it burning noodles because the noodles themselves are coated with sesame oil, and it feels like you can almost light the noodles on fire because they are so shiny," she explains.
Sichuan peppercorns bring a special kind of heat to these noodles and to the hot pot broth, one that makes your tongue tingle. I marvel at the sensation, so unmistakable that I can tell which side of my mouth (the left) had bitten down on the spice. Qian puts a fan on the table. I blot my forehead again, take a long sip of beer, and pull a piece of shrimp from the bowl.
Zhang Qian came to America from China just a little over a year ago. She was born in Neijiang, a place called the "city of sweetness" for its for sugar cane. It is also known for its eponymous beef noodles, which Qian says are "the best kind of noodles you will find in my province." These noodles—which come in a rich broth made from beef bones, short ribs, and bamboo—are also on her menu.
I met Qian, who calls herself "The Dumpling Lady," over the summer at Atherton Market. Her table was almost bare, except for a steamer basket, a ceramic plate with samples, and a chalkboard menu. Her voice was soft, easily lost in the cavernous market, but her smile told me that business was doing well.
Growing up, Qian wasn't taught to cook. Household responsibilities were light, in general. "Our generation is so spoiled," the 28-year-old says. "Our only job was to study."
Still, Qian picked up a few basics from a neighbor who grew up in the countryside, where women took on most of the domestic responsibilities. Years later, she offered to cook for her husband, John, using her modest skills. Smoke filled the apartment. "It was a disaster," she says.
The couple met five years ago in Chengdu, where Qian ran a small language school. John had come to teach at the school and help her expand it.
They dated for almost a year before starting a long-distance relationship when John returned to the United States to attend graduate school at UNC Chapel Hill. The relationship continued for more than three years, with the pair sometimes meeting in far-flung places, such as India and Turkey. Qian pressed on with her cooking, teaching herself new techniques and the robust, complex flavors that define Sichuan cuisine.
They began to talk seriously about their future. Women in China are expected to marry before 25, and to start having babies before 28. Qian was already 27.
It took a year, but Qian arrived in the United States on a visa in April 2015.
Even with John's support, the transition was not easy. "I was not used to the food and language here at the beginning," she says. "Local people speak a little bit (faster) than I thought."
Qian also could not work for the first three months, because of the type of visa she held. In China, she always stayed busy, managing the school, teaching students, working part-time as a tour guide. "It is really hard for me to sit at home," she says.
To fill her time, she made purses for friends. She took yoga classes that forced her to understand quick conversation and the Southern accent. "I was doing wrong positions the whole time at the very beginning," she says of those early classes. The couple married after three months, and Qian returned to work. She started teaching again, this time as a Mandarin instructor at Veritas Community School. Then, she started making dumplings on the side. Teaching had its rewards, but cooking gives her a connection to her old home—and lets her share her native culture with people in her new one.
"I miss home a lot, and food is the way that brings me back home." she says. "I love to cook and tell people about my hometown and history behind it." This feeling drove her toward a big decision: In July, she left her teaching job to grow her business, entering Charlotte's food truck scene.
Her truck keeps a rotating menu of dumplings and noodle dishes: wontons, steamed buns, ramen, burning noodles, and those famous Neijiang beef noodles. One of her other specialties is a large soup dumpling, served with a straw for sipping the rich broth tucked inside the wrapper. Her regular dumplings come with a delicious sauce loaded with umami and more of that tingling heat. She uses ingredients she picks up at the Atherton and NoDa farmers' markets: produce from Street Fare, fish from Lucky Fish, meats from Mary L. Farm.
Qian believes she's mostly adjusted to the culture of the United States, but the cuisine here remains a challenge. It pains her to pay good money for food she doesn't enjoy. Her face bunches up just thinking about it. Though she does love Buffalo Wild Wings, Qian prefers to cook at home. A steady supply of fresh meat and vegetables, a rice cooker, and 30 minutes are usually all she needs to pull something together.
Our pace slows, but we add a little more to the broth. I ask her how long they'd take to eat a hot pot meal back home in China. "Hours," she says. "We just sit around and talk."
We do the same. I learn that in southern China, they eat a lot of rice dishes, because the warm climate is conducive to growing rice, while in northern China, they eat a lot of noodles, dumplings, and buns, because wheat is a staple crop. I learn that dan dan noodles, a famous street food dish in Sichuan, are named after the pole used by the street vendors to carry baskets of noodles and sauce.
Qian's voice is still soft, even without the noisy backdrop of a busy market. Even so, it's hard to miss the enthusiasm she has for sharing her life back in China with people here, as she's doing with me. "I really like Charlotte. … People say hello and smile at each other all the time. We don't do that in China. But it feels so good."
CAT CARTER is a freelance writer and editor living in Charlotte. Her work has also appeared in The Local Palate and Edible Charlotte. Email her at catyicarter@gmail.com or follow her on Twitter and Instagram at @catyicarter.
---
This article appears in the October 2016 issue of Charlotte Magazine
Did you like what you read here? Subscribe to Charlotte Magazine »
---