Meet the Eddie's Place Server Sharing His Love of Physics With Customers
At a popular Cotswold restaurant, one employee is serious about toys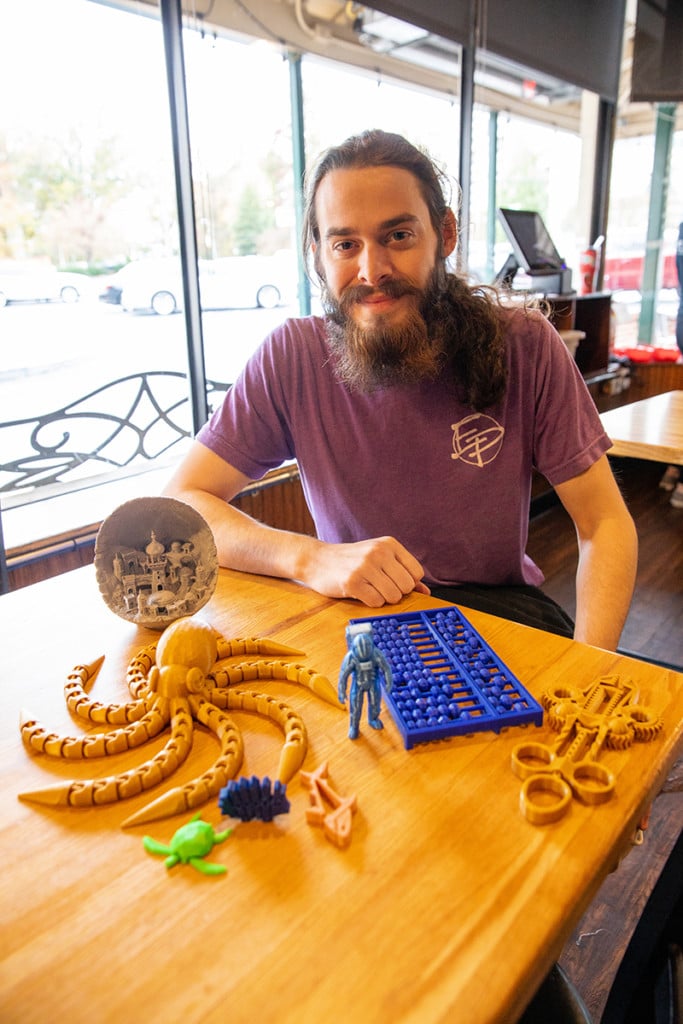 Kids come into Eddie's Place in Cotswold these days looking for the Waffle.
Not the one on the menu. They want to see the server nicknamed Waffle, the guy with the curly beard and ponytail and the crazy science puzzles in his pocket.
His real name is Ben Beaumont, and he's like Mister Rogers crossed with Bill Nye the Science Guy, if one of them had shoulder-length hair.
In the neighborhoods around Sharon Amity and Providence roads, Eddie's Place has always been a kid-friendly restaurant. Twenty years ago, a trip to Eddie's meant that children left the grownups at the table to scamper to the back corner, where a Nintendo was surrounded by a gang of more kids. After the video games disappeared to make way for more tables, there were still pictures to color and tape to the wall and Tootsie Rolls to pocket at the host stand.
Now there's a different draw—a high-tech kind. On the nights when Waffle is working, you'll find a 3D printer in the sunroom at the side of the restaurant, steadily building colorful creations one filament of plastic at a time, and a basket of 3D-printed toys to be gawked at, waved around, and figured out.
If you sit back there, in Waffle's station, he might hand you a puzzle that explains basic physics, like a wooden one that shows how lift keeps airplanes aloft. (Blow into it hard enough and the pointed center peg will rise.)
Beaumont is 27 now, but he used to be one of those kids who played video games at Eddie's. He grew up in Charlotte, participating in the gifted programs at Barringer Elementary and Randolph Middle schools and graduating from Myers Park High School. The oldest of three siblings, he always liked to play with younger kids, working as a babysitter or rounding up groups to jump on his family's trampoline.
After high school, he enrolled at NC State University with no real plan. For his major, he says he scanned a list, spotted physics and thought, "Oh, physics? Physics is fun."
In college, he worked in the physics department's "demo room," where students viewed flashy experiments to demonstrate physics principles like electricity and magnetism. He'd also help with demonstrations at local schools.
Job listings aren't packed with work for beginning physicists, though. After college, Beaumont went to Australia, where his father was raised, to work on a cattle ranch. That's when he picked up the nickname Waffle: When a terse cattle boss would ask questions, Beaumont tended to give rambling, analytical answers. His boss would cut him off: "What are you waffling on about?"
When he returned to Charlotte, Beaumont worked as a tutor, took classes at UNC Charlotte, and regularly stopped to eat at Eddie's. As a joke, he came in one day wearing an Eddie's T-shirt, grabbed a tub, and started clearing tables. After a half-hour, the manager spotted him and made him stop.
Beaumont waited two weeks, then filled out an application, listing Eddie's as his last job, 30 minutes for the duration, and "Fired, not an actual employee" as the reason he left. The restaurant hired him as a busboy, and Beaumont eventually worked his way up to server.
As he puts it: "I pretended my way into a job in one of the most successful restaurants in town."
One day, he went with his roommate to a local hobby shop and spotted a case of gyroscopes. He bought one, took it to work, and used it occupy kids at his tables: "Do you guys want to see something cool?"
To hold their attention, he added more to the collection with money he set aside from his tips. That's when he got an idea: A friend had a 3D printer that didn't work. Messing around with it, Beaumont was intrigued. For around $200, he bought an Ender 3, a popular starter model, on Amazon.
If you're not tech-savvy, you may not know much about 3D printers. Basically, they can be programmed to create whatever you design by drawing out layer upon layer of plastic filament. What it builds depends on the design you program into it, from simple flat objects to complex models. Beaumont usually makes small toys, often hinged so they'll move, but he also makes highly detailed designs, like an octopus with articulated arms or a hot-pink "planet" with craters on the outside and an ornate miniature city inside.
Beaumont got permission to set up the printer in a corner of the restaurant, letting it run while he works in the evening. It isn't just kids who are drawn to it. Beaumont usually gives the small toys away (he even tosses them down as tips at Cotswold businesses like Panera and Wolfman Pizza). But the bigger ones, which can take hours to print, he sometimes sells on the side to curious adults.
"3D printing isn't plug and play," he says. You have to troubleshoot and figure things out. It's a hobby, and like all hobbies, you can get very wrapped up in it.
Beaumont has started selling small toys at Rocket Fizz, the candy and novelty shop at the Epicentre uptown, and he takes occasional commissions for people who want to create something with 3D printing. He'd like to take it further—maybe teaching it at skill-sharing classes or making and selling things at festivals.
Yes, keeping kids occupied and interested sometimes brings bigger tips from grateful parents. And it's a neat attraction. At family restaurants like Eddie's, kids are important customers, even though their food costs less: Parents will come more often to a place that welcomes their children.
"Parents will say, 'You should have heard them on the way over here,'" Beaumont says. "I have, begrudgingly, become an artist. I love unintended consequences."