Meet the Mint Hill Artist Who's Drawn Dennis the Menace for 25 Years
Marcus Hamilton's comic strips have told the story of an ageless troublemaker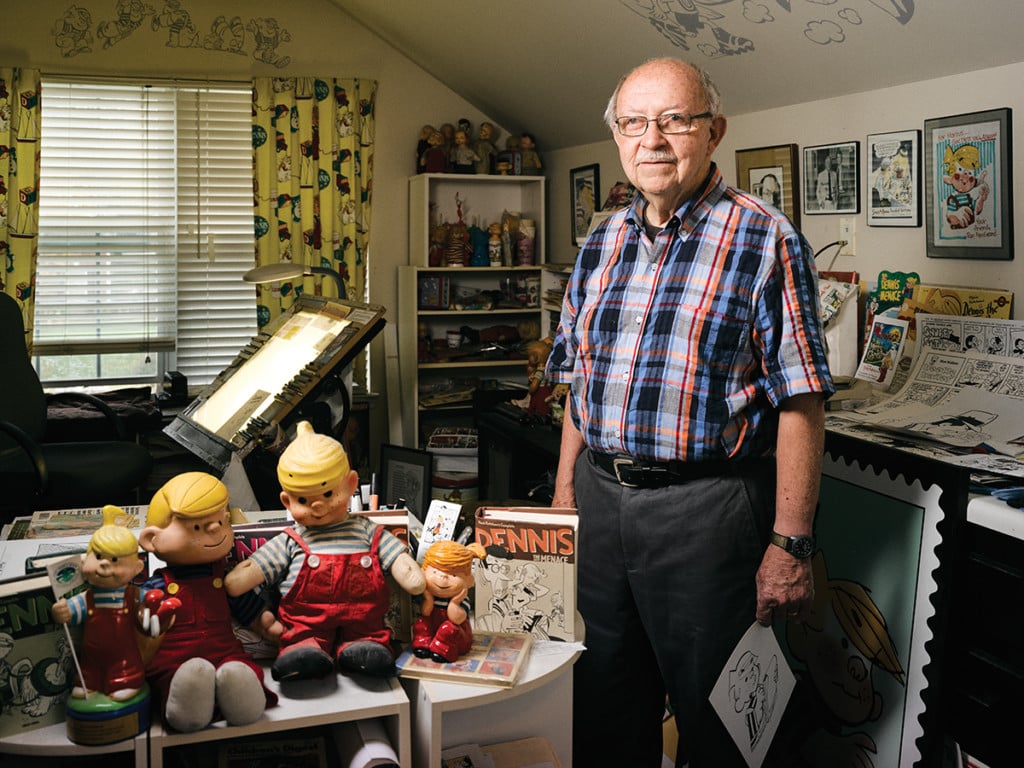 Illustrator Marcus Hamilton spends hours every day in his Mint Hill art studio with "Dennis the Menace," the blond, freckle-faced, ageless boy who's always chasing trouble, to the amusement of comic strip readers.
The 76-year-old North Carolina native has drawn the daily syndicated comic strip (except on Sundays) since 1994. His first job after earning a commercial art degree from Atlantic Christian College (now Barton College) was with WBTV's art department in 1965. He thrived for several decades as a freelance illustrator for national magazines, including The Saturday Evening Post, Golf Digest, and Cosmopolitan. (He illustrated a cover for Charlotte magazine in 1969.)
When digital art began to replace hand-drawn illustrations in the early 1990s, he went from earning $80,000 a year to working at a Walmart photo center making minimum wage. He was 50 years old, wondering how he was going to support his family. Then he caught a television interview with "Dennis" creator Hank Ketcham, who was retiring and looking for someone to carry on his comic strip. Hamilton applied, and Ketcham flew him and his wife out to California for a tryout, and hired him.
In February, Charlotte sat down with the soft-spoken Hamilton in his second-story studio, decorated with "Dennis" collectibles and "Dennis" curtains around the window. He sat beside his worn, wooden light table—a gift from Ketcham, who died in 2001. Kaye, Hamilton's wife of 55 years, was downstairs, knitting. Their dog, Mini, a frisky shih tzu, slept at his feet. (This interview has been edited for clarity and length.)
Charlotte magazine: You were eight years old when 'Dennis the Menace' debuted. Did comic books and comic strips inspire your drawings as a child?
Marcus Hamilton: Yes. I found I could trace Mickey Mouse on paper, holding it against the window with the sunlight coming through. I drew a lot of Disney cartoons and made up my own little characters. My parents always encouraged me. I liked the drawing style of 'Dennis the Menace.' Being a single panel appealed to me, because it was all right there in one picture. And I always wanted to be a cartoonist or illustrator. I loved Norman Rockwell's work in The Saturday Evening Post.
CM: When you were in first grade, you lost your depth perception in your right eye from an accident. How did you contend with that kind of challenge as a visual artist?
MH: I wonder myself. You compensate for it. You don't let that hold you back from being able to focus on the drawing. I never really knew what depth perception was growing up. It happened so young, I didn't know any other way. It may be better when things happen early in life.
CM: Was it a humbling experience to get the chance to start fresh at 50 and do what you love?
MH: It was, very much so. I am a man of faith because of where I was and how I came out of it. Mr. Ketcham created the characters, and I was just carrying on his legacy. The readers are attached to the characters.
CM: Where do you get your daily inspiration for drawing 'Dennis?'
MH: Mr. Ketcham told me you're not just an artist. You are the photographer, the director, and these characters are your actors. You never run out of fresh ideas if you're the director. You've got to see it from every angle, then decide which angle works best. He also said, 'I want you to have fun drawing Dennis, because if you're having fun, it will show in your work.' That stays in the back of my head after drawing for 25 years, over 7,000 panels.
CM: What kind of advice would you offer up-and-coming artists?
MH: Experiment with every medium and all the styles you see that are popular. Then figure out which one you're most comfortable with, and stick with it. Listen to your parents or anybody who knows more than you, and never stop learning. My daddy taught me to never give up. Keep going, keep trying, always look for opportunities,
keep looking.