Meet the Store Animals of Charlotte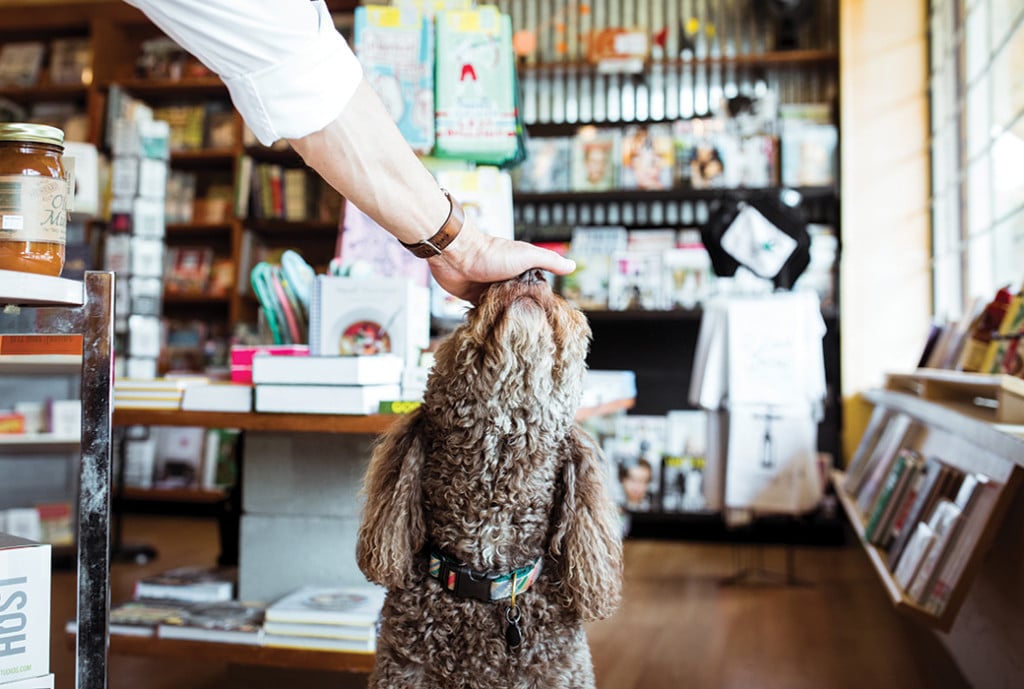 Patsy
On the night eight years ago when Paper Skyscraper co-owner Tim Hamilton brought home the labradoodle puppy he had bought from a breeder in Ohio, the curly-haired puppy howled throughout the evening.
So he named her Patsy. Patsy Cline.
It's a fitting name for a dog that Hamilton describes in strikingly human ways. "She's just the sweetest soul I have ever met in a dog," he says, at a desk in the back of his Dilworth store, as Patsy rests on her dog bed. "(Dogs are) like children. They're different, but you love them for what they are."
Loving Patsy isn't a difficult thing to do, Hamilton says. "She recognizes voices, so if she's laying back here and people come in the front door that she knows, as soon as she hears them, she goes running," he says.
Patsy isn't above bribery, though.
"She knows the people who bring her treats, and she tends to follow them around," Hamilton says.
Even more than treats, Patsy loves the beach. Hamilton owns a home in Holden Beach, and he says Patsy has grown up there. "It's her very favorite place on earth. She's off-leash there, and she just goes for miles in one direction until she's out of sight, and then she zooms back past you in the other direction until she's out of sight. And she loves the water, so she chases birds, and as they fly out over the water, she'll chase right after them," he says. "That's her heavenly spot."
---
Charles
Nearly two decades ago, a pit bull named Lark helped Hope Nicholls open her trendy clothing boutique, Boris + Natasha, in Plaza Midwood. Lark died in 2008, but he was so popular with customers, Nicholls says, that people still ask about him at least once a week. Ten years later, she keeps a picture of him taped to the cash register.
"Lark was the super kind of shop dog, and he would come up to everyone and go, 'Wooooooof,'" Nicholls says, twisting her face into a howl. "But no one thought it was scary because you realized it was kind of like, 'Wassssssup,' as he'd say in dog language."
She looks down at the 75-pound pit bull resting nearly on her feet.
"Charles isn't as vocal."
Charles is the eight-year-old (his birthday's this month, which makes him a Leo, Nicholls points out) sandy-brown shop dog who now roams the store. He quietly snores at Nicholls' feet, which, quite annoyingly to Charles, block the last sliver of sunlight shining through the front windows.
"He loves to sunbathe, and he likes to help people shop for sunglasses. That's his main activities. When you come and spin our sunglass rack, he likes to sit beside you and watch the light spin through the room and just generally be with you," Nicholls says. "And he particularly likes baby talk." That's a sure way to earn attention from Charles the next time you visit.
"If you come in and talk baby talk to him, the next time you come in," she says, "he's gonna demand that."
---
Deena
It's hard to believe Virginia O'Riley, assistant manager at Plaza Midwood's Book Buyers, when she says Deena's favorite place in the used book store is hidden away somewhere, away from everyone.
As she says that, Deena, the charcoal-gray cat who calls Book Buyers home, is meowing at her feet, begging for attention. O'Riley has to stop her explanation of Deena's cries—"There's really no telling," she says—because a pregnant woman shopping for books has bent down and extended her hand to Deena.
"She loves people!" O'Riley says with a smile.
That's not a given for any cat, but particularly this cat. About 12 years ago, O'Riley found Deena as a stray near the fire station on the corner of The Plaza and Commonwealth Avenue. A young man adopted the cat, but a few months later, he brought Deena back, saying she was climbing the curtains, getting outside, and "bringing him critters."
He returned her to Book Buyers in the trunk of his car.
"So after that, I just decided I could never see her going through that again because maybe she just wanted to be with me all along," O'Riley says. "She chose me. That's the only way I can describe it. I'm glad she's been in my life. I've never not loved her."