Memories of Brooklyn
A black man's search for the "warmth of other suns" leads him back to his Southern roots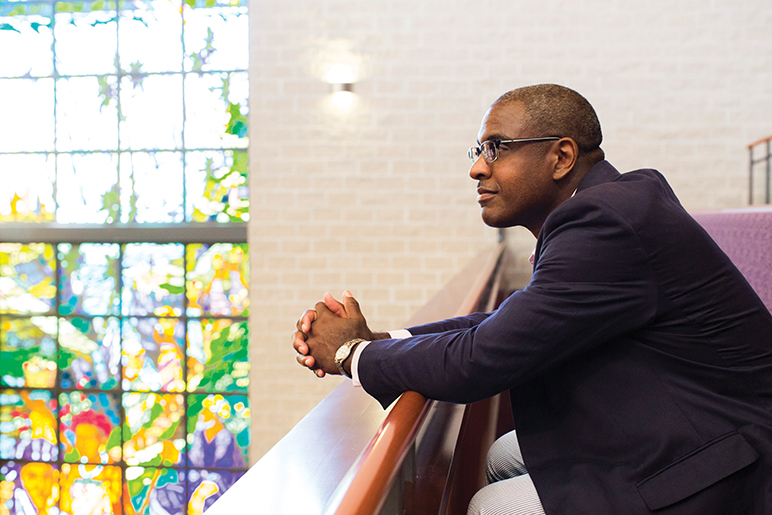 "Things weren't perfect back then, with segregation and all," my mother told me. "But when black folks were in Brooklyn that was a mighty good thing. We had our own homes, businesses, theaters, schools, and churches. Our family never lived in the neighborhood, but it was the place you wanted to go to." Her voice was soft but firm, indicating this point wasn't up for debate: "Whatever you needed, it was there. By the time you came along, in 1968, the white folks had torn our community up, just ripped it apart. A lot of black businesses never recovered. Like I said, things weren't perfect but we had something that was ours."
Such were the stories Hattie Leak told her baby boy—me—back in the 1970s and '80s about black life in Charlotte before the era of desegregation began. Brooklyn was located in uptown. The Charlotte-Mecklenburg Schools offices, the Metro School, and NASCAR Hall of Fame are all on land that was part of this community. I'm aware of only three visible symbols of that period: Martin Luther King Jr. Boulevard (formerly 2nd Street), a sign that marks the site of the old Second Ward High School, and a memorial near the NASCAR Hall of Fame acknowledging that the church I came of age in, Friendship Missionary Baptist, was originally located at 429 South Brevard Street in 1893.
My mother and father, John Perry Leak, were born in the early 1920s, and they had their first three children—Julie, Rita, and Perry Jr.—in the late '40s and early '50s. My siblings were more like my young aunts and uncle. In my immediate family, I was the only one not born into a world of colored and white signs, legal and extra-legal decrees that defined the world of Jim Crow.
With a degree from the North Carolina College for Negroes, now North Carolina Central University, my mother worked as a cook for the family of Kenneth C. Loughlin, who had been an executive with the Celanese Corporation, in the years leading up to my birth. My father, a bricklayer with a pilot's license but no degree, helped build beautiful homes in largely white and Jewish communities such as Raintree in south Charlotte.
So I inherited from my family an oral history of a time and place in Charlotte that I would only know second hand. By the time I entered school, Charlotte-Mecklenburg Schools were desegregated. Race would remain the central issue in our community. But gone was the black world of Brooklyn, the neighborhood near the Little Sugar Creek bottom that served as a source of pride for black folks in Charlotte from the 1920s well into the 1950s. Mama talked about Brooklyn like it was the Harlem of the 1920s. Brooklyn's demise began in 1947, when Charlotte's all-white planning commission, over the course of the next 30 years, forced the black community to bear the weight of "urban renewal."
Kids are curious creatures. You never know exactly what they'll absorb. Will they learn the moral of the story (not to lie, or the dangers of exploratory drug use), or will they marvel at the daring nature of the child who ignored the consequences of his actions? Mama wanted me to know that I came from people who had charted the path to Dr. King's mountaintop. I could enjoy that view, or opportunity, because of all who came before. As my career bloomed and I became a university professor, I delighted in this history, but thinking back on my childhood days now, these stories about Brooklyn were also the first opportunity I had to formulate my thinking about Charlotte and the South.
I knew my family's connection to Charlotte. My maternal grandparents, Calvin and Hattie Grier, had family roots in the Old Steele Creek community in southwest Charlotte, dating back to slavery. Hattie's family, the Herrons, toiled on soil where planes now take off and land every day. But when my mother told stories of Charlotte's Brooklyn, I thought of the iconic borough in New York. For some reason, as a boy, I imagined that we had created that Brooklyn—subways and bridges—down here, not a Southern version of black achievement.
Gone was the black world of Brooklyn, the neighborhood that served as a source of pride for black folks in Charlotte from the 1920s well into the 1950s.
***
Looking back, my geographic reversal made sense. I was an avid reader, but I also spent time roaming the Beatties Ford Road corridor. One of my constant hubs of refuge on hot summer days, when I had exhausted my number of times of going in the house—"Stay in or stay out," Mama would say—was the public library then located on Lasalle Street, just around the corner from West Charlotte High School. The African American librarians knew me by name, encouraging my interest in black history. Thankful to be in an air-conditioned place other than home, I learned about well-known historical figures, the significance of which I realized but couldn't fully appreciate. And almost to a person, I noticed one consistent thread connecting these men and women: They left the South. They migrated north or west, in search of what the black writer Richard Wright called "the warmth of other suns," which in 2010 became the title of Isabel Wilkerson's captivating narrative history of the black migration from the South to the North from about 1915 to 1970.
At some point, I told myself as a child in the late 1970s, I too would journey north: to Washington, to New York, to Chicago. Traveling to these places seemed a rite of passage to honor the people who left the region for which black liberation was on permanent delay.
Indeed, I went on to visit some of these Northern and Midwestern points of entry, taking the customs and sensibilities of home with me. Sometimes my style of language revealed me as Southern, as did my disbelief that there was no such thing as sweet tea in the quaint little towns of New England—even in Charlotte (pronounced Shar lot), Vermont. And, while my Southern tongue is not as colored with colloquialisms and drawn-out words as others, I dialed it back even more, at least in certain settings up North. At other times, with blacks and whites who viewed Southerners in pejorative terms, I would claim the South, not for the evil it had perpetrated but for the good that came out of it. As imperfect as it was, it was home, my point of origin here in the United States. And it was clear that wherever I went, home, all of it, was with me.
***
Several experiences served as reminders of my connection to Charlotte and the South, but two in particular reminded me of the peculiar nature of our varied identities. In the spring of 1994, I traveled as a graduate student to Europe for the first time. On a tour through Rome, I was one of five Americans and the only African American.
There were two older white couples from Savannah, Georgia, and they were clearly from a different world than I was. The wives seemed like women who'd wear white opera gloves to a cookout. They were in the mold of the recently defrocked Southern cooking queen Paula Deen. These women, I'm certain, had probably held some of the same prejudicial and condescending views of race that Deen recently acknowledged as part of her Southern upbringing and culture.
But on this day you would have thought the five of us had known each other for years. I could not have imagined a social setting in which I would have interacted with these scions of Old South wealth. But put us in the Colosseum or the elaborate underground burial places of Rome, and our kindred idea of home—the South—was the common denominator. At its core, at its most elemental level, that's what a place does to the spirit; it creates something, like a fingerprint, that's an indelible part of you.
That doesn't mean that in social and economic or cultural terms, I was on the same footing as these couples, or that I even wanted to be. But our differences, at that moment in another country, did not trump who we were as Americans, black and white, from the South. The irony is that our moment of coming together didn't extend to the home front.
The other experience that remains in my memory is my two-year stay in Burlington, Vermont. Who would have imagined that my barber would be a black woman from Florida? Her main clientele: black and biracial girls with white biological and adoptive mothers who, for the most part, didn't understand the textural tendencies of non-white hair. In their liberalism these white women made no distinction between black and white hair. But hair don't care about progressive social politics. As I sat in that shop, I remembered how the whole concept of good and bad hair, or white and black hair, was the result of creating a standard of beauty in the context of slavery that defined white women as virtuous and black women as vile. Watching my barber, a sister of the South, provide a kind of black and Southern imprint on these non-white daughters of these white women reminded me of both the best and worst of the South.
Which brings me back to Mama's proud and colorful stories of Brooklyn. The history of that neighborhood teaches us that home is where you take root, where you nurture personal and collective dreams, where you come together for the greater good.
Recently I visited Brooklyn, New York, where the language of black folks rolls off the tongue a bit faster, shaped by the specifics of place. But I also heard and saw, beyond what we might call Northern accents, black Southern roots—in dress, in speech, in character. The eating traditions of many Southern black folks, in "soul food" establishments like Mitchell's in Brooklyn and Amy Ruth's in Harlem, prove that Southern ways have made their way north. Whether we're talking about one of the whitest states in the union or a community with a historic black presence, Mama's lesson still holds true: Home is tied to geography, but it is not bound by geography.
Home is where your roots lie. John and Hattie Leak departed this world in 1992 and 1999, respectively, and my brother in 2005. In my sisters, I have the best that the South and North have to offer. Julie is a long-time resident of New York, and Rita is a lifelong Charlottean. Home is wherever they are.
To riff on the words of the late black and gay filmmaker Marlon Riggs, in his 1994 film Black Is …Black Ain't, Charlotte "is" and "ain't" Southern. And so much more. Thus the question we all must ask of ourselves: Is it home?
Jeffrey B. Leak is an associate professor of English and director of the Center for the Study of the New South in the College of Liberal Arts and Sciences at UNC Charlotte. His biography of Black Arts Movement figure Henry Dumas, Visible Man: The Life of Henry Dumas, was published this year. He's also a deacon at Friendship Missionary Baptist Church.