Meredith + Sam
Grace Event Center/Byron's South End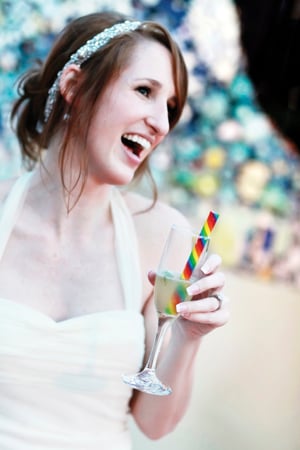 May 2, 2009
For Asheville couple Meredith Parnell and Sam Daniels, who met and got engaged at Wofford College in Spartanburg, South Carolina, choosing an officiant was a no-brainer. After all, the Rev. Dr. Talmage Boyd Skinner was a former Wofford chaplain.
On May 2, the couple locked eyes as the pastor performed a traditional Methodist ceremony at Grace Event Center, a former church, in uptown. After the "I do"'s, Meredith, twenty-five, and Sam, twenty-six, who enlisted the help of wedding planner Ivy Robinson, hosted guests at Byron's South End for the reception. The event featured passed hors d'oeurvres, Champagne lemon granita cocktails, and a "bacon bar" boasting bacon-wrapped shrimp, BLTs, and other bacon-centric nibbles.
"After cocktail hour, the rest of the reception was desserts!" gushes the bride, an event coordinator for CHEERSPORT Corp. Guests indulged their sweet tooths with chocolate cake, made-to-order dessert stations, pecan squares, and a host of other goodies.
Lively band Complete Desire rocked the party, and a photo booth added another amusing touch. The couple made their getaway in a vintage car as Frank Sinatra music played.
Remembers Meredith, "We just melted into one another's arms and were thankful to have such a wonderful wedding night."