Mint Museum Debuts First Retrospective Exhibit on Moschino in U.S.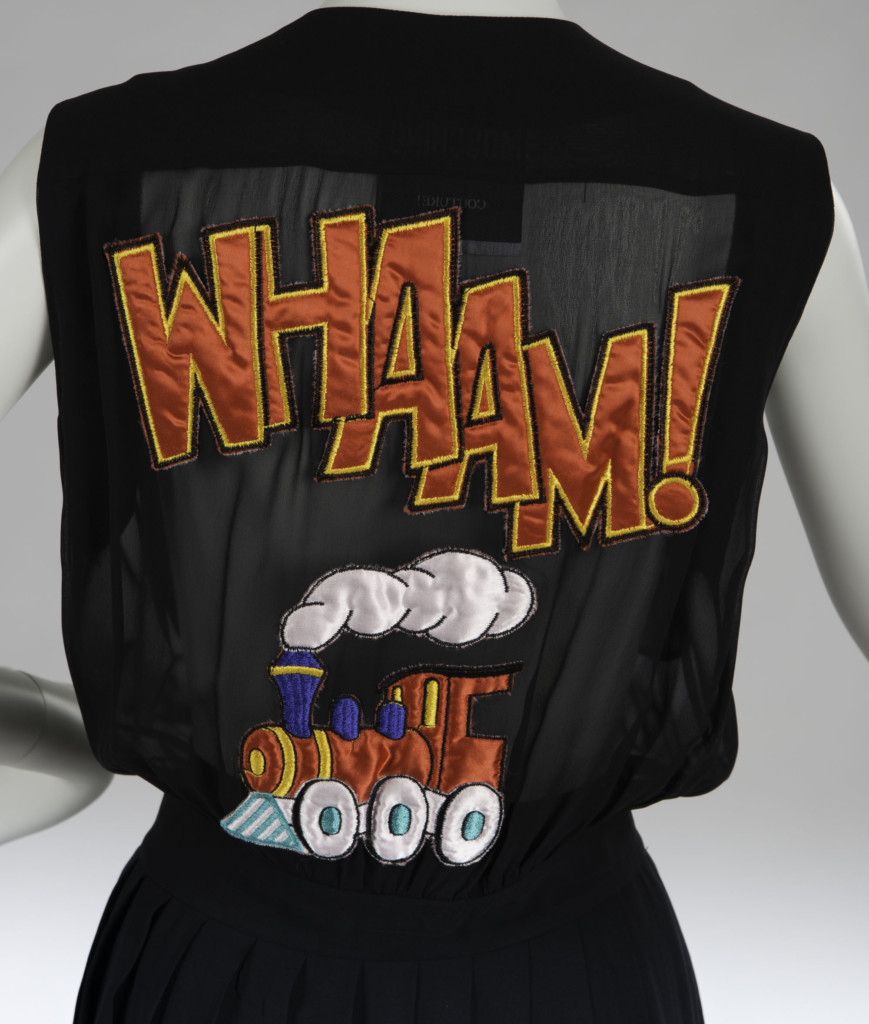 THE WORKS arrive in a climate-controlled truck that made no stops from Chicago to Charlotte. The archival boxes, wrapped in tissue, are carefully unloaded at the Mint Museum's uptown location. Sure, this isn't an uncommon process for transporting art into one of the city's high-profile museums. But these aren't works on canvas; they're garments adorned with phrases like "Too Much Irony!" and "Fake" (with an arrow pointing up at the model's face).
The exhibit VIVA MOSCHINO! (though April 3, 2016) is the Mint Museum's latest, a display and meditation on the works of legendary Italian fashion designer Franco Moschino. This is the first American retrospective exhibit to explore Moschino. Here, the Mint mostly pulls from two private collections in Chicago, loans from other institutions, and its own collection. And it was up to curator Annie Carlano to create a portrait of a man whose career was, in itself, something of a contradiction.
"[One of the reasons] he was dismissed was that he was very anti-fashion system," Carlano says. "He hated the fact that women were told to wear the latest fashions of the seasons that's all driven by the business that wants you to keep buying more. His idea he would show his work, but you could wear something from 1993 with something from 1990. You could wear his designs he made with someone like John Paul Gaultier or Dior. He just didn't care."
This exhibit focuses on the time period 1983 and 1994, back when figures like Tina Turner or Fran Drescher wore pieces from his lines. Today, 21 years after Moschino's death, you'll see pop stars like Rihanna resurrect those designs.
Moschino's work often featured social commentary, as mentioned with the phrases above. One outfit is adorned with forks and knives; another consists entirely of trash bags, an example of his disdain for the industry that made him wealth. This often garnered descriptors like "silly" and "irrelevant" for Moschino, but Carlano maintains a sincerity in those decisions. "Half of the work of Franco Moschino is about some kind of humanitarian or social cause that occupied him as much as creating clothing," Carlano says.
Carlano, who serves as the Mint's senior curator of craft, design, and fashion, says Moschino brought several firsts to the stubborn world of European fashion. He was the first designer to show ballroom dresses with sneakers on the runway, Carlano says. And he was a forerunner of the movements to feature models of every size and ethnicity.
In the several shades of Moschino displayed in this exhibit, from Moschino Couture! to Cheap n Chic and Cartoon Couture, there emerges a portrait of a designer whose complexity is still being unearthed. Thousands of miles away, Carlano is thrilled to have the opportunity to continue that investigation. "We have scooped the entire American museum world by having this exhibition," Carlano says. "I hope you'll take some pride in that for our community. He was revolutionary, and we didn't know it until very fairly recently. I feel privileged to have had the opportunity to do research on this project."
Story updated on 11/2.