Miracle at the Museum
Landing famed Flight 1549 plane is biggest thing that could've happened to local aviation museum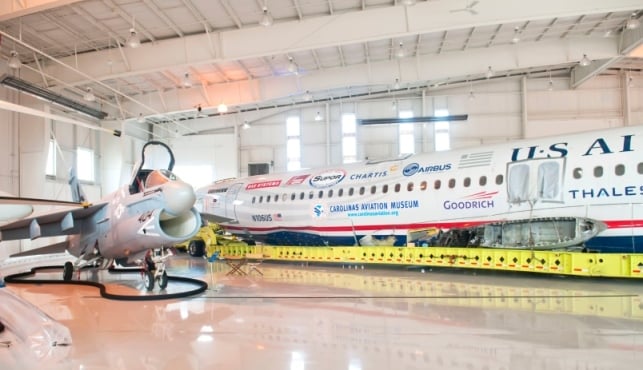 Charlotte's most famous celebrity has arrived. About 200 people, many of them paying $150 a ticket, came to see her at a private "homecoming reception" on Saturday, June 11. They just wanted to be close to her, to have their picture taken next to her. This evening capped off a weeklong, multistate parade of sorts that was held in her honor. The Airbus 320 that traveled US Airways Flight 1549 and made the emergency landing every pilot dreams of, the "Miracle on the Hudson," is at its new home at Carolinas Aviation Museum.
The plane arrived at its final destination two years and five months after it departed New York City's LaGuardia Airport en route to Charlotte Douglas International Airport. A couple minutes into that flight on January 15, 2009, the plane struck a flock of geese; Captain Chesley "Sully" Sullenberger decided to land on the Hudson River instead of risk returning to the airport, saving all 155 people onboard. The aviation museum is a fitting home for the plane, since the majority of the 150 passengers from that flight live in the Charlotte area (there were five crew members). The full crew and more than a dozen of the passengers attended the reception Saturday evening at the museum.
Laurie Crane, then a buyer for Belk, caught Flight 1549 back to Charlotte on that now-historic day. "When I see photos and video [of the crash], it's surreal," she says. "But I remember every second of the three and a half minutes when we held hands and prayed."
Crane says the near-death experience changed her life. She retired from her job. "I wanted to do something more worthwhile with my life. I was a workaholic and a shopaholic."
The outpouring of interest the plane received as it traveled from a warehouse in New Jersey, where it was housed for two years, was akin to a World Series parade—except it was held across multiple states. Tens of thousands of people lined up along interstates, highways, bridges, and small-town roads as the plane made the seven-day journey. The wings and tail were removed (they'll be reattached in coming days) to allow the 120-foot-long fuselage to be transported on a custom-built flatbed pulled by a tractor-trailer. New Jersey–based J. Supor & Son Trucking & Rigging Company donated its services and crew for the arduous and expensive move.
National and international media chronicled the journey; local reporters rushed out when the plane passed through their cities (more than a dozen TV news crews, including one from Japan, were at Saturday's reception). A Facebook page was set up (facebook.com/ft1549), quickly drawing more than 2,500 fans. Dozens of people posted comments and photos after watching the plane pass through their neighborhoods. Others used Facebook to track the plane so they could greet it.
Denise Lockie was excited to be reunited with the plane, crew, and passengers during the reception. The Staples Advantage executive was returning to Charlotte from a business trip in New York on the day of the "miracle." She knew she would be attending Saturday's reception, but she wanted to see the plane sooner, so she and her sister drove up to the Virginia state line Thursday to greet it as it made the final leg of the journey. "That was the most remarkable twenty-four hours of my life," Lockie says.
The organizers allowed her car to be a part of the convoy of automobiles that followed the plane, and she drove behind it all the way back to Charlotte, arriving here Friday morning. But not before some meet-and-greets at stops along the way. "When people found out I was one of the survivors, I must've signed autographs for about four hours."
No one involved with Flight 1549 has signed more autographs than Sullenberger. He might as well have been a rock star the way people marveled in his presence during the reception. But he tried to blend into the crowd as best he could among the throng of supporters while they noshed on meatballs, vegetable and beef skewers, and mini egg rolls for about an hour before speakers took to the stage. Mayor Anthony Foxx spoke, as did Shawn Dorsch, president of Carolinas Aviation Museum, and representatives from Chartis Aerospace and US Airways who helped bring the plane to Charlotte.
Chartis is an aviation insurance company, and after paying US Airways for its loss, the company essentially owned the plane. Mike Barrett, chief claims officer, says Chartis received seven-figure offers for the plane from all sorts of people, including some who wanted it as a collector's item and one suitor who wanted to turn it into a diner. The company instead donated the plane.
Chartis received seven-figure offers for the plane from all sorts of people, including some who wanted it as a collector's item and one suitor who wanted to turn it into a diner.
Carolinas Aviation Museum, which was selected to receive the plane over several larger museums across the country, is next to Charlotte Douglas International Airport, the fourth-busiest airport in the country. But the museum has long been a small dot on the city's radar of tourist attractions. The "Miracle on the Hudson" plane might change that.
"This airplane is going to be the first Airbus in the museum," Dorsch says. "It's going to be the newest airplane by about thirty-five years of any museum anywhere in the world. So for us, it's going to give us a thirty-five-year technological leap over any of our peers in the aviation museum business."
The museum, which was founded in 1992 and originally housed in a former Southern Airways hangar, moved to a larger, nicer facility in April 2010, which has been more accommodating to its growth. The museum features more than fifty aircraft and a number of smaller historic aviation items from North and South Carolina. Most of the collection consists of historic military aircraft. Several city leaders and boosters in attendance Saturday say the Flight 1549 plane will draw many new visitors to the museum.
"When you see the people this week who lined the highways and bridge overpasses just to see the plane coming in, it gives us another iconic visitor attraction for Charlotte that I think will have a lot of people wanting to come to town to take a look at this plane," says Tim Newman, CEO of Charlotte Regional Visitors Authority.
Even though the museum is enjoying heavy media coverage now, one has to wonder if its location—away from most of Charlotte's cultural attractions in uptown—will pose a challenge. But on this evening at least, 200 people came out, paying much more than the museum's normal $7 to $11 admission.
"There's something special about this," Sullenberger says, flanked by his crew and more than a dozen passengers lined up in front of the stage on which he was speaking. "I'm glad it will be displayed intact, and not cut up into scrap or shown only in pieces. I'm glad that people will be able to come here and see it, and if they're lucky even touch a small piece of it. And perhaps when they do, they will feel some of the things that we have: a sense of gratitude, of wonder, and of hope."
Click on a photo below to begin slideshow.