Modern Banker: Kathryn Black
She proves corporate style doesn't have to be boring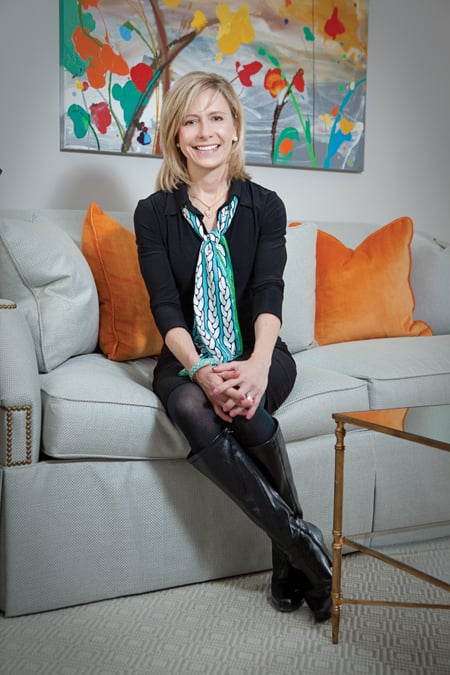 KATHRYN BLACK is talking about next week's schedule, but not the one crammed with dozens of meetings at Bank of America. It's the carpool grid for her three boys, ages six to 14. With basketball and flag football practice, Boy Scouts, drum lessons, and whitewater kayaking to juggle, the 44-year-old marketing executive reviews every detail, checking in with neighbors to see who can trade rides. At work she may lead a team of 200 people from California to Maine, but her home team of five—including husband Brad—is her passion.
Vivacious and sporty, she embodies a no-fuss style, embellishing wrinkle-free work clothes with classy jewelry, scarves, and boots. Bankers are known for their no-nonsense clothing, and women executives can blend in with male colleagues in the blur of suits and button-downs. But Black's upbeat strategy includes just the right touches. The Kamali Kulture black knit dress she's wearing—"from the sale rack at Nordstrom"—transitions from day to night and also travels well. And that Temple St. Clair pendant—a gift Brad bought at Elizabeth Bruns—adds moonstone shimmer.
When Black was in college at Queens University in the early 1990s, she was student body president while Hugh McColl was chairman of the university's Board of Trustees. He recruited her to work at NationsBank. The communications major hesitated—she couldn't see a future in numbers—but she accepted the job and has been tied to banking ever since. These days she's immersed in coding and data management, but that's not what has kept her in banking for 22 years. "I love being able to set a vision for a team," she says.
It's a skill she's mastered at home and from her desk at BofA.
---
BASKETBALL // The Blacks are big fans of NBA All-Star Steph Curry, who played for Brad's alma mater, Davidson College. Kathryn and Brad won Curry's autographed basketball and shoes at an auction.
---
BAG // Finding a stylish bag that looks serious enough for corporate meetings, holds a laptop, and doesn't resemble a briefcase is a challenge for female executives. This Kate Spade bag with classic detailing is the perfect size, with three gold zippers to keep secret weapons such as hair spray and lipstick out of sight.
---
HOPE SCARF // This hand-painted silk scarf by Charlotte artist Christine Davis subtly spells the word "hope." Davis's scarves are available at Safe Alliance, a local organization that provides shelter and other services to survivors of domestic violence. Black is a member of the group's board of directors.
---
POLISH // For moms on the go, nail salons and hairstylists are as important as take-out meals. Black is a client of Polished Nail Bar, which has four locations around town.
---
TRAIL MIX // Black keeps a see-through container of homemade trail mix on the kitchen counter, a handy and quick snack for a busy household. Her husband and sons love the combination of almonds, peanuts, raisins, and dark chocolate M&Ms.