Modern Move
Charlotte transplants look for inspiration in their European roots in this contemporary addition to their Foxcroft ranch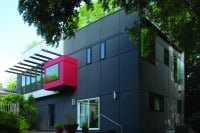 The dilemma wasn't uncommon: a growing family in a too-small house. But when Caroline and Matthias Schönberg recruited Charlotte design-build firm Dialect Design to create more space for their three young daughters in the family's 1950s ranch home, the solution was decidedly unique.
The Schönbergs never considered moving. After following Matthias's job as CEO of Continental Tire The Americas from their native Germany to Portugal and then to Mexico City before settling in Charlotte, they'd had their fill. They also adored the Foxcroft neighborhood and the little ranch, which had some of the character they'd always liked about houses in Europe.
But for the family of five, space was always at a premium. The Schönberg girls bunked in the refinished attic. Fast-forward four years and all three girls—now ages four, seven, and eleven—were sharing two hot attic rooms and had no space of their own to play.
In 2009, Caroline enlisted Dialect Design to change that. She felt an instant connection with Tobias Witte, who hails from Hamburg, an area in Germany like her own hometown, and his partner Jahan Nourbakhsh. They shared a passion for contemporary design, and Caroline was content to give them a lot of free reign. Her simple request for the addition was this: separate rooms for the girls, but also a space where they could be together as a family. But Witte and Nourbakhsh were not satisfied with simple.
"We didn't want a basic hallway and three bedrooms," Witte says. "We wanted something different." Eventually, they found their inspiration in the Schönbergs' book collection. "We all read a lot, especially my oldest daughter, and we speak three languages at home: German, Spanish, English," says Caroline. "We have books in all three languages from all over."
The 1,050-square-foot communal space that the girls would share, then, would be a library—only "library" calls to mind a stodgy, formal space that is entirely unlike the cheery, playful two-story family reading room. Witte describes it as a "climbing library": a series of steps/seats/recessed shelves that lead to a second-story windowed room high in the trees, surrounded by green leaves. "Everyone who goes up there says it reminds them of a treehouse," he says.
The bookshelves are built into every available surface, from the steps to recessed boxes in the walls. The floors are a soft renewable bamboo while the walls of the library are squares of rouge against the dark gray addition. "They had a lot of South American colors in the house already, so immediately we knew this has to be a colorful house," says Witte.
Each girl chose her own bedroom color: purple, pink, and green. And in their shared bathroom, each has her own sink at the frosted acrylic counter. To the right of each sink is a drawer where the girls stash supplies like headbands, their colors popping through the frosted acrylic. In this way, says Witte, "Storage becomes playful, lit up by usage and light, just like the rest of the house."
The finished space is "more art than an addition," says Caroline. And it's as much of a melting pot as the Schönbergs. "We needed to make these different styles feel like they belong together," says Caroline. Like the girls, each born in a different country, but part of the same family, she says, "It all fits perfectly."