Monday Night Football, Alive After Five Finale, and More Sept. 10-13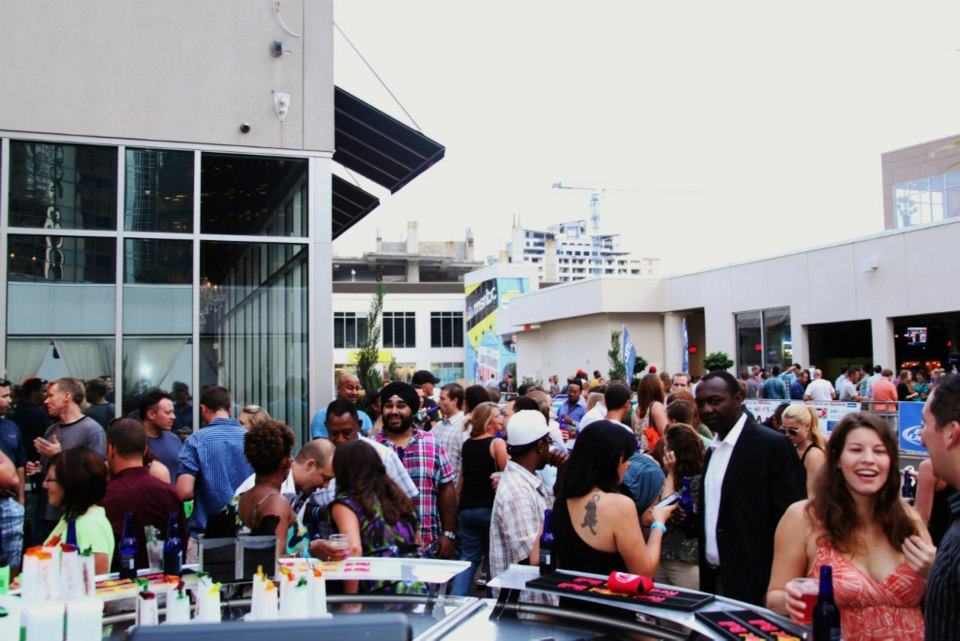 Now that the little thing called DNC—you might've heard something about it—is over, it's back to life, back to reality (cue song) in Charlotte. Here are some social events and parties taking place this week, in which you might want to reacquaint yourself with the city and its people. (Check back later this week on Dusk Till Dawn for a list of weekend events.)
Monday, September 10
Panther Talk Live
Come out to the home of the Carolina Panthers and watch Jim Szoke, Mick Mixon, and Eugene Robinson interview linebacker Thomas Davis and head coach Ron Rivera. It's also a great chance to get an autograph or see one of your favorite players in person. Concessions will be available, the team store will be open, and door prizes will be raffled away. If you can't make it in person, tune into WBT 1110 AM or listen on panthers.com. Doors open 6:30 p.m. Free. Red Zone at Bank of America Stadium, 800 S. Mint St.
Mainstream Mondays (weekly event)
Mainstream Mondays returns for its fourth year of bringing you one of the best, weekly Monday Night Football viewing parties in Charlotte. It's a new location, but the same crew: Eddietainment, SG, and DJ Shogun. Watch the game on one of more than 25 TVs and projection screens, and enjoy a large food menu and drink specials like $1.50 domestic beers. It's an NFL doubleheader tonight. 7 p.m. Free. Dilworth Neighborhood Grille, 911 E. Morehead St., neighborhoodgrille.com, eddietainment.com.
SIPP: Service Industry Patio Party (weekly event)
Party with your favorite bartender on his/her night off. Play games such as beer pong, cornhole, and flip cup, while enjoying drink specials like $2 domestic draft, $3 vodka, and $4 ice & gold shots. Music by guest DJs. 10 p.m.-2 a.m. Free. The Saloon at NC Music Factory, 900 NC Music Factory Blvd., thesalooncharlotte.com.
Tuesday, September 11
Rock The Vote
We live in a democracy, and you have the right to party. Enjoy $2 Miller Lite and $4 Southern Comfort drinks. Bring your voter's registration card and get in free. 5 p.m.-2 a.m. Whisky River, at EpiCentre, 210 E. Trade St., whiskyrivercharlotte.com.
Gospel Shout!
It's the ninth annual celebration of religious "roots music" featuring a capella singing, plus the high-energy trombone "shout band" tradition found at the United House of Prayer. Presented by Levine Museum of the New South, co-sponsored by Charlotte Center City Partners. If you want to purchase a soul food dinner, doors open at 6 p.m.; show begins 7:30 p.m. Free. United House of Prayer for All People, 2321 Beatties Ford Rd., museumofthenewsouth.org.
1 of a Kind Tuesdays (weekly event)
It's one of the most popular parties on a Tuesday night. Ages 18 and up are welcomed, so it attracts a large college crowd. Music by DJ Ahuff, and photography by Ben St. John. This week introduces the new "Campus Central" patio, featuring the $1 keg. Other drink specials include $3 Bud Light, $4 vodka drinks, and $5 Butter shots. 10 p.m. Cost varies. Butter NC, 950 NC Music Factory Blvd., buttercharlotte.com.
Wednesday, September 12
Pop Life (weekly event)
Five-hundred-plus people fill this nightclub every Wednesday night. This week features music by DJ Assassin from Raleigh-Durham. Presented by The Sol Kitchen and Roundtable Entertainment. 9 p.m.-2 a.m. Free; VIP tables available, tami@republicofcharlotte.com. Re:Public, 314 N. College St., facebook.com/republic.charlotte, thesolkitchen.com.
Exclusives (weekly event)
It's a Scarlett Red-theme party this week, with music by DJ RWonz at one of the city's sexiest lounges. 10 p.m. Free. Osso Restaurant & Lounge, 1000 NC Music Factory Blvd., ossocharlotte.com.
Thursday, September 13
Alive After Five Season Finale
Fall is almost here, and this is the final Alive After Five event of the year. Rock out to the sounds of Simplified, and enjoy some customer appreciation with $3 Bud Light and Budweiser draft all night. As usual, your wristband gets you into official after-parties at Whisky River, StrikeCity, Suite, Vida Cantina, and BlackFinn. 5 p.m. Free; or purchase VIP ticket for $25, which includes complimentary beer, wine, and food. Pavilion at EpiCentre, 210 E. Trade St., aliveafterfives.com.
Live Music Thursday Nights (weekly event)
One of SouthPark's newest restaurants has kicked off its live music series for the fall. This week, they bring you local favorites Carolina Runway. The band plays 6-9 p.m. And you can also enjoy happy hour specials 4-7 p.m. Free. American Roadside SouthPark, 5821 Fairview Rd., facebook.com/AmericanRoadsideSouthPark.
Style Night Out CLT
It's a big night out for the fashion and style community, featuring more than 50 boutiques, salons, makeup artists, and 130 models hitting the runway. Proceeds benefit Carolina Breast Friends. Presented by Effie Loukas, JustFab, and Heels.com. 6-10 p.m. $25-$50; VIP table for four, including bottle of champagne, $400. Morrison Shopping Center, 721 Governor Morrison St. After-party at City Tavern, 10 p.m.-until, stylenightoutclt.com.
Verify dates, times, prices, and other info at the web addresses listed for each event.
Be sure to bookmark www.charlottemagazine.com/Blogs/Dusk-Till-Dawn to stay plugged into Charlotte nightlife.