More Eyes On Charlotte's Housing Crisis
Charlotte's main planning board, which handles land use, embraces the need for affordable housing. Is it enough, and soon enough?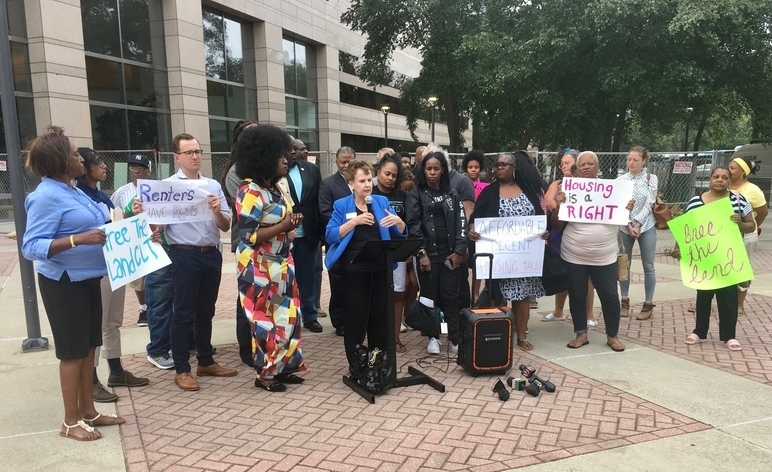 The Charlotte-Mecklenburg Planning Commission functions as a gatekeeper of sorts for how Charlotte uses its land. The 14-member commission hears rezoning petitions and works on long-range planning issues with city staff. If you're a developer or builder seeking a variance, or a homeowner who wants to add a garage that's not explicitly allowed by the zoning code, or you're part of a neighborhood organization that wants to adopt an area plan, you go through the Planning Commission. It's an advisory body—the City Council holds the power to approve or shoot down whatever crosses the dais—but the nuts-and-bolts work is usually done at the commission level, which, in a city where lot-sized, multi-story buildings seem to sprout overnight, means it makes a lot of critical decisions that go unnoticed.
Council members have been working for months on boosting the city's inadequate stock of affordable homes, a deficit of about 34,000 units compared to need. That work has yielded minimal results. In late 2016, after the post-Keith Scott demonstrations, the council decided to fast-track the creation or preservation of 5,000 affordable housing units over three years instead of five. The city is most of the way there, but the goal barely puts a dent in the need, and rising land prices are threatening to cancel out the gains. Throughout Charlotte, people on the margins are either finding it impossible to rent or watching, helpless, as rents rise in high-growth areas. A group of them showed up at the council meeting Monday. They urged city leaders to, among other things, increase the size of the city's Housing Trust Fund—an idea the council generally supports. But they're still working out details on the amount, the city's debt capacity, and whether it would require a tax increase.
Comparatively, there's not much direct action Planning Commissioners can take. But on Monday, for the first time, commission members demonstrated that affordable housing is a priority for them, too. Commissioners adopted a mission statement and a series of policy recommendations that echo some of the goals from the council's 2016 Community Letter—specifically, fast-tracking the construction or preservation of affordable units, working to increase the capacity of the Housing Trust Fund, and streamlining the review process for affordable homes. The mission statement lays out the overall goal:
Diverse price-point housing and affordable housing are priorities for the Charlotte-Mecklenburg Community. Both the Charlotte City Council in their October 2016 Letter to the Community, and the Charlotte-Mecklenburg Opportunity Task Force in their Leading on Opportunity Report, joined hundreds of community leaders and shelter seekers in supporting this priority. The Charlotte-Mecklenburg Planning Commission is likewise committed to promoting affordability within our land use authority.
Every neighborhood in the Charlotte-Mecklenburg Community should be open and accessible to every member of our community. In addition, every member of our community should be able to live, work, and grow in every zip code in the Queen City. We support continued work from the Charlotte City Council, the Charlotte-Mecklenburg Planning Commission, and the Planning Department to reduce barriers, provide incentives, and protect existing affordable housing.
The statement carries the distinct whiff of institutional boilerplate, which obscures its importance. The Charlotte government body that deals exclusively with land use issues and recommends action to the City Council is now on record saying that affordable housing is a priority, and commission members will view their land use decisions through that lens. "I think the commission is going in the right direction," city Planning Director Taiwo Jaiyeoba said Monday. The commissioner who led the effort, Sam Spencer, said afterward that the new language is meant as a guide for developers, community members, and even elected officials who might otherwise wonder where the Planning Commission stands on this whole affordable housing issue. Now they know.
People who can't afford decent housing often have trouble paying for transportation, too. Charlotteans who rely on public transit—as opposed to those who use it as one of several options—travel at the mercy of bus schedules and routes (unless they can easily make it between home and destination via light rail).
Since John Lewis became Charlotte Area Transit System's CEO in September 2015, he's been looking at ways to carve time off trips by, for example, reworking some outlying bus routes so they don't have to run through the Transit Center. CATS announced a similar tweak on Monday: a pilot program that contributes $4 to Lyft rides that begin or end in the area around two light rail stations that aren't near primary bus stops.
The stations—JW Clay/UNC Charlotte in University City and Parkwood near NoDa—lie along the Blue Line Extension route that opened for service last month. There's not much around either of them. So the Lyft credit is designed to help fill that gap and save people trying to get to and from the university and Camp North End money and time.
Lyft has been forming similar partnerships with transit systems for a few years now, offering fare subsidies in cities such as Dallas and Phoenix through a campaign called First Mile Last Mile. "This partnership helps address one of the biggest barriers of utilizing public transportation: completing the last few miles between a transit stop and home," the company announced when it introduced its Phoenix program last year. To people accustomed to hopping in their cars whenever they need to, it might not seem like much. To those who depend on transit to make it to class or a job, though, it can make a huge difference. Here's hoping we see more of it.