More Info on the Wine & Food Weekend
The upcoming event has a long itinerary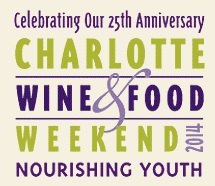 Get ready – I'm about to throw some major event stuff on you for the Charlotte Wine & Food weekend happening April 22-26. Here are three events that you absolutely cannot miss if you choose to attend:
Vintner Tasting: Happening April 22 from 5:30 to 7:30 p.m.. at Atherton Market, the Vintner Tasting offers guests a chance to taste wine and food pairings. Tickets are only $40 per person.
Big Bottles & Blues: Live music plus wines poured from adorable/hilarious giant bottles and food? Sounds legit. This year's event will take place April 25 at 6:30 p.m.. in Founders Hall. Tickets are $75 per person ages 21-35 and $125 per person for 35+. Live music will be provided by Mac Arnold and Plate Full 'O Blues, plus live and silent auctions. Raffle items this year will include:
Weekend Stay at The Ritz-Carlton, Charlotte
Use of a Lexus for the weekend
Dinner for two at Aria Tuscan Grill
Large format bottle of Champagne Laurent Perrier
Made-to-Measure men's suite by Ermenegildo Zegna from Taylor Richards & Conger
Wine 101: On Saturday, April 26 at the Marriot in Center City, Andy McNamara, Master Sommelier, and Catherine Rabb, CHE, CSW, CSS, Certified Specialist of Wine and Certified Specialist of Spirits and Senior Instructor at Johnson & Wales University, will select wines for attendees to taste that they believe are worthy of everyday enjoyment – and explain their selections. Tickets are $40.
Tickets prices for events range from $35 to $375 each and will be available online only at www.charlottewineandfood.org. No tickets will be sold at the door for any events. Details on events and ticket availability are on the website. For more information email info@charlottewineandfood.org or call 704.338.WINE (9463).