Mountains and Massages: The Old Edwards Inn & Spa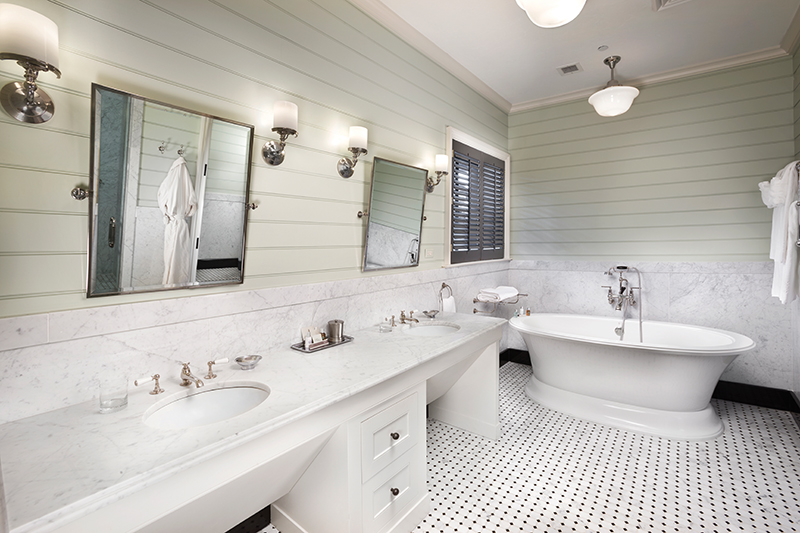 "THE BATHROOM is enormous."
I'm texting a friend from my suite at the Old Edwards Inn and Spa, a sprawling property in downtown Highlands, North Carolina, on a warm, spring Sunday. The town, elevation 4,117 feet and less than three-and-a-half hours from Charlotte, sits on a plateau in the Nantahala National Forest. Smoke from a distant fire adds a slight haze to the sky outside, and the afternoon sunlight that filters through the plantation shutters into the bathroom seems to glow. The suite, in Old Edwards' Falls Cottages development, is tastefully decorated—comfortable but elegant.
Carrara marble wraps around the bathroom, which is easily three times the size of the bathroom in my South End apartment. I would be content lounging on the heated, tile floor for the rest of the day, but I have a spa appointment to get to; the bathroom will have to wait.
Before my massage, I sit in a steam room breathing the humid air in long, deep pulls. I sip lemon-infused water. I close my eyes and let the sweat run down my temples. For a few minutes, I forget about deadlines and details.
I enjoy the 50-minute traditional massage, but the most soothing part comes at the end. As I swing my legs over the edge of the table, my feet land on something warm. During the massage, the therapist put my slippers into a heating cabinet, and they are waiting for me, pointing the right direction, when my massage is finished. It is a subtle gesture, indicative of the kind of attentive care the staff provides throughout my stay. Before I leave the spa, I rinse off in one of the 14-head Swiss showers and dress for dinner.
Old Edwards' main restaurant, Madison's, serves regional fare, including produce grown on hotel-owned farms. (The hotel also has a wine bar, a spa café, and a library bar.) I stroll in, feet still happy from those warm slippers. The early-30s man and woman at the next booth are celebrating their wedding anniversary. (I figure out they are from Charlotte after I overhear them making plans to meet friends at Sycamore Brewing the following week.) Across the dining room, a group of middle-aged women enjoy a girls' weekend away.
By the time I finish my dinner—a creamy, white asparagus soup, hanger steak with roasted vegetables, and an indulgent chocolate souffle with caramel ice cream—I long to stretch out. I know exactly where, and hurry back to my suite.
Somewhere along the way, we've developed the notion that grown men don't take baths. There's a ridiculous gender stereotype embedded in that thinking, but Sean Connery sat in a tub in Diamonds are Forever, and if James Bond is allowed to soak in a bathtub, I am, too. I open the faucet and let the water run.
I'm five foot-seven, and one of the only discernable benefits of my height is the ability to fit into a bathtub without folding my legs into a pretzel. As Duke Ellington's orchestra lulls me from nearby speakers, I slide into the hot water, dunk my head a couple of times, and recline. Eyes closed, I sip from a glass of champagne until the bathwater turns cold. I wrap myself in a fluffy robe and walk my pruny feet across the heated tile floors toward the king-sized bed in the next room. I fall asleep before my hair has time to dry.
ADAM RHEW is the associate editor of this magazine. Email him at adam.rhew@charlottemagazine.com, or follow him on Twitter:
@AdamRhew.
Old Edwards Inn and Spa has 89 rooms in Highlands. A stay at any site comes with access to a stunning golf course along the Eastern Continental Divide. Spa and restaurant reservations are recommended at least two weeks in advance, and more if possible. 445 Main St., 866-526-8008.
EAT
Grab a roasted salmon BLT and fries at the Ugly Dog Pub, just a couple of blocks from the hotel. On Wednesday nights, local bluegrass band Nitrograss takes the stage. 294 S. 4th St., 828-526-8364.
DO
For a town of its size (the winter population of 900 swells to 36,000 in the summer), Highlands has a wealth of cultural amenities. Visit the Martin Lipscomb Performing Arts Center for live plays and concerts, or view streaming feeds of performances by renowned companies such as the Bolshoi Ballet. 507 Chestnut St., 828-526-9047.
The Bascom Visual Arts Center shows art and photography, and offers pottery classes. 323 Franklin Rd., 828-526-4949.