Mozzarella 101
Get to know your cheese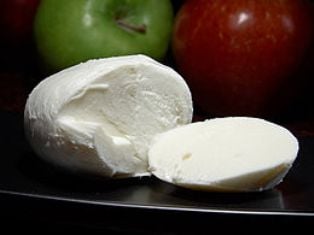 As I'm sure we are all aware with the thunderstorms, humidity, and 90+ temps recently, summer is creeping up on us. To me, that means lots of fresh salads and produce for dinner and lunch and whenever I feel like it (gosh!). But my all-time favorite, Caprese, will be featured more than any other.
The combination of tomatoes, fresh basil, olive oil, and mozzarella is classic, but have you ever taken time to think about all the varieties of mozzarella you could eat? Luckily, most of my days are spent thinking about cheese food, so I have scoured the vast interwebs and compiled a list of which cheese adventure is the right one for you.
(Dreaded) Processed Mozzarella: This is great when you're sad/bored and need to eat shredded cheese out of a bag, but it's also loaded with additives. It is easy to grate if you buy it in block form and whether pre-shredded or not it does melt easily — making it a good choice for melting in sauces or topping pizzas. Just beware the slightly rubbery texture.
Fresh Mozzarella: Made from either cow's milk (fior di latte) or water buffalo's milk (mozzarella di bufala), this pure white cheese is the perfect choice for your Caprese salad. You can buy fresh mozzarella salted or unsalted. Additionally, this is a great choice for homemade Margherita pizza, since the creamy cheese spreads as it melts.
Bocconcini: In Italian, bocconcini means "little mouthfuls." The tiny balls of mozzarella are between 1 and 4 inches around, making them a great addition to salads (perhaps with melon), skewers, or different pastas.
Burrata/Burricotti/Manteca: The ever-amazing stuffed mozzarella is something you may see on the small plates or appetizer menu at a fancy Italian restaurant and is not as commonly found at your local supermarket. Burrata is mozzarella stuffed with heavy cream; burricotti is stuffed with ricotta; and manteca is stuffed with butter. Stop drooling.