Mr. Hatcher's Neighborhood
One man holds the keys to Plaza Midwood's future, and no one knows what he's thinking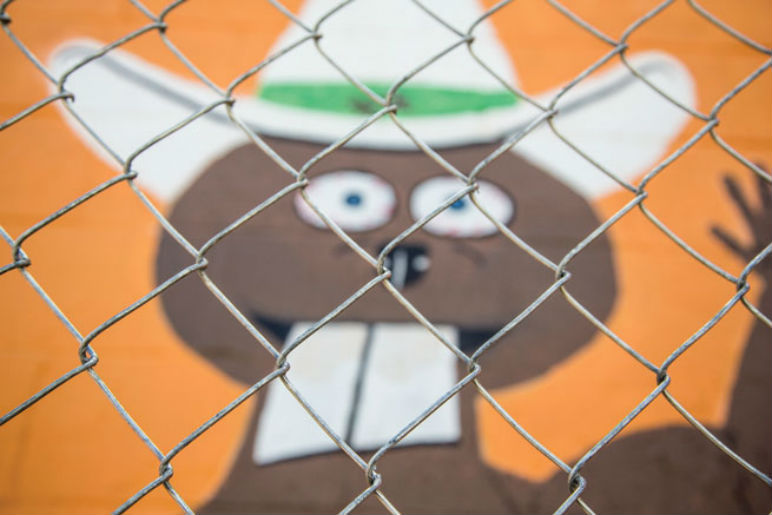 Happy hour arrives without fanfare at the Thirsty Beaver Saloon on the last Friday in June. Bar stools fill up, and conversation mingles with the hum of the air conditioner.
Built in 1945, the squat, orange, brick-and-concrete rectangle on Central Avenue shows its age. The walls are pale yellow with a smattering of dirty handprints, the front windows shaded by Snoopy curtains. You can ring the doorbell if someone accidentally locks you out. Bras hang on a rack above the door. A can of Yuengling costs $2.75. The jukebox is free.
A man with dark hair pulled back in a bun is drinking a can of Pabst at the bar. He lives in the neighborhood, builds staircases for a living, and has a succinct view of the changing landscape in Plaza Midwood: "If you take away all the little places like this, no one's gonna want to live in the condos, to be honest with you."
A few blocks away, a 53-unit, art-deco-style apartment complex has appeared at the corner of Commonwealth and Pecan avenues. Twenty-five additional apartments are rising beside the Dairy Queen on Central. At least 200 more are planned at the intersection of Clement and Central, and 25 others are planned on the site of the former Carolina Actors Studio Theatre building.
New residents mean more money, more traffic, more drivers failing to back into diagonal spaces on Commonwealth Avenue. Soon, the second-hand-furniture stores and pawnshops could be displaced by frozen yogurt chains and toddler gyms. Some people would argue this is a good thing. But when a high chain-link fence wrapped its way around the Beaver in early June, the neighbors got worried—and not just because they don't want to lose their bar.
The man who put up the fence also owns the parking lot beside the bar. He owns much of the north side of Central between the Beaver and Hawthorne Lane, including empty lots, a warehouse gym, and a decaying church. He owns the strip mall diagonally across the street from the Beaver that houses Family Dollar, Bistro La Bon, Yoga One, and yards of coveted parking spots. He owns the Midwood Corners shopping center at Central and The Plaza. With all of his property holdings, he has the power to shape much of Plaza Midwood's future.
And nobody knows what he's thinking.
John Cole Hatcher doesn't make it easy to find his office. Visitors must drive past Sammy's Deli, past Yoga One, and behind a satellite campus of Metrolina Association for the Blind.
This is the former Cole Manufacturing complex, a cluster of regal, red-brick buildings at the corner of Central and Pecan, built in 1911 by the best architect in town. A century later, they still boast arched windows and black outdoor staircases that call to mind fire escapes in Brooklyn.
At the back of the complex, in a single-story building with dark windows and metal doors that belong on a bank vault, sits John Hatcher Realty. The front entrance is not marked, except for a parking space guarded by a sign: "Don't even think about parking here."
All of the buildings and all of the asphalt in the complex belong to Hatcher. He and his company, Cole Properties & Investments, own at least 13 properties in the neighborhood, making him enormously influential. But he's also widely resented, filling the role of a near-mythical villain in this corner of the city. "He single-handedly helps or hurts a lot of businesses over here," says Bob Smithwick, president of the local business association, Plaza Midwood Merchants.
Hatcher's office smells of stale cigarettes. There are Trout magazines on the coffee table in the waiting room and a plaque on the wall honoring members of the Cole family, Hatcher's relatives. After his mother's death in 1980, he sold Cole Manufacturing and opened his realty company three years later.
His office manager, Linda, has weary eyes and faded hair. She offers a cheery greeting but grows guarded at the words "Hatcher" and "development." He's out until July 1, she explains. Four days from now. She takes a message, but the look on her face suggests a response is unlikely.
People who have lived and worked in the neighborhood for decades say he's always been ornery.
Hatcher doesn't live in Plaza Midwood. Property records show that he owns a five bedroom house in southeast Charlotte. When he's not home, he's probably on the water. One of the few things outsiders know about his personal life is that he loves fishing. His profile photo on Facebook shows a gray-bearded, grandfatherly looking man sitting on a boat, grinning as he holds up an enormous catch.
He started buying Plaza Midwood properties in the 1970s. People who have lived and worked in the neighborhood for decades say he's always been ornery. His tenants are afraid to anger him. If you have a concern about one of his properties, there's no use trying to reason with him. "I think it's all bottom-line driven," says Brian Wilson, who co-owns the Beaver with his brother. "He's very rigid."
Of course, Hatcher must have some redeeming qualities. In April, for example, his company donated space to host the Friends of Charlotte Mecklenburg Library book sale. And Wilson says that when he sees Hatcher out on the town, the landlord is not overtly rude. "He's always been cordial to us and told us he likes us," Wilson says. "He's clearly said it's just business, and he can draw a line between the two."
But finding someone to enumerate Hatcher's virtues is difficult. His daughter doesn't respond to a request for comment. Justin Bennett, a bartender at the Beaver, says he talked to 50 to 75 people who have "associated with" Hatcher, and no one had anything positive to say. Even Hatcher's friend and fellow landlord, John Rudolph, struggles to answer questions about what Hatcher's like, or how he's given back to the community. "I'm gonna have a hard time doin' that," Rudolph says, explaining that he doesn't know Hatcher that well.
Up until 2009, Hatcher was still buying property. Then, like the rest of the real estate world, he waited out the recession and looked forward to the moment when the neighborhood would come into its own.
"He's inflammatory. He'll not only say no to you; he'll go out of his way to say, 'F— you,'" says Jessica Summers, a Thirsty Beaver regular with sunglasses perched on her head and her hands wrapped around a Miller High Life.
The 32-year-old works in the neighborhood, and her beef with Hatcher is about parking. Parking has become a touchy subject in Plaza Midwood, an area known for its vintage stores, tattooed residents, and proud defiance of uptown's corporate trends. With a mix of artsy bars, live music, and eclectic restaurants, the area has become a sought-after neighborhood for young professionals. "When I bought over here [in 2007], people were like, 'You're crazy. That's a fringy area,'" Rudolph says. "Hopefully it'll always maintain the edginess to it."
When the Peculiar Rabbit opened on Pecan Avenue last year, city rules required the restaurant to provide parking for its customers. Instead of building another lot, the owner worked out a deal with Hatcher to rent some of the spaces in his shopping plaza. This means that on Thursday, Friday, and Saturday nights, customers must pay $5 to park in what for years had been considered free lots. In exchange, the Peculiar Rabbit gives its customers 10 percent back on their bills, up to $5. The venture hasn't been popular. At least 250 people signed a petition on Change.org asking Rob Nixon, owner of the Peculiar Rabbit, and Hatcher to "stop charging for parking in previously free lots."
"Greed has no place in Plaza Midwood. WE SHARE!" wrote petitioner Austin Caine.
"Friendly neighborhood environment headed in the wrong commercial direction," added Karisa Pennell. "If I want to pay to park, I'll head uptown."
After the Rabbit uproar, Smithwick says the merchants association (PMM) heard that Hatcher would be limiting parking in other parts of his lots. So the association wrote Hatcher a letter, asking if they could work out a deal so other businesses could pay to use his parking spaces. "I'm not interested," came the reply. Hatcher said his tenants needed the spaces.
This was not the first time that Smithwick had tried to discuss parking with Hatcher, and not made much progress. "I don't think he's had any contact with the PMM … since I've been working with the PMM, which has been a couple of years," Smithwick says. But the businessman hasn't given up hope. "We would love for him to be involved."
The Beaver is one of the few buildings on the north side of Central between Hawthorne Lane and the railroad tracks that Hatcher doesn't own. Over the years, Hatcher has made it clear that he wants to buy the squat, orange building, owner George Salem says. But Salem has not been eager to let it go.
Fans of the bar—which has more than 2,550 "likes" on Facebook—bombarded Hatcher's office with emails and phone calls.
Since the Beaver opened in 2008, it has become wildly popular. Brian and Mark Wilson, the brothers who own the bar, eventually began paying more to rent the neighboring parking lot from Hatcher than they paid to rent the building from Salem.
In mid-May, Hatcher called Brian Wilson to deliver some unexpected news. "I'm thinking about cutting off your parking," Wilson recalls the landlord saying.
The fence appeared in early June, effectively walling off the bar from its parking lot and prompting accusations that Hatcher was trying to drive the Beaver out of business. "He's said that yes, I'm trying to squeeze you out, and yes, I want you gone so that I can develop all that," Wilson says. (Hatcher has not filed any rezoning requests or development plans for his properties in Plaza Midwood, according to City of Charlotte planner Michelle Jones.)
Fans of the bar—which has more than 2,550 "likes" on Facebook—bombarded Hatcher's office with emails and phone calls. They launched a "Free the Beaver!" campaign on Facebook and left disparaging notes on John Hatcher Realty's Facebook page. "Greedy, money hungry, selfish, big business who cares nothing for communities, local businesses, or the people that support them," wrote Cat Glenn.
"Will be giving Mark Wilson my business," added Jennifer Bradley Randol.
News crews showed up to document the bras and protest signs slung onto the fence. Even Hatcher's daughter, Anne, who works for his company, changed her Facebook profile photo to the "Free the Beaver!" campaign logo of a fenced-in, buck-toothed beaver.
The neighborhood rumor mill started spinning: What's Hatcher up to? Is he trying to sell his land? What will be built there?
Rudolph, his fellow landlord, could only guess: "Whatever John wants."
By July 2, Hatcher is back in town. Linda sounds almost perky when she answers the office phone. "May I tell him who's calling? Um, hold one moment."
There is a long pause. Then Linda's voice returns, chastised.
"He said he just had no comment on anything."
Neither a follow-up email seeking comment nor a similar email to his daughter prompts any response. Hatcher's silence remains unbroken.
Back at the Beaver happy hour, Dwight Yoakam is yodeling from the jukebox. Ignoring the fence that cages in the bar on three sides, the parking lot is filling up. "This is like the most ferociously devoted bar. It's a community," Jessica Summers says.
One of her friends, a woman with ash-colored hair, silver hoop earrings, and ripped jeans, confirms the sentiment. Lisa, who lives in Dilworth and did not give her last name, has been coming here since the Beaver opened five years ago. Her bras have ended up hanging above the door more than once. She says she's never seen a fight here, never had any trouble.
When she has too much to drink, the Wilson brothers drive her home. They also throw her birthday parties, with streamers and cake and a live band playing her favorite songs. Mark Wilson's like a brother to her, she says. "This whole uproar is not because people are losing their bar," she explains. "They're really backing their friends."
She heads outside to the patch of concrete that serves as the Beaver's patio. Two women have set up a table to raise money for Miles for Smiles, one of many charity events the Thirsty Beaver hosts.
Lisa faces the cars rushing by on Central. If she squints and looks far to the left, she might be able to make out a billboard by the railroad tracks: "Central Square Business Park," it says. "1,000-1,650' Offices. Contact: John Hatcher Realty."
Beneath it, there's just gravel and weeds.
Lisa Rab is an associate editor at this magazine. Reach her at lisa.rab@charlottemagazine.com or on Twitter at @lisayrab.