My Fear of Mousse
The chocolate wonder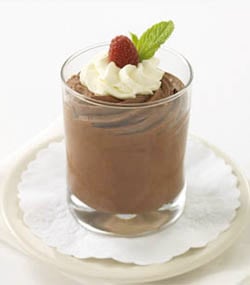 Bonjour. Having returned from Paris last week, I was rudely awakened to the fact that I have never attempted to make what one would think is an easy and delicious dessert: chocolate mousse. Now I'm not going to fool myself into thinking I'm at all capable of making the heavenly concoctions I tasted in France, one of which actually made me cry (don't judge), but I figure there must be some Internet wisdom out there that can help me.
First a little background: Mousse, which is French for "foam", can be flavored with not just chocolate or other sweets, but also fish, eggs, or liver. Tiny air bubbles live in the luscious folds, giving the culinary treat its wonderful silky texture.
If you want an AMAZING chocolate mousse, though, PAY ATTENTION TO THE QUALITY OF YOUR CHOCOLATE. No joke. You can absolutely tell when the chocolate is subpar, and nobody wants subpar mousse. After my online dig, here is the mother of all mousse recipes; the Julia Child version.
Ingredients:
4 eggs, divided
¾ cups sugar
¼ cup orange liquor (optional)
6 oz (1 cup) semi-sweet chocolate
4 tablespoons strong coffee
6 oz (1 cup) butter, softened
Pinch of salt
1 tablespoon sugar
¼ cup finely diced glazed orange peel (optional)
Beat egg yolks and sugar together until mixture is thick, pale yellow, and falls back upon itself forming a slowly dissolving ribbon. Beat in orange liquor. Set the bowl over a pot of not-quite-simmering water and continue beating for 3-4 minutes until the mixture is foamy and too hot for your finger. Then beat it over a bowl of cold water for 3-4 minutes until the mixture is cool and again forms the ribbon. It will have the consistency of mayonnaise.
Melt chocolate and coffee over a pot of hot water. Remove from heat and beat in butter a bit at a time, to make a smooth cream. Beat the chocolate into the egg yolks and optional orange peel. Beat the egg whites and salt until soft peaks are formed; sprinkle on sugar and beat till stiff peaks are formed. Stir one fourth of the egg whites into the chocolate mixture. Fold in the rest.Turn into serving dish, dessert cups or petits pots. Refrigerate at least 2 hours or overnight. Serves 5.
I'm off to attempt this. Wish me luck.