My Unexpected Trip to Istanbul (Hookah Lounge)
I had no idea this place existed until Friday night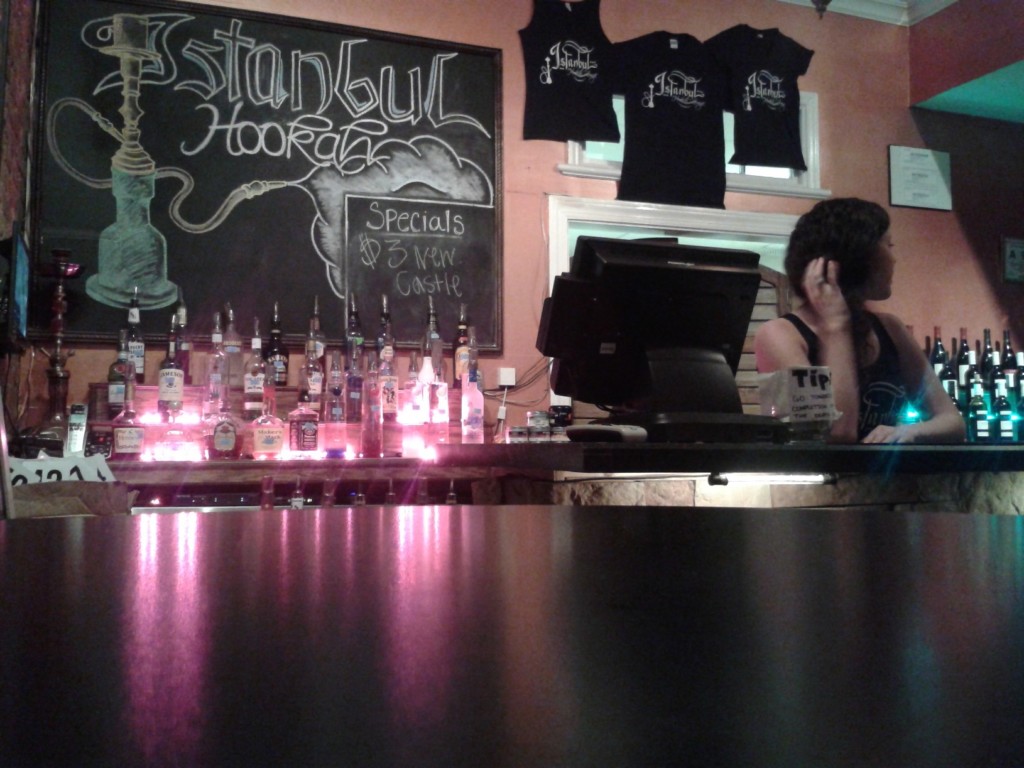 As a blogger about Charlotte nightlife, it's my duty (ha-ha, I said duty) to know Charlotte nightlife. I believe I know it really well. So whenever someone tells me about a local bar, lounge, or nightclub, usually I'm already aware of it and, in many cases, I've gone there before. But on Friday night, I visited a place I'd never heard of: Istanbul Hookah Lounge.
After enjoying dinner and drinks on the rooftop of The Peculiar Rabbit (all three levels of this Plaza Midwood gastropub were packed by 8 p.m.), my girlfriend suggested we go to this hookah spot she'd recently heard of from a friend. She said it was "Istanbul something…" I said I'd never heard of it, and that it must be new. After Binging "Istanbul Charlotte" on my phone, I pulled up Istanbul Hookah Lounge, and the address showed that it was located at Brevard Court.
Its location immediately made it appealing to me. Brevard Court is a very cool, cobblestone-lined courtyard of restaurants, bars, and shops that not enough of people in Charlotte know about, despite it being historic and located in Uptown, granted it is tucked away. Charlotte magazine gave Brevard Court a Best of the Best (BOB) Award in the nightlife category in 2011. I've gone there several times over the years, but I can't say that I go regularly, though I did eat lunch at the Subway there just a few weeks ago. If you've never visited, the main appeal is how the two rows of brick buildings form a corridor—a cobblestone alleyway—filled with plenty of patio tables and stringed lights hanging above. People often remark that it feels like something you would find in France.

Hookah pipes were on many of the patio tables at Brevard Court on Friday night.

One of the unfortunate things about Brevard Court, though, is there's high turnover among the tenants—there's always at least two or three spaces available for lease (however, Courtyard Hooligans, the pub I wrote about for this magazine three years ago, is still going strong). I figured Istanbul Hookah Lounge must be a new spot. Imagine my surprise when I learned that it's been open since 2009. How it remained off my radar for so long, I don't know. But I think it's recently increased in popularity.
On Friday night, all of the more than dozen patio tables along Brevard Court were filled, and at least half of them were of groups of people smoking hookah from Istanbul Hookah Lounge. Once inside, you enter the bar area which resembles more of a carryout counter.
The hookah menu features more than 50 flavors—regular is $15 (blueberry, grape, pineapple, etc.); Starbuzz is $20 (Passion Fruit Mojito, Purple Haze, Sex on the Beach, etc.). The drink menu includes about 15 beers (the common stuff like Budweiser, Yuengling, and Stella Artois but also a couple of surprises like a Turkish and Japanese beer), 10 wines, and a standard cocktail list. Food is also served here: appetizers such as chicken wings, fries, hummus, and a few pitas and wraps, among other items.
The food and drinks are simply accompaniments; the main draw here is the hookah. We ordered the grape hookah and walked upstairs where there are three lounge rooms filled with either couches or tables and chairs. It sort of felt as if we were walking into a brothel (not that I've ever visited a brothel, but what I've seen in movies) with the individual, dimly lit rooms. But nothing nefarious was going on in here; just couples and groups of friends smoking hookah, drinking, and conversing.
There's an increasing number of bars, lounges, and nightclubs in Charlotte now offering hookah. You should give Istanbul Hookah Lounge a try if you want a place that isn't pretentious and that feels like you're somewhere other than Charlotte.
Istanbul Hookah Lounge, 138 Brevard Ct., 704-333-5175, hookahistanbul.com. Hours: Tues.-Thurs., 5 p.m.-midnight; Fri. and Sat., 5 p.m.-2 a.m.; Sun., 5-10 p.m.; closed Mon.