Myers Park CC Chef Represents U.S. in International Competition
Jason Hall and his team finish outside the top three in the Catering Cup, but will come home with an experience he won't forget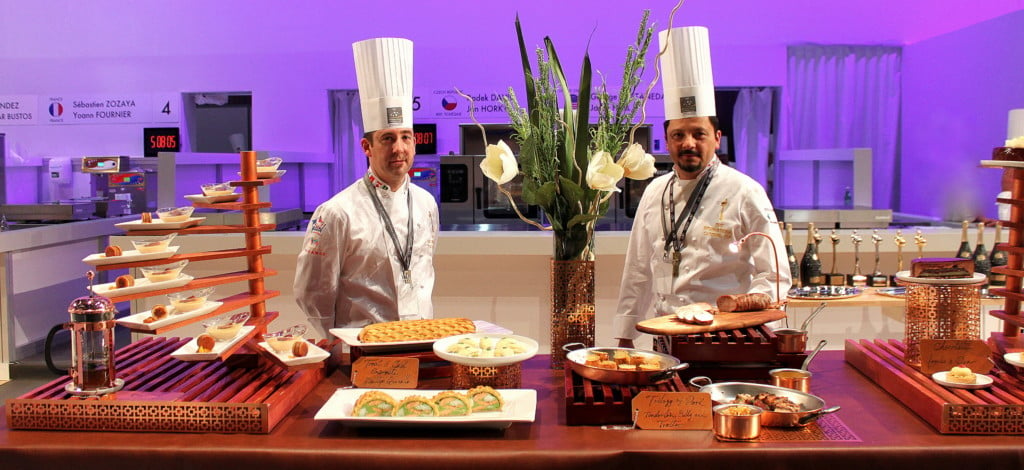 Myers Park Country Club executive chef Jason Hall represented the United States this past weekend in the prestigious International Catering Cup in Lyon, France. This two-day culinary event is held every two years as part of the Sirha Expo, one of the world's largest food service exhibitions. The Charlotte-based Master Chef and his team's leader, Chef George Castaneda of Nashville, Tennessee, were selected by the American Culinary Federation to battle 11 other teams from all over the world.
The Cup is designed to test participants on their knowledge of the timing, preparation, and execution of a successfully catered event. A panel of 12 reputed culinary judges scored 12 international teams based on cleanliness, technique, and respect of the parameters defining the four required plates—including taste, texture, and visual appeal. The plates included an array of challenging menu items of Classical cuisine: Royale of foie gras, triade of pork, pastry encrusted fish duo with scallop quenelle and fruit, and chocolate-themed dessert. The last 45 minutes of the event were dedicated to setting up a fully-stocked buffet table displaying an innovative presentation of the four dishes, also scored by the judges.
Awards were given only to the top three teams: Switzerland took gold, France took silver, and Singapore took bronze. Other countries participating included Mexico, Vietnam, Canada, and Italy.
"We had a lot of fun competing," Chef Hall told me. "It was a really intense but great experience and we've come away knowing even more than we did before."
Katy Orell is a Charlotte native currently living in France. She graduated from Appalachian State University with a degree in communications, then received a degree in culinary technology from Guilford Technical Community College. A longer version of this story, covering Hall's long trip from Myers Park to France, will appear in Charlotte magazine this spring.