N.C. Brewers and Music Festival, Unknown releasing Kitten Snuggles and Birdsong flies out west to Asheville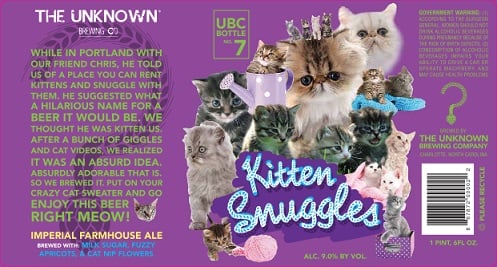 –This weekend marks the sixth annual North Carolina Brewers and Music Festival at Rural Hill in Huntersville. The event features more than 40 breweries along with a full day and night of music, and here's the best part – you can camp out overnight on site.
Just like last year, this formerly one-day festival will now begin on Friday for those who are camping. The campground opens at 3 and live music will take place later that evening at the Friday Campground Jam, featuring Taylor Winchester, Forlorn Strangers and Mipso. Dan the Pig Man Food Truck will also be on site for dinner options.
The next day is when the main event begins, as the festival gates officially open Saturday at 11:30 a.m. The actual beer tasting runs from 12:45 p.m. to 4 p.m. At that time you can enjoy unlimited samples from the likes of Ass Clown, Bayne, Birdsong, D9, Free Range, Legion, Lenny Boy, NoDa, Olde Mecklenburg, Primal, Red Clay, Sycamore, Unknown, Three Spirits, Triple C and Wooden Robot, among others. (You can see a full list of all the brewers here.)
While you're enjoying your favorite local craft beer, two stages have been set up that will host live music from 12:15 p.m. to 10 p.m. The main stage is highlighted by Travelin' McCourys and Hip Abduction as the headliners Saturday night, while there is also a singer-songwriter's stage as well. Check out the entire music schedule here.
Multiple food trucks will be at the NCBMF throughout the day and night, and for those who are camping, there is morning yoga offered Sunday at the campground as well as a breakfast food truck. Tickets to the N.C. Brewers and Music Festival are still on sale and can be purchased here.
–Unknown is set to release its latest beer – right meow. Kitten Snuggles, an unfiltered farmhouse ale, will be available at the taproom in 22-ounce bombers and on draft this Saturday at noon. Unknown owner and head brewer Brad Shell has never been one to shy away from unique ingredients in his beer, and this one features catnip flowers, along with milk sugar and fuzzy apricots for what the brewery is calling a "purr-fect pairing."
As part of the release party, Unknown has teamed up with Saving Southern Kitties, a nonprofit that rescues cats and kittens from kill shelters. Friendly felines will be at Unknown Saturday for snuggles as well as adoption. You can also purchase a calendar that features pictures of orphaned kittens posing with members of Unknown's staff, with proceeds going to Saving Southern Kitties.
–Finally, congratulations to Birdsong Brewing, which earlier this week announced it will be distributing into the western N.C market. Birdsong signed a distribution deal with Skyland, which will cover the counties west of Gaston with a primary focus on Asheville (Here in Charlotte, Birdsong will continue to self-distribute).
Beginning this month, western N.C. will start seeing cans of Jalapeno Pale Ale and Lazy Bird Brown Ale, with eventual expansion in 2017 to include additional Birdsong beers such as Doin' Thyme Witbier and Mexicali Stout. In a press release, Birdsong owner Chris Goulet said "Asheville has always been an inspiration for what we brew and how we want to connect with our customers. We're excited to partner with Skyland and for the opportunity to get Birdsong in the hands of our fans in western N.C."