Name That Neighborhood
Near the intersection of Park and Woodlawn, a group of established neighborhoods with modest homes has suddenly become cool, creating a small-scale identity crisis that has residents wondering: What do we call ourselves?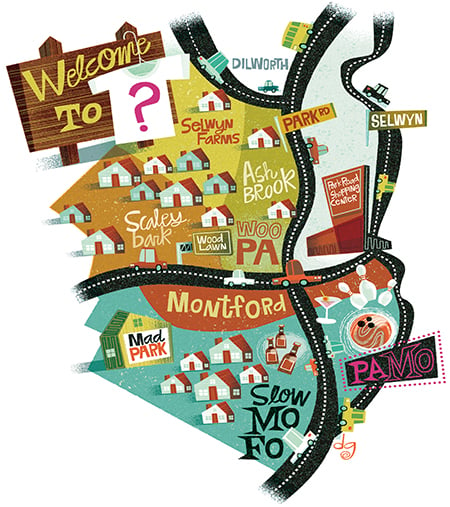 "YOU MEAN THE little houses across Park Road?"
When a neighborhood like mine doesn't have a name, unfortunate things can happen when people make up their own. This one, a prime example, came courtesy of a woman who lives in Myers Park. Although it was short on charm, I couldn't fault its accuracy. Most of my house could probably fit into a Queens Road home's foyer. Still, Myers Park is a lofty standard by which to judge square footage. So I laughed and said, "Yes, that's us. The little houses across Park Road."
Then I thought, This place really needs a name.
This is an unusual problem to have in Charlotte, a city that loves its neighborhoods so much that their names double as adjectives. People don't just live in uptown, South End, or Ballantyne, they are uptown, South End, or Ballantyne. Our neighborhoods provide fodder for T-shirt slogans ("Plaza Midwood: Hipsters in the Ghetto"), and they've even inspired a line of Ella B. Candles signature scents. (The scent of Dilworth? Gardenia and lily of the valley. NoDa? Tuberose, musk, and patchouli.) Our neighborhoods don't just house us. They brand us.
My neighborhood doesn't have a T-shirt. It has no signature scented candle. For those, it would need a name. To twenty-somethings, we're the Montford area. To the over-thirty crowd, we're that neighborhood by Park Road Shopping Center. To Myers Park, we're … well, you know that already. The area includes several smaller neighborhoods surrounding Park and Woodlawn roads, including Madison Park and Ashbrook, but those names are little known beyond residents and realtors. So when people ask where I live, they endure an awkward amount of explanation to conceal the unfortunate fact: I'm not really sure.
I moved here from Arlington, Virginia, in 2004 with my boyfriend, Jim. I attacked the home search process with Type-A zeal, and the fact that he would marry me after this search is testament to the man's patience. I had lists of pros and cons, spreadsheets, maps marked as intently as battle plans. So imagine Jim's surprise when we walked into the millionth house we toured, and I put the paperwork down to say: "This is it. This feels like home."
I immediately loved this house. It sits on a quiet street just north of Woodlawn, just west of Park. It's not fancy— it's a brick mid-century ranch—but details like the hallway telephone nook, the original hardwoods, and the detached garage that's become Jim's workshop culminate into character. Our third-of-an-acre lot is big enough for our dogs' ceaseless energy, and the trees are the kind that knock us out in the fall, both from the beauty and the raking. We run most errands on foot, and our favorite restaurants within walking distance—like Sir Ed's and Roasting Company— don't care what we wear when we walk in. We not only know our neighbors' names, but what kinds of beer to get each other when we come over for cookouts. Like I said, this feels like home.
Our neighborhood didn't develop an identity for so long because not much happened here. No need to name something that's not being discussed. The lack of change on these streets is remarkable, considering the development occurring all around them. While Dilworth bungalows grew into mansions and South End sprouted luxury apartments daily, we stayed understated.
But then Montford and Park Road Shopping Center became two of the cool kids.
Over the past few years, Montford Drive evolved from a sleepy street with a few casual restaurants into a row with so many bars that it has its own pub crawl. Bowlers wait two hours for a lane at Ten Park Lanes; foodies wait nearly as long to sit down at Good Food on Montford. People declare parking to be a nightmare … on a Wednesday night.
And then four years ago, Edens & Avant bought Park Road Shopping Center and set out to transform it from a neighborhood hangout into an area draw. The developer, now named EDENS, envisioned it as a trendy spot where friends met for dinner and then stayed to wander the stores. To those of us in the little houses across the street, this sounded delusional. While Park Road Shopping Center is many things—beloved, charming, retro—trendy it's not, we tsked.
When I met with a realtor to talk about the changes in the area recently, "trendy" was the first word she used to describe this neighborhood. And she may be right. Houses are growing second stories or being torn down for bigger ones. News of home sale prices sometimes results in neighbor-to-neighbor high-fiving.
So it looks like we'll need one of those signature scented candles. But first, we need a name.
***
A NEIGHBORHOOD name is not just a name, of course. Take South End. Before 1994, it was known as the industrial section of Dilworth—hardly the makings of a T-shirt slogan. But in 1994, thanks to a branding and design firm, a logo, and a few signs, the industrial section of Dilworth transformed into Historic South End. The area's not old, the strategy contended; it's historic and prime for redevelopment. To see the former mills and warehouses that have become condos, offices, and breweries since then—with many new buildings striving to look industrial chic—is a convincing sign the strategy worked.
It's no coincidence, then, that our identity crisis comes as developers look to shape the area's future. In 2013, the City of Charlotte completed a neighborhood plan for the Park Woodlawn area, pointing it in an increasingly urban direction. Grubb Properties, Spectrum Properties, and Levine Properties purchased large tracts of land here, which could enable that vision and make this a turning point for the neighborhood. Big money is being invested, and it's easier to welcome new businesses and residents to a place with a name. If you brand it, they will come.
When Grubb Properties moved its offices to a spot off Park Road and Abbey Place in early 2015, the real estate professionals learned this booming area was full of people who didn't know what to call it. So last summer, they created an online survey for their new neighbors that asked: If you could name this neighborhood, what name would you choose?
The survey became a psychology study of sorts. Do we prefer a classic name, merely placing us where we are on the map? (Park Woodlawn, Montford Park, Park Lawn.) Or do we want our neighborhood to seem trendy, aspiring to the coolness of our north-of-Davidson neighbors? (WooPa, MoFo, PaMo.) Two-hundred and eighty-six people responded with 96 names. The name with the most votes was simply Montford.
Most residents don't believe a name will change much here, but they like the idea of one anyway. For some, a name would bolster community pride. For others, it would add convenience, being able to tell an Uber driver where they're headed without a series of explanations. And for others, needing a name is a sign of making it, of joining those neighborhoods on T-shirts and candles. We're ready to tell Charlotte who we are, not just where we are.
***
MICHAEL BRAWLEY, the man behind Brawley's Beverage, takes naming seriously. No matter what the area around him is called, he considers his pocket of the neighborhood that's just south of Montford to be SOMOFO of Mad Park. He's had SOMOFO and MADPARK printed on Brawley's T-shirts; he has "Welcome to Mad Park" painted on the shed behind his store. His interest is in keeping the neighborhood cool with a cool name. "We just don't want to have some kind of Ballantyne-ish kind of name put on us, that's for damn sure," he says.
"I love the idea of naming it," says Michelle Duyck, a real estate agent with Keller Williams. "The larger the city gets, the more people are looking for a sense of community. And most of these smaller communities are named."
She favors a timeless name, paying homage to the classic vibe of the area. Of all the current options, Parkmont is her favorite. But she laughs that perhaps the trendier names could have a role as well. "Maybe on Montford after midnight, that's when it becomes WooPa."
But who gets to name an established area? Who will have enough influence to create a name that can stick, a name that resonates? The race to determine if we're a Mad Park or a Parkmont will be all about who's first to come up with a good name and who has enough charisma to convince others to use it.
"The organic nature of the development here has been its greatest asset. [Change] needs to be organic," says Rachel Russell, who is vice president of real estate development at Grubb Properties and a resident here. "There's no way you can just name it. People have to own it. … It needs to be something people love and are already saying to some degree. [Then] it's just a matter of putting it on a sign."
But does our lack of name necessarily create an identity crisis? In a marketing-saturated culture, is authenticity more powerful than brand? Perhaps our neighborhood doesn't need a slogan on a T-shirt. It's done just fine for more than 60 years without one.
James Harper has lived here for 52 years. He and his wife moved to Castlewood Road in 1963 to a house that was just eight years old. He's very fond of his home, a brick ranch house with a large magnolia tree out front. What drew him here—easy access to stores, churches, hospitals, and the interstate—is what continues to draw people here, he says. Two houses on this block sold in recent months before For Sale signs even hit their yards. When people ask him where he lives, he simply says Castlewood Road, and that seems sufficient. He seems bemused by the idea of an identity crisis.
"I don't know that we need a name," Harper says. "As far as the realtors and the homebuyers, they don't have any trouble finding us."
Jen Tota McGivney is a freelance writer in Charlotte. Read her portfolio at www.jenmcgivney.com, or reach her at jennifer.mcgivney@gmail.com.
---
TOP NEIGHBORHOOD REBRANDING SURVEY RESULTS:
Montford
Other Park
Woodlawn Park
Montford
Madison Park
Park Central
Park Selwyn
Park Road
Park Center
Mad Park
Montford Park
---
AREA TRANSFORMATION
Up and Coming: New Additions
• Chopt Creative Salad Company
• CO
• J. Crew Mercantile
• Juice Bar
• Pasta & Provisions
Dearly Departed: Recent Departures
• A Time 'n Place
• Mike's Discount Beverages
• Piedmont Music Center
• Roland's Salon
• Toys & Co.
Long-Timers: Here for 25+ Years
• Blackhawk Hardware
• Howren Music Co.
• Park Road Books
• Regal Park Terrace Stadium 6
• Roasting Company (opened in May 1991)