National Eating Healthy Day
It's a real day (although it should be every day)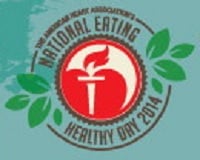 National Eating Healthy Day is Wednesday, Nov. 5, and the American Heart Association along with Piedmont Natural Gas want people to listen the advice of generations of mothers: Eat your vegetables (and fruit).
Americans typically consume about half their recommended daily servings of fruits and vegetables. The American Heart Association recommends eating eight or more fruit and vegetable servings every day. For an average adult consuming 2,000 calories daily, that means about 4 ½ cups of fruits and vegetables a day. So, guess you better find some great hidden veggie recipes …
"Fruits and vegetables are high in vitamins, minerals and fiber, and low in saturated fat and calories," said Cheryl Kuhta-Sutter, Registered Dietician at Novant Health in a press release. "Most fruits and vegetables also have no or little sodium, and eating a variety of fruits and vegetables may help you control your weight and your blood pressure."
While heart disease and stroke are leading causes of death and disability for all Americans, more than 80 percent of risk factors for heart disease and stroke are preventable through behaviors like making better food choices, getting regular exercise, keeping a healthy weight and not smoking.
In Charlotte, the American Heart Association is celebrating National Eating Healthy Day by giving eating healthy toolkits to local companies. Sponsored by Piedmont Natural Gas, these tool kits will encourage workplace wellness by offering various tips and suggestions for including more fruits and vegetables in people's diets.
For more information on National Eating Healthy Day, to download the resource guide or to find recipes and other nutrition information, visit the website.