National Farmers Market Week
Celebrate local farmers and local food August 2-8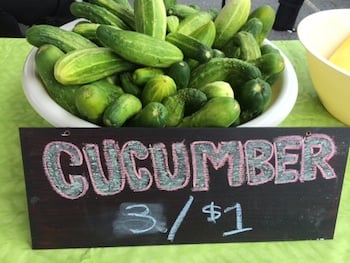 National Farmers Market Week begins this coming Sunday, August 2, and continues through Saturday, August 8. The U.S. Department of Agriculture designates the week with an official proclamation. The purpose is to recognize farmers; farmers market vendors, staff, and customers; and the community for its support of farmers and markets.
Markets across the country will hold special events throughout the week. The events not only recognize farmers markets, but also increase awareness and encourage more people to frequent farmers markets.
Charlotte residents are fortunate to have a variety of markets in different locations in and around the city.
The Charlotte Regional Farmers Market on Yorkmont Road, operated by the N.C. Department of Agriculture, will get a visit from the "Got to Be NC" Big Cart on Friday, July 31. The oversize grocery cart is 13 feet tall, 15 feet long, and powered by a Chevrolet V-8 engine. The cart represents the bounty of products grown and produced in North Carolina. From May to August, the farmers market is open Tuesday through Sunday.
On Saturday, August 1, the Davidson Farmer's Market will hold its sixth-annual Salsa Showdown Competition. Five local contestants will shop at the market for ingredients and prepare four quarts of salsa in an hour and a half. Anyone can sample and judge for free. Sampling takes place from 10 a.m.-10:30 a.m.
If you haven't explored the newest farmers market on the scene, check out the NoDa Farmers Market at the corner of 36th and Alexander streets. It's open each Saturday from 8 a.m. to noon.