National Farmers Market Week
The USDA encourages shoppers to "Know Your Farmer, Know Your Food"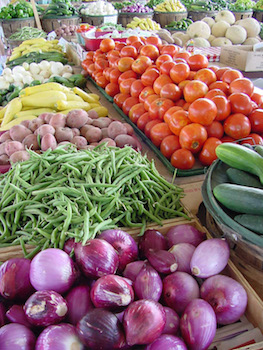 If you haven't yet visited one of our local farmers markets, do it this week. The USDA celebrates its 15th-annual National Farmers Market Week August 3 through August 9.
"Farmers markets play a key role in developing local and regional food systems that support family farms, and help grow rural economies," Agriculture Secretary Tom Vilsack said in a press release. "They bring communities together, connecting cities with the farms that support them and provide Americans across the country with fresh, healthy food."
The USDA's Agricultural Marketing Service division maintains the National Farmers Market Directory. The list includes more than 8,100 farmers markets nationwide. Visitors to the site can search for a market based on zip code, geographic proximity, product availability, payment method, and whether or not the market participates in Federal nutrition programs, such as SNAP.
A search for markets in North Carolina turned up 240 in our state. Charlotte has eight markets listed with many more in surrounding areas including Davidson, Huntersville, Matthews, Concord, and Waxhaw. The tool is a great way to explore new markets that you might not know about.
In our area, National Farmers Market Week falls in prime time for summer produce. Fruits, such as peaches, blueberries, watermelon, and cantaloupe, are ripe right now. And vegetables, including tomatoes, cucumbers, squash, and peppers, are plentiful.
The USDA invites farmers market patrons to share their favorite markets, vendors, and activities on social media by tagging your posts and photos #FarmMktWk @USDA. We'd love to hear from you, too, so while you're at it, include @CLT_Home or @HughesLeahC.
Have fun at the markets this week!