Neighborhoods Planting Trees this Fall
TreeDay and TreeStore events strive to grow our city's urban canopy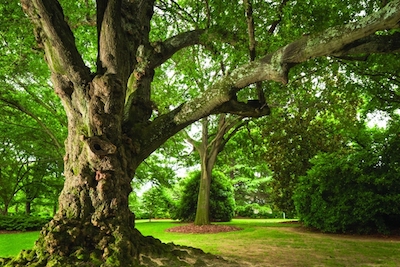 Last year, Charlotte Magazine ran a story all about our city's trees. It turns out, our trees make our air cleaner, our bodies healthier, and our city prettier.
The story tells us that we have 215 species of trees in Charlotte, and our urban canopy covers 46 percent of the city. In 2011, the city council set a goal to increase that coverage to 50 percent by 2050. In order to do that, we'll have to plant 15,000 trees a year, and the city must plant 10,000 a year. (Read the full story here.)
This month TreesCharlotte, a public/private collaborative dedicated to preserving and increasing our tree canopy, will work with neighborhoods across town to plant trees through the NeighborWoods Tree Canopy Program, which is a partnership between TreesCharlotte and the City of Charlotte. The tree-planting events are the result of a months' long process where neighborhoods submit letters of intent and receive a tree canopy assessment. The assessment includes evaluation of space, topography, condition of the existing canopy, and other factors. TreeDay events are ideal for large groups or organizations and neighborhoods with a higher planting capacity. On the other hand, TreeStore events cater to individuals or small groups and fit neighborhoods with smaller planting capacities.
Once the neighborhoods are selected and notified in August, the planting season runs from October 15 until April 15. On designated dates, TreesCharlotte works with neighborhoods to distribute the trees and educate residents about planting and caring for them. Residents also sign a stewardship pledge, promising to give their best effort in caring for their trees.
If you are interested in learning more about the NeighborWoods program and how to apply, click here. For more information about TreesCharlotte and other ways to get involved in preserving and growing our tree canopy, click here.