Neiman Marcus Nancy Gonzales Foursquare Challenge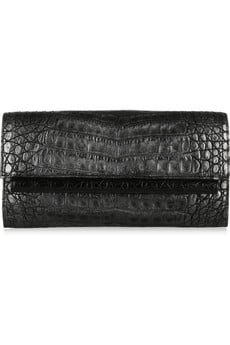 It's hunting season — but not the kind where you have to slap on camo and rubber boots and wade through a pond making duck calls; it's the kind where you go to Neiman Marcus to shop (because it's Saturday, of course), play on your phone, and score a gorgeous Nancy Gonzales clutch if you're stealth enough.
If you're convinced that this might be your kind of hunting, you won't want to miss out on Neiman Marcus' first Foursquare (it's that site where you tell everyone on your social network where you are) challenge this Saturday, October 1. Neiman Marcus locations across the nation will be participating, and in full, giving away 56 Nancy Gonzales numbers. But if you're smart, you'll be at our beloved South Park Mall. This is all in conjuction with the Neiman Marcus Shoe & Handbag Event, happening now through Sunday, Oct. 2.
Here's how it goes: download the Foursquare application (at the Apple App Store or Android Market) on to your smart phone. Then,when you arrive at Neiman Marcus, check in using the app. You'll receive a clue to either a) hunt for a hidden Nancy Gonzales clutch (15 will be tucked away, out of sight, like easter eggs) at that very moment or b) follow instructions to register for a chance to win one at a later time. If you receive a hunting clue, GAME ON. The clue will tell you if you're standing anywhere near one of the secretly stowed away clutches, and if you are close, it'll tell you where to look for it.
15 shoppers will snag a bag, and more will win through registration. Start lacing up your tennis shoes now.