New at M5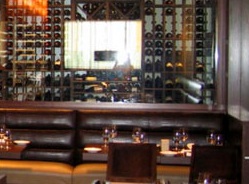 If you've been a fan of Upstream in Phillips Place, then now would be a really good time to start going to M5 Modern Mediterranean, another Harper's Group restaurant in SouthPark. Upstream's executive chef, Scott Wallen, is taking over as the executive chef at M5 and he's bringing a menu that sounds quite good with him.
The chef's new items on the menu will include slow braised lamb shank, stuffed pork chop with morels, seafood orichetta, veal spaghettini, and chicken breast with garlic-herb linguini. In other words, they're going to be offering some serious comfort food. Personally though, I'll be going for the newest starter, a braised short rib with porcini gnocchi and sweet onions. (Seriously Charlotte chefs, can't say enough how much I'm a fan of this braised pork thing you keep doing.)
Also, if you're looking for a fun holiday date for your favorite foodie, on Friday nights you can make reservations to have a five course tasting menu prepared directly in front of you. The menu will feature local ingredients, artisan cheeses, and fresh seafood. There's limited availability for this so you'll want to make reservations soon at 704-909-5500.