New beer releases from Birdsong, D9 and Lenny Boy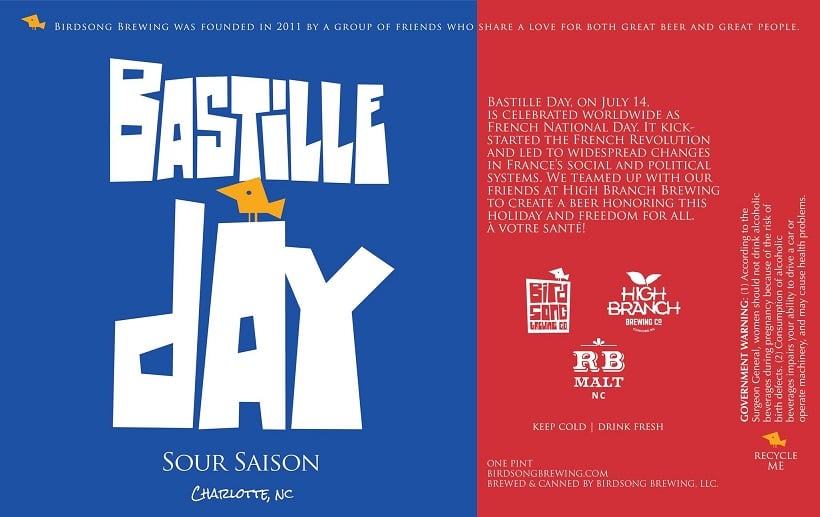 * It's always great to see collaborations from two local breweries, and Birdsong Brewing never shies away from getting together to make great beer. Their latest collab is with up-and-coming High Branch Brewing in Concord, and this beer has a little je ne sais quoi to it.
Bastille Day is a sour saison that will be released at Birdsong's taproom beginning Thursday at 3 p.m. This beer was brewed almost a month ago on the official French National Day (July 14, which often is referred to as the beginning of the French Revolution). The two breweries used local malt from Asheville's Riverbend Malt House for this saison, which checks in just under 5 percent ABV.
According to Birdsong's website, Bastille Day has "light lemon and mint characteristics on the nose, but very clean on the palate with a softened rye malt trait." You'll be able to try the beer on tap and there will also be 4-packs of cans for to-go purchase.
* This is the first year Lenny Boy Brewing Co. has canned its beer, and so far the reception has been great with beers such as Citraphilia IPA, Dat Pale Ale and Laughing Yogi, a Belgian pale ale. The SouthEnd brewery is set for its next two releases this Sunday, Tropicalus and Dry Hop'd.
Tropicalus is a white IPA, while Dry Hop'd is a kettle sour ale. Both of these beers will be available in 4-packs and on draft in the taproom on Sunday beginning at 10 a.m. (as a reminder, Lenny Boy has changed its opening hours on Sunday thanks to the recent "Brunch Bill" being enacted into law.
* Just north of Charlotte, Cornelius' D9 Brewing will release the next beer in its Defying Gravity series this Saturday. The Defying Gravity beers are "an ongoing exploration and expansion of the universe of sour beers propelled by three distinct fermentations," according to D9's website. The first of these beers was Cape Canaveral, a strong sour ale that was a hit at Brawley's Black & Blue festival in March.
D9's latest entry is Escape Velocity, also a strong sour ale but this one takes on darker and sweeter characteristics, brewed with cherries, cinnamon, coffee and ginger. Like Cape Canaveral, it packs a punch at 14 percent ABV. Escape Velocity will be sold in 4-packs of 12-ounce bottles, and you can also order the beer at D9's taproom when it opens at noon Saturday.