New bottles/cans & anniversary parties for Charlotte beer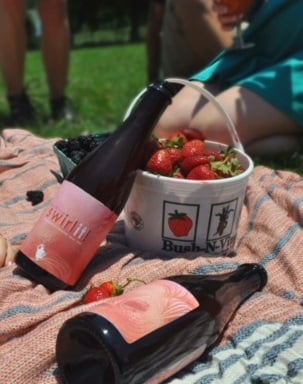 Two breweries celebrate respective anniversaries, while another is set for its first bottle release. Oh, and there's new cans from a couple breweries as well. Here's the weekend rundown for Charlotte craft beer:
FRIDAY
–Heist Brewery saw a ton of success with its first sour can, Blackberry Pick'n. That series now has another entrant, as this time the brewery is rolling out cans of Raspberry Pick'n. Cans will be released Friday beginning at 4 p.m. Four-packs will be $17.99 plus tax, with a limit of 6 4-packs per person. Heist also hinted at possibly another can being released on its Instagram page. Stay tuned …
SATURDAY
–Happy three years to Wooden Robot, which is rolling out bottles of one of its popular taproom selections. Strawberry Swirl It! is a sour ale brewed with more than 500 pounds of fresh strawberries and Madagascar vanilla beans. Admission to the event, which begins at noon, is $5 which gets you a limited edition anniversary glass. You will also be able to purchase beer tickets (12-ounce pour) for $5.
You do not have to purchase tickets if just showing up for the bottle release. Bottles of Strawberry Swirl It! will be 16 plus tax, with a 12-bottle limit per person. For those who are attending the party, Wooden Robot has some favorites coming back to the taplist, including Galactic Nexus, Thicket as Thieves, and Reserve Blanc (Strawberry Swirl It! will be on tap, as well as Blueberry Swirl It!).
Kre8 Gastropub will have a special anniversary party menu, and the big highlight could be a Wagyu smoked brisket from Snake River Farms barbecue master Jack Arnold. He'll be slicing free samples of brisket beginning at 10 a.m. for those waiting in line for bottles, until the brisket runs out.
–Free Range is also set to celebrate three years with a little help from their friends, and a full lineup of activities. The festivities begin at noon, and for $10 you get a commemorative specially-designed goblet and two drink tokens (each drink token is worth a half-pour and you can purchase additional tokens for $3).
The brewery has held back some beers for this event, including Funky Grandma, a saison fermented on peaches; Enchanté, a gruit brewed with chanterelle mushrooms; and one of my favorites, Sea of Companions, an oyster stout. Free Range has also invited several other breweries that will be pouring as well, including Burial, Fonta Flora, Fullsteam, New Belgium, Oxbow, Salud Cerveceria and Steel String.
For food options, Farmhouse BBQ will be out at Free Range at noon, along with Verdant Bread and King of Pops. Your Moms Donuts is scheduled at 2 p.m. and for the nighttime partygoers, Blue Barn Bistro arrives at 5 p.m.
–Would you care to all get in line for Birdsong's latest IPA series? If you didn't get that line, maybe the name will help. Misty Mountain Hop IPA is what the brewery is referring to as a hybrid IPA, using yeast from the East Coast (Burlington) and West Coast hops. Cans of Misty Mountain Hop will go on sale in Birdsong's taproom Saturday at noon (it will be on draft as well) on a first-come, first-serve basis. Morningstar Farms (noon to 5 p.m.) and Hiya (5 p.m. to 9 p.m.) are the food trucks onsite for the event, with live music from Nate Randall Band from 7 p.m. to 9 p.m.
SUNDAY
–Can releases have become the popular norm at Resident Culture, but the Plaza Midwood brewery is finally ready for its first bottle. Secret Feelings is a saison aged in red wine barrels, and Resident Culture has bottle conditioned this beer two ways. The first version was with a resident mixed culture, while the second was with traditional wine yeast.
Each bottle is $10, and there is no limit to how many you can purchase. The first 25 people who buy a bottle will also get a free limited edition Teku glass (if you're not among the first 25, you can still purchase a glass for $12 or get one free by buying six bottles of Secret Feelings). The bottles will go on sale at noon, but the brewery is opening early at 11 a.m. for the World Cup final between Croatia and France.