New Char-Grill Opens
Just in time for summer, one of North Carolina's favorite hamburger joints opens in Davidson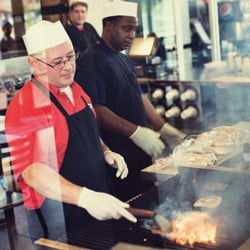 Raleigh-based Char-Grill has been a favorite burger-and-shake spot with NC State students and Hillsborough Street residents for more than fifty years. USA Today even named the restaurant the best burger joint in North Carolina in 2010. In April the Charlotte area finally got a franchise, in Davidson.
"It made the most sense to branch out to the biggest city—the Queen City," Austin Green, co-owner of the Davidson Char-Grill says. There are eight stores in the Raleigh area, and Green hopes that the Davidson Char-Grill is the first of many in this region. "We want to get the Davidson location running smoothly before we look elsewhere in Charlotte, but I would hope to have more area stores within the next five years," Green says.
Located just off I-77 and half a mile from Davidson College, Char-Grill offers a straightforward, diner-inspired menu of juicy burgers, crispy chicken sandwiches, hot dogs, fries, and creamy shakes. And if all that doesn't sound irresistible enough, consider that everything on the menu is under $6.
Char-Grill
624 Jetton St., Davidson
704-896-8710