New Chief Diversity Officer Announced for DNC, DCCC, and DNCC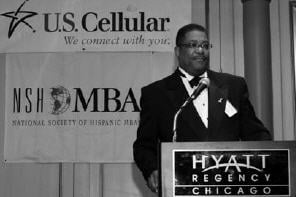 Below is an excerpt of a press release distributed today by the Democratic National Convention Committee.
The Democratic National Committee (DNC), Democratic Congressional Campaign Committee (DCCC), and Democratic National Convention Committee (DNCC) today announced that Greg Hinton will serve as chief diversity officer of the organizations, effective October 24. Hinton will serve as the first-ever chief diversity officer for the DNC and DCCC and will advise the DNCC on diversity staffing and minority procurement.
"We're thrilled to have Greg Hinton join the DNC as the chief diversity officer," DNC Chair Debbie Wasserman Schultz said. "The Democratic Party has long been dedicated to including talented people who reflect the diversity of our great country, and Greg will bring his talents to bear as we make sure we are living up to that commitment."
Hinton will be leaving his role as chief diversity officer of US Cellular, a major regional wireless carrier based in the Midwest. A native of Chicago, he's worked in the corporate sector for several major companies (US Cellular, Abbott Labs, Pepsi General Bottlers) and has also worked in the health care provider and nonprofit sectors. He has developed and implemented diversity/inclusion programs, from both a supplier diversity standpoint and from a hiring/human resources perspective.