New Favorite Spring Side
Radishes and Snow Peas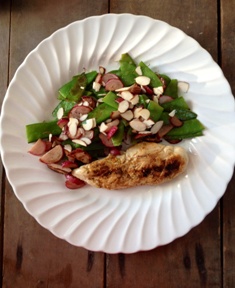 Quickie Monday post for you today, and it relates to making use of those sometimes ignored spring vegetables. Everyone is freaking out over asparagus and ramps and leeks, which are all wonderful. But I want to spotlight two lovely vegetables in season: radishes and snow peas.
I've seen this radish and snow pea combination photographed in several magazines, but rarely do I see a recipe for it. You can try one of the recipes listed here or here or here, but I'll let you in on how I make my own version, too. Instead of keeping radishes raw, I quick glaze them with butter. Not sorry.
Ingredients:
8 ounces of snow peas, rinsed and trimmed
3-4 radishes, thinly sliced
2 tbsp butter
Salt and pepper, to taste
Lemon zest
Place snow peas in a bowl and cover with boiling water. After about 3-4 minutes, strain and move snow peas to an ice bath. When they are cool, strain. Trim and discard end pieces. Meanwhile, in a small saute pan, melt 2 tbsp of butter. You can use or add more if you want. Add radishes and saute until softened. Season with salt and pepper. Wait until the radishes cool, then combine with snow peas in a large serving dish. Top with lemon zest or (even sliced toasted almonds) and more salt and pepper if desired. Serve immediately.
I know it's grossly simple, but don't ignore these two lovely vegetables — they'll be gone before you know it.