New Light Installations Are Coming to the Rail Trail in South End
I Heart Rail Trail: Lights returns for a third year in March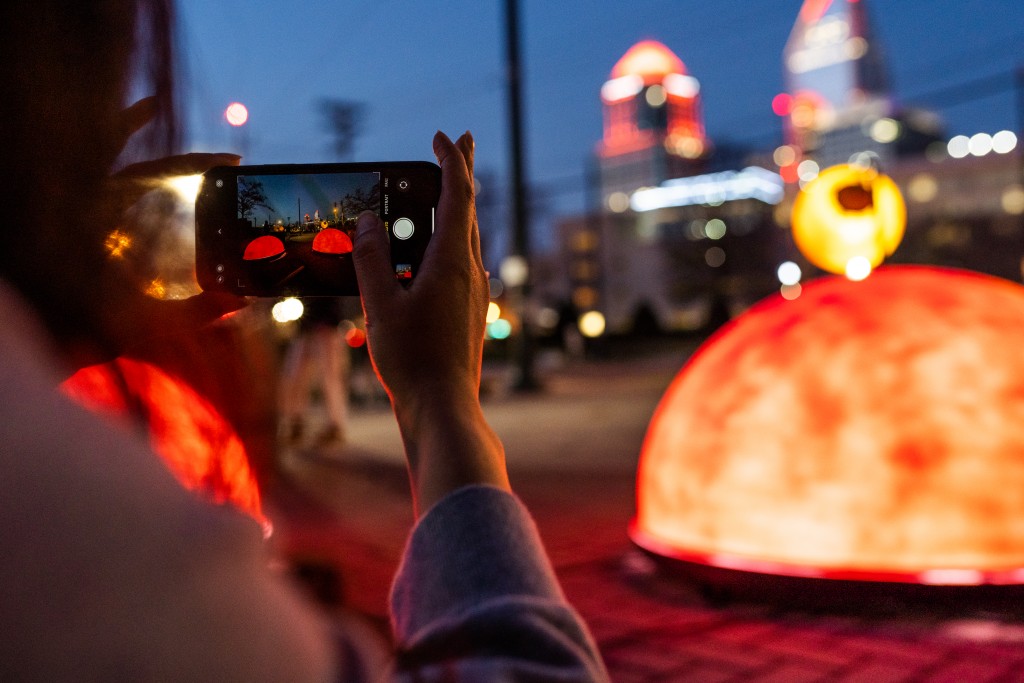 The I Heart Rail Trail: Lights program, presented by U.S. Bank, returns next month with a new slew of interactive light installations. Kicking off on March 4 and running through March 20, you'll find the work of regional artists along the pedestrian-friendly path running parallel to the LYNX Blue Line light rail. You may have seen past installations (shown in this story) all over social media during the program's first and second years—as it's been an open-air, kid-friendly, and captivating activity arriving each spring in the neighborhood since 2020.
Here's a breakdown of the artists chosen for this year's installations, curated with Lauren Harkey of gallery and consulting firm Hodges Taylor:
Charlotte artists Luvly Moon and Arko collaborate on an experience at the plaza 1100 South (1100 South Blvd.). Their immersive piece, "Ze Portal," is intended as a place for pedestrians to stop and meditate, a change of pace inside this bustling urban environment.

Oliver Lewis, a creator and inventor known as "The Robot Artist," will erect his work "Sweet Dreams" at the RailYard (1414 S. Tryon St.). The work appears as three oversized nightlights, toying with light and shadows in an unlikely space.

Sculptor Meredith Dallas and design-build firm ACSM Inc. are working together on "Garden of Light A Wish for the Future" at Dilworth Artisan Station (118 E Kingston Ave.). These massive dandelions create "an abstracted garden of light" that invites viewers "to make a wish for their future."

Textile artist Kat Sanchez Standfield and graphic designer-animator Caleb Roenigk add vibrancy to the Atherton Mill Lawn (2000-2140 South Blvd.) with their installation. "Movimientos Illuminados (Illuminated Movements)" uses Sanchez Stanfield's massive "noodle" sculptures to create an interconnected archway over pedestrians. The creations are illuminated at night, adding to the theme of connection.

Nearby, the husband-and-wife team behind Kiik Create bring their wild sculptural work to the Atherton Mill Plaza (2000-2140 South Blvd.). "EFT: Night Shift" is composed of six brightly painted graphic sculptures activated at night by blacklight LEDs. The installation can be seen as a "human energy charging station," where each token serves as a visual icon.
I Heart Rail Trail exists through a partnership between the Charlotte Rail Trail, Charlotte Center City Partners, and U.S. Bank: Programming throughout the year, such as this program, activates the 3.5-mile linear park and makes it a family destination. Before sponsoring the initiative, U.S. Bank contributed $1 million toward the planned construction of a pedestrian bridge that will connect the South End and Uptown portions of the Rail Trail in 2019. You can find more about the I Heart Rail Trail: Lights program here.